Immigration Q & A Decemer 2012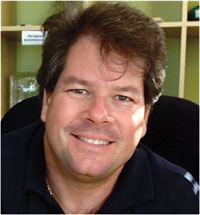 Q. I applied for adjustment of status in 2007 based on my employer's petition. The adjustment application is still pending because I am waiting on a visa number to become available. I have an EAD. Can I stop working for the employer who sponsored me and work for another company?
A. Yes, but there are some conditions. A rule known as AC21 provides that if your employment based adjustment was pending more than 6 months, you may switch employers as long as the job is the same or similar to the first job. Your EAD allows you to work for any company, but if your initial sponsor is no longer willing to be your sponsor, you will need your new employer to write a letter to immigration explaining your new job offer. The new job must be the same type of occupation or something very similar to the old job.
Q. I am applying for adjustment of status based on a marriage to a US citizen. Can I travel outside the US while I wait for my green card?
That depends on your past immigration history. If you were in legal immigration status when you applied for adjustment of status, you can apply for a document called "Advance Parole". With this document, you may leave the US and reenter the US without losing your adjustment application. But be careful – if your case is denied while you are outside the United States, you will not be able to return using the advance parole. If you enter with an advance parole and your case is denied later and you are placed in removal proceedings, you will have less rights or options than people who entered the US with a valid visa.
If, at any time before you applied for adjustment of status, you were not in lawful status for more than 6 months, you should not travel outside the US. You will have a 3-year or 10-year bar from reentry, even if you were granted an advanced parole document. The same is true if you worked without authorization before applying for adjustment of status. That means that even if immigration issues you a travel document, they may not let you in when you return from your trip. If your past overstay is discovered at the time of your green card interview, USCIS will deny your adjustment application unless you can be granted a waiver. To be granted a waiver, you would need to show extreme and unusual hardship to your US citizen or permanent resident family members.
Q. I have had my green card for 5 years. I had a business in England, so spend a lot of time there even after I got my green card. I applied for and received a reentry permit valid for two years. One time, I spent 13 months out of the US, but I was allowed to enter the U.S. with my reentry permit. Can I apply for citizenship now or will my reentry permit cause a problem?
A. The reentry permit has nothing to do with citizenship. A reentry permit allows you to stay abroad for as long as 2 years without losing your green card. If you are a green card holder and you plan on being out of the United States for a year or more, you can apply for a reentry permit before you leave. Otherwise, when you return to the US after more than a year's absence, immigration will consider you to have abandoned your residence and will not admit you to the US. With a reentry permit, when you return to the US, you will be admitted as a returning permanent resident and you will not lose your green card.
Citizenship is a completely different matter. You must not have any trips of one year or more in the five year period before you apply. If you were out of the country for 13 months, you must wait 4 years after you return before you can file for citizenship. This holds true even if you were given a reentry permit, because the reentry permit does not preserve residence for naturalization purposes. Before you apply for citizenship, you must also count the total of all the days that you spent outside the US in the last 5 years. If the total number of days out is more than one half of 5 years, you are not eligible to apply for US citizenship.
Q. I am a US citizen. Can I apply for my 10 year old granddaughter in Pakistan?
Not directly. You can petition for your son or daughter who is the parent of your granddaughter. When your son or daughter received their green card, your granddaughter will also receive a green card IF she younger than 21 years of age at the time that the immigrant visa becomes available for your son or daughter. If your son or daughter is married, there is about a 10 year wait for visas now, so your granddaughter stand her best chance of getting her green card through your petition if she is younger than 11 when you file. If your son or daughter is not married (or divorced), the wait is shorter – about 7 years. Thus, your granddaughter could be as old as 14 and still get through. Since the visa wait times constantly change, we cannot predict with any accuracy how long the wait will be on any petition. Therefore we cannot predict exactly whether your granddaughter will age out of your petition for her parent. The only thing we can say for certain is that the sooner you apply, the better your granddaughters chances.
The advice in this column may not apply to your specific situation, even if it seems similar in nature. The only way to obtain legal advice is by speaking with a qualified attorney and reviewing your specific circumstances. If you have any questions, please call me at (954) 522-4115.
Edward Boreth is an immigration attorney who has practiced law for 17 years. He is a partner at Shapovalov & Boreth and a director of the Citizenship Clinic. He is also an avid cricket fan.