Incredible Indians
NRI doctor among 10 outstanding young Americans
Indian American doctor Vikram Sheel Kumar will join the ranks of former US President Bill Clinton, entrepreneur Henry Ford and rock legend Elvis Presley as a recipient of the "Ten Outstanding Young Americans (TOYA)" award.
Twenty-nine-year-old Vikram, who is an alumnus of Modern School and the Indian Institute of Technology in New Delhi, and the Harvard Medical School in Boston, Massachusetts, will be the first Indian American to receive the award.
The honor will be given to him at the 67th TOYA awards ceremony in Boston September 17, for showing leadership and helping people in the healthcare sector.
The Junior Chamber of Commerce of the US set up the award in 1938 to felicitate 10 young Americans of 21-40 years of age for their contribution to the society and considered one of the most prestigious recognition programmes in the world.
Among prominent personalities who have received the TOYA award in the past are former US presidents John F Kennedy and Richard Nixon, as also former US secretary of state Henry Kissinger.
"It is an honor for me, my family and above all the whole country. I just can't express my joy," Vikram's father Vijay Sheel Kumar said.
"Vikram helps people in the US through his clinic Dimagi. He provides healthcare to people in South Africa, Zambia, Rwanda and many other countries."
Vikram, who migrated to the US in 1996, was earlier named among the 'World's 100 Top Innovators Under 35' in biotechnology and medicine by the prestigious Technology Review magazine of the Massachusetts Institute of Technology.
The founder of a medical clinic – Dimagi Inc – in Boston, he was honored by the magazine for his contribution in erasing the boundaries between life sciences and information technologies.
NRI techies in the US release music album!
They have been called code coolies, techno drudges, alpha geeks and beta nerds. But the commonest term for the swarm of computer programmers who have made their way from India to the US over the past 15 years is H1Bees.
Appropriately then, a group of NRI techies in the Washington DC area whose talents range from programming to musical notes are releasing this weekend an album titled "H1Bees" to the best possible local buzz – a campus release at the University of Maryland and a 1,100-word spread in the Washington Post.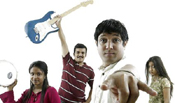 The seven-song, tri-lingual album – in English, Hindi and Tamil – celebrates the life of the immigrant techies starting with their encounter with the US visa officer on their journey out of India. "The songs convey sentiments every immigrant goes through at different stages in life. This is a journey of independence from frugality and conformity," says Srikanth Devarajan, a computer engineer who leads the yet-to be-named band.
Much like Indian students in the US whose campus life is said to revolve "between advisor and Budweiser," the tech crowd is ribbed about being constricted "between Gateway and Safeway," – a computer brand and a grocery chain.
Devarajan's support in the band is a mix of H1Bees and ABCDs. Like Devarajan, Kartik Venkataramanan, a database manager at Verizon, is also a Chennai native. They roped in Devesh Satyavolu and Srivatsa Srinivasan for lyrics and production and brought in vocals from high school students Alisha Sarah Thomas and Swati Raman.
MIT names four NRIs among world's top 35 innovators
Four Indian Americans have been named among the world's top 35 young high-tech innovators by the Massachusetts Institute of Technology's (MIT) prestigious Technology Review magazine.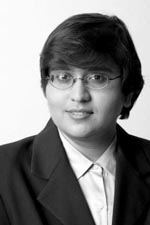 Anita Goel of Nanobiosym, Narasimha Chari of Tropos Networks, Rajit Manohar of Cornell University and Shiladitya Sengupta of Harvard Medical School – all aged below 35 – have been named top high-tech innovators for "exemplifying the spirit of contemporary technology leading to a road map to what's hot in emerging technology."
Goel, a physicist as well as a physician and also the founder and CEO of Nanobiosym was named top young innovator for developing nanotech devices that could identify viruses and bacteria in blood samples more rapidly, accurately and cheaply than existing techniques.
Chari was selected for setting the wireless mesh networking standard. He created elegant algorithms that tailored mesh networking, once an exclusive province of the military, for routine civillian communication.
Tropos Networks, the company Chari founded in 2000 with co-inventor Devabhaktuni Srikrishna, helped launch commercial wireless mesh networking. With this, mesh networks have eased into plentiful use both outdoors — on campuses, in public safety networks, and at gatherings such as festivals — and in hospitals and factories.
Rajit Manohar, an associate professor of electrical and computer engineering in Cornell University, was chosen for creating computer chips with greater speed and lowered power consumption by removing the on-board clock that synchronizes the different functions of the chip.
He is also credited with building the first low-power processor for sensor networks, enabling them to run on the same batteries for years instead of weeks.
Shiladitya Sengupta of Harvard Medical School was chosen for delivering drugs to cancer cells using a nanoscale device. He is also the brain behind an anti-inflammatory gel that is now sold in India under the brand name Nimulid.
Unlike the previous four years, this year the names of young innovators have been whittled down from the usual list of 100 (called TR100) to a more compact 35.
"TR reminds us that the winners from previous years have changed your world. And, indeed, they have. The awardees — all under age 35 — were selected by a prestigious panel of judges for their potential to profoundly impact the world," said Technology Review Editor in Chief Jason Pontin.
The winners were selected by a prestigious panel of judges for their potential to "profoundly impact the world," he said.
In addition to being selected to the TR35, two awardees have been chosen as Technology Review's Innovator of the Year and Technology Review's Humanitarian of the Year by the magazine's editors.
President Bush sends NRI Baruah's nomination to Senate

US President George W Bush has sent the nomination of Santanu K Baruah, an Indian-origin former management consultant whom he picked as an Assistant Secretary of Commerce for Economic Development, to the Senate for approval.

The White House announced its intention to appoint Oregon-based Baruah, who is currently serving as the Chief of Staff for the Economic Development Administration at the Department of Commerce, to the post.
Prior to joining the Administration, he was a Senior Management Consultant for Performance Consulting Group in Portland, Oregon.
Earlier in his career, Baruah has also worked for the Secretaries of Interior and Labor. He received his Bachelor's degree from the University of Oregon and his master's degree from Willamette University.
He can assume office only after approval by the Senate.
NRI appointed to senior post in US intelligence agency (CIA)
The Central Intelligence Agency's National Intelligence Council (NIC)
will now have an Indian brain. Professor Summit Ganguly; who holds the Rabindranath Tagore chair in history in the University of Indiana, Bloomington, will join the NIC to help shape US policy on South Asia.
As part of what is known as the Global Expertise Reserve Program, the National Intelligence Council will use Ganguly's expertise on South Asia, specially India, as it seeks to interpret events and prophesy trends in South Asia.
When contacted, Ganguly said he
was not at liberty to talk about the
appointment.
But according to the National Intelligence Council's website, experts like Ganguly will work with the intelligence community in warning policy makers of potential humanitarian, diplomatic, economic, or in better understanding the factors contributing to those crises.
Ganguly's appointment comes as US and India have embarked on an ambitious relationship to change the contours of the global nuclear order, signing a deal in July that gives India access to civilian nuclear technology.
The deal is only part of a larger focus on India by US policy makers. In the welter of criticism against the India-US nuclear deal, Ganguly's has been a appositive voice.
Writing in Foreign Affairs early this month he criticised those seeing India "through the narrow and parochial prism of non-proliferation."