Independent India: Prosper and Self-Sufficient Nation after 73 years of Independence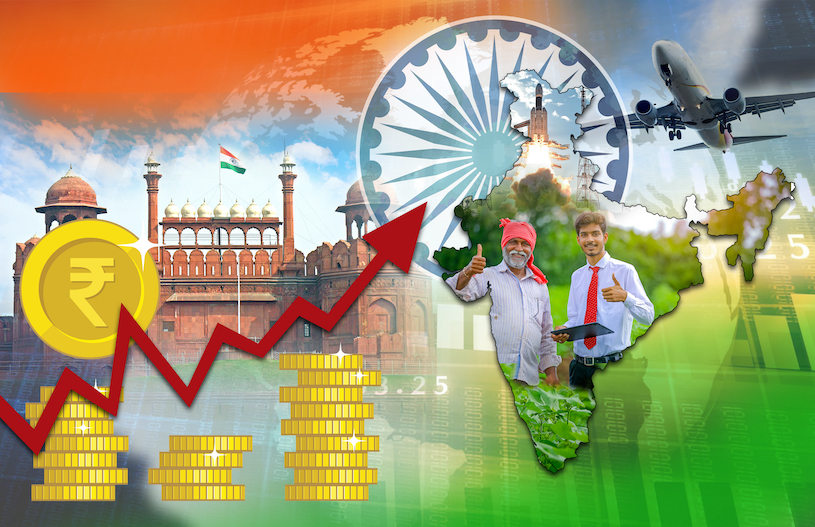 Independent India: A Prosperous and Self-Sufficient Nation after 73 Years of Independence
From the demoralised country she had been due to her having been devastated by long colonial rule, India has come a long way since her independence from British rule in 1947. India has made remarkable achievements in a variety of different fields ranging from economy to agriculture. These have brought it soaring through a breathtakingly stratospheric journey of celestially upward economic curves that now make it the fifth-largest economy in the world! This is in terms of nominal GDP, as per the data presented by the IMF's October World Economic Outlook. Not only that, it has been predicted by Standard Chartered in its long-term forecast that India will become the second-largest economy in the world – superseding the USA and following only China.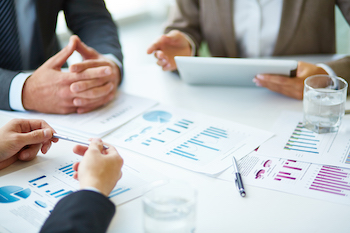 In the 73 years since her independence, India has been able to achieve landmark successes in several important areas. Most remarkably, she has been successful in retaining the democratic structure of the country, upholding the principles laid down in the Preamble as A Sovereign Socialist Secular Democratic Republic. The milestones of India's success are manifold, beginning with economic health and continuing on to agricultural development, industrial growth, and the steady growth of infrastructural facilities. Freedom from imperialist rule set India on anew path of progress and development that has placed her in a commanding position in the international arena today.  
India in the World Forum
Once a poor and devastated country getting freedom from her imperial rulers, India is now a major force in the global arena, and is (in many instances) a showcase of success and sustainability. India truly has become an icon of sustainable development under the aegis of able leadership and smart administration. 73 years after independence, India has excelled in all sectors and has uplifted both the lives and living standards of her people. That has received global acclaim, too.
United Nations' Voluntary National Review 2020 has highly praised the Sustainable Development Goals of India through the different developmental programs of the Government of India. These have uplifted more than 271 million people from poverty. That became possible through economic development and empowerment; improved health facilities; and much-improved access to child and maternal health, nutrition, drinking water, electricity, and housing facilities through the Sashakt Bharat – Sabal Bharat program (meaning 'An Empowered and Strong India'). Other programs like Swachh Bharat – Swasth Bharat (meaning 'A Clean and Healthy India') stress cleanliness and improved health facilities. Satat Bharat – Sanatan Bharat (or 'A Sustainable India') stresses the use of renewable energy sources. It has done so to the point where India ranks third in renewable power, fourth in wind power, and fifth in solar power, globally. Samagra Bharat – Saksham Bharat (meaning 'An Inclusive and Self-Sufficient India') stresses better social and civic facilities and the development of entrepreneurial skills. Along with it, there is Sampanna Bharat- Samriddh Bharat (meaning 'A Prosperous India'), which gives importance to the development of infrastructure and youth in the workforce, along with improving the business and manufacturing sectors.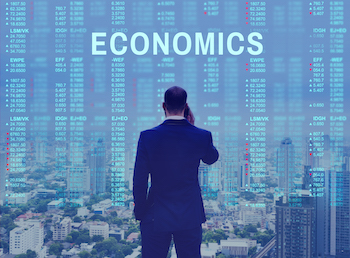 The numbers also reflect the reality of resplendent India post-independence. As per the statistics by Statista, India's GDP at factor cost has multiplied more than 70 times from 1960 to 2018 – and the per capita GDP has multiplied more than 20 times in the same period. Achieving self-sufficiency in food grain production, the figure has multiplied 5 times. So has the export and the road network. This is a reflection of India's achievement through fulfilment of her solemn pledge to rise to the top. 
From Poor to Prosperous: The Economic Journey of India Post-Independence
The British left a ravaged and damaged India with an unknown destiny. However, proper planning and the brilliant think-tank of Indian policy-makers gradually transformed the Indian economy into a prosperous and prospective one, with rising growth in income, purchasing power, and standard of living. The figures don't lie; they speak for themselves: In more than 7 decades of India's independence, her GDP in absolute numbers has grown more than 20 times! From $30.6 billion in 1950 to $2870.50 billion in 2019 (according to tradingeconomics.com), it has truly traversed a path of positive progress. This has been made possible due to the rapid pace of development in the agricultural and industrial sectors and due to various beneficial reforms along with enhanced infrastructural growth and rising social awareness. 
Agricultural Advancement: Sustainable and Self-Sufficient
Even after 73 years of independence, agriculture remains the leading means of livelihood for the majority of people. Hence, post-independence, the policy-makers focussed on the development of agriculture and on achieving self-sufficiency in food grain production so that India does not need to depend on any other country to feed her people. Thanks to the extensive agricultural research by Indian scientists like M. S. Swaminathan, the use of High Yielding Variety (HYV) seeds coupled with land reforms, increase in irrigation facilities, and the use of superior fertilizers and pesticides, India began to shine bright in agricultural production.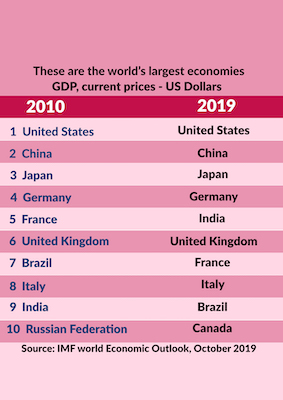 It began with the Green Revolution in the late '60s and was followed by a bumper production of milk through the White Revolution (also known as Operation Flood) under the aegis of the National Dairy Development Board (NDDB), oilseeds through the Yellow Revolution, and fruits and vegetables through the Golden Revolution. It has been a delightful advancement towards pride and confidence. The green cover enhanced and enriched the agricultural sector of India. This green path of livelihood has been acknowledged by international studies, too. According to research published in Nature Sustainability, India and China (since 2000) have created one-third of the world's green landscape of agricultural lands, forests, and other types of vegetative lands. In India, 82% of the green landscape consists of new croplands. Hence, the promise of tomorrow seems even brighter. 
Industrial Development: Progress through Liberalizatio
Despite her resources, potential and manpower, the colonial rulers treated India as a supplier of raw materials for overseas industries. Therefore, independent India had to traverse a long path of policies of centralization, decentralization, and liberalization to become the confident and self-reliant industrial nation she is today. The immediate post-independence period focussed on the growth of heavy industries like iron and steel; the development of infrastructure; and the categorization of the public, private, and joint sectors of industrial production. The inauguration of several hydroelectric and thermal power projects has helped in the growth of agricultural as well as infrastructural industries. 
The Industrial Policy of 1991 was a trendsetter in many ways. It adopted the policy of liberalization and welcomed foreign investment, thereby spinning the wheel of development further to make it achieve even faster revolutions. With the private sectors increased participation in the country's industries, India moved faster on the industrial track. Heavy industries like engineering, electrical machinery, automobile, and construction along with the electricity, water, and gas supply has been growing remarkably. Service sector industries like hospitality and tourism have achieved great landmarks. Information technology and telecommunications have placed India astride a prominent place of honor in the global arena. Indian IT professionals are making bright marks and are achieving new heights of success globally.  
The growth of the IT and telecommunications industries has made way for retail and e-commerce in India, and it is boasting a high growth trend. As per a report published in The World Economic Forum, India has the second-largest market for online business. That has initiated Microsoft to enter the rural market of India through its Airband Initiative program wherein they have collaborated with AirJaldi to provide reasonably priced broadband. This will enable the rural population to enter e-commerce more easily and also to gain access to medical, financial and other e-governance services.
Recent government initiatives like the 'Make in India' (2014) programme or the National Infrastructural Development Corporation's Skill Development initiatives are steps towards a bright future in the industrial development of India. According to the World Economic Forum, the real estate sector of India is estimated to contribute 13% of its GDP by 2025; and by 2030, it is projected to reach a market of $1 trillion.
Along with heavy industry, the Indian cottage and small industries sector has also witnessed significant growth and achievements. There are different types of incentives, grants, and export assistance given to this sector.
Infrastructural Achievement: Smooth Roads and Smart Cities
Gone are the days of poor roads and dark villages. India has achieved noteworthy successes in the infrastructural development of both rural as well as urban sectors. The lengths of the national and state highways have increased to a great extent. With a total of 5.89 million kilometres, the Indian road network is the second largest in the world. This has made the transport of passengers and goods; the provision of services across distances; and the ability to stay in contact easier and less time consuming. (For instance, communication between villages and cities has become easier.) 
The power sector of India has achieved great success with the development of thermal and hydroelectric power projects. All the inhabited villages have been electrified. India is also a potential mass-market user of renewable energy and has a promising future in this sector. Leading among them is solar energy. According to a survey by the International Renewable Energy Agency (IRENA), India is the cheapest producer of solar power in the world. There is great potential for generating power from wind, tidal, bioenergy, and energy from wastes. 
Honorable Prime Minister Narendra Modi, in his inaugural speech at RE-Invest 2020, said that India's renewable energy capacity will increase from 136 gigawatts (GW) to over 220 GW by 2022. 
The Smart City Mission of the Government of India (launched June 2015) is an innovative approach to sustainability and local development. This is a great move towards urban development and improving the infrastructural and civic amenities of a city or town. The objective of this competition-based program is to promote developmental models in sustainability, quality of life, and cleanliness in the cities and towns. 
Science & Technology: Achievements Influencing Progress 
From spaceships to vaccines, India's achievements in the field of science and technology have been phenomenal. The Indian Space Research Organization (ISRO) under the Department of Science has been successfully launching satellites and exploring the moon and Mars. These achievements have made India a major player in the area of space science. Satellites have created a sea change in the communication system of the country and have enabled her to move ahead. In the fields of nuclear power and weapons, India has been able to develop a trend of success due to her able and competent scientists. 
The pharmacy sector of India's many noteworthy contributions include producing low-cost generic medicines and supplying them worldwide. Described by Prime Minister Narendra Modi as the Pharmacy of the World, the Indian pharmaceutical sector has also been able to produce Covid-19 vaccines in her laboratories. 
The telecommunications and information technology sectors have revolutionized India's communication system and have made the lives of common people easier and more convenient along with developing the economy and creating a lot of employment opportunities for the youth. 
The relentless efforts and initiatives of the scientists of India have been able to make her agricultural sector green and promising with projects like the Green Revolution and the White Revolution. Not only in terms of achievements and accreditations but also in terms of science and technological development, these have been able to elevate the lives of the common people. 
The Societal Achievements of Independent India: A New Outlook; A Broader Perspective   
Post-independence India has witnessed a host of social reforms and changes both in the structure of the demographics and in the mindset of the people. Primary and secondary education was made free, which helped a large part of the common people including rural and underprivileged children. The result was a highly impressive rise in the literacy rate. The rate of literacy increased from 18% in 1947 to 77.7% in 2020. The increase in literacy caused greater awareness among the masses. Along with that, legislation for abolishing the zamindari system; ensuring fair wages for workers; and preventing child marriage, female feticide, and the dowry made many things mandatory. Untouchability was already prohibited in the Constitution.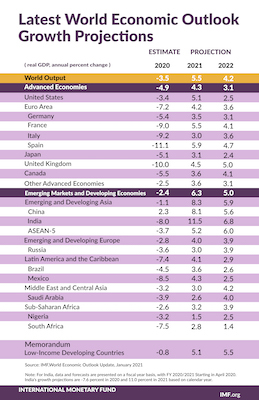 Education has expanded the thought process of common Indians, especially in the case of women. They are no longer treated as if they were a burden on the family because their marriage would drain the resources of the family. On the contrary, more and more women are being educated and getting appointed in various jobs, even in so-called 'only for men' jobs. The Gandhi Nagar Railway station in Rajasthan is a unique example. This station is staffed by women only. From station master to the porter, all are women. Not only that, the station is clean and organized, and it pays a good income.
The constitution has ruled that 33% of the legislative assembly or parliament seats must be reserved for women; and this law is well-implemented now. This has given rise to the emergence of many prominent and eminent women politicians.  Corporate affairs have also categorically mentioned that companies with a paid-up share capital of Rs 100 crores and above, or a turnover of Rs 300 crores and above, must appoint at least one woman director. 
Women empowerment has been prominent at the rural level, too. There are women members of the Panchayats, self-help groups of women; and even farming is done by women, in many cases. The 'Beti Bachao Beti Padhao' or 'Save and Educate the Girl-Child' program has been immensely popular in rural India. 
Not only women empowerment, but also the Society of Post-Independence India, has also undergone several changes in its outlook. Inter-caste or inter-religion marriage is no longer taboo now. Liberalization, followed by digital communication and exposure to the greater world, has opened up Indian society and has made it free from certain irrational notions about life as a whole.
Entertainment and Sports: Indian Achievers Making Us Proud
The entertainment and sports arena of post-independence India has produced many milestones and achievers who have made the country and their countrymen proud. Filmmakers like Satyajit Ray, Mrinal Sen, Shyam Benegal, Govind Nihalani, Adoor Gopalakrishnan, Raj Kapoor, Bimal Roy, Guru Dutt, and G Aravindan along with actors like Dilip Kumar, Raj Kapoor, Dev Anand, Uttam Kumar, Amitabh Bachchan, Rajnikant, Kamal Hassan, Mohanlal, Uttam Kumar, Shahrukh Khan, Aamir Khan, Nargis Dutt, Meena Kumari, Madhubala, Vyjayanthimala, Waheeda Rehman, Sharmila Tagore, Rekha, Hema Malini, Shabana Azmi, and Smita Patil have portrayed various roles with incredible élan and competence that has made Indian cinema famous worldwide. International festivals regularly screen Indian movies; and they are critically acclaimed.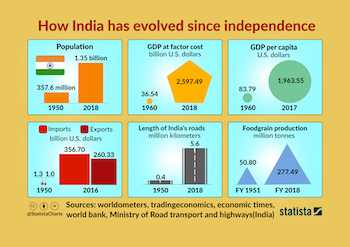 The area of performing arts, including musical and instrumental genius, has also produced noteworthy personalities like Pandit Ravi Shankar, Uday Shankar, Ustad Zakir Hussain, Pandit Ali Akbar Khan, and many more. India has been acknowledged around the world for her soulful music – music which reflects the ancient and storied tradition and culture of the country. 
Sports are a national passion for the people of India. From the Cricket World Cup to the Olympics, Indians have achieved success everywhere. From the 'Flying Sikh' Milkha Singh to the latest young archer Deepika Kumari, all have struggled with poverty and many other hindrances and have emerged as champions! This not only makes India proud, but also inspires the common people. The cricketers like Sunil Gavaskar or Sachin Tendulkar, MS Dhoni or Virat Kohli can truly be called national heroes. Women Cricketers like Jhulan Goswami or Mithali Raj have also become household names. 
Overcoming the Impediments
Independence from British rule gave India freedom – but with that freedom came the responsibility to grow into a self-sufficient, peaceful nation with prospects of sustainable growth in all sectors. It was a difficult task to overcome, given the many obstacles and shortcomings which had been created and left by the colonial rulers. However, with intelligent planning and strong leadership, India moved ahead with achievements in all sectors and emerged as a major force in the world. There is no area of activity that can be discussed without laudatorially addressing the significant role and contribution of India. That is the greatest achievement of the country after 73 years of independence.         
Common misconceptions about India (misconceptions such as assuming it to be a poor, superstitious, dirty, or unhealthy country) can easily be answered by the tremendous achievements of the country post-independence and by the impressive list of successful non-resident Indians throughout the globe. India has emerged as a major power in the fields of international economy, politics, and defence. She is proud of her heritage, and – head held high (with the confidence and class of a glamorous Bollywood actress) – walks hand in hand with the developments of the new global order, in which she is an active participant and bold leader.
demoralised country
agriculture
fifth-largest economy in the world
World Economic
second-largest economy in the world
USA
China
economic health
agricultural development
industrial growth
the steady growth of infrastructural facilities
able leadership
smart administration
An Empowered and Strong India
A Clean and Healthy India
A Sustainable India
Sampanna Bharat- Samriddh Bharat
A Prosperous India
India's GDP
he Economic Journey of India Post-Independence
Agricultural Advancement: Sustainable and Self-Sufficient
Industrial Development: Progress through Liberalization
spinning the wheel of development, country's industries
Information technology and telecommunications
Smooth Roads and Smart Cities
Science & Technology: Achievements Influencing Progress
pharmacy sector
The Societal Achievements of Independent India
A Broader Perspective