India @75: Achievements and Aspirations for the Indian Centenary By Raj Shah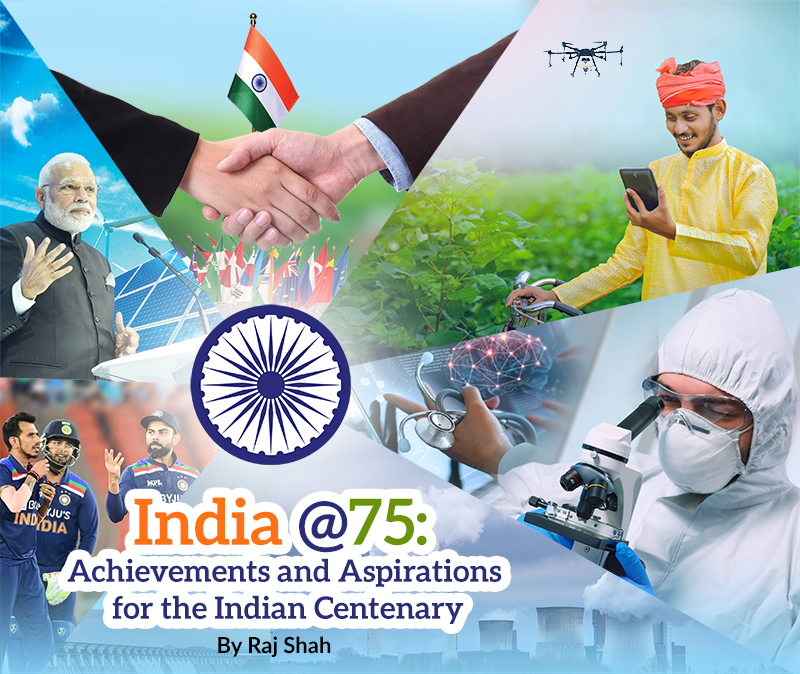 Once the largest economy in the world, India emerged from the rule of the "Evil Empire" in 1947 as one of the poorest countries. India, the land of the Vedas, the land of diverse cultural heritage uplifting the principle of "unity in diversities," and the largest democratic country in the world, is celebrating 75 years of freedom this year. This freedom from colonial British rule was achieved through two centuries of struggle and resistance, sacrifices and pledges of millions of common Indians. Finally, on August 15, 1947, India became an independent nation and was declared a "Sovereign, Socialist, Secular, Democratic Republic" by the Constitution of India.
In the context of celebrating India's 75th year of Independence during 2021–22, it is a watershed moment to examine the achievements of the past and aspirations for the Indian Centenary that will be celebrated in 2047.
The International Monetary Fund (IMF) is predicting that India will be a global leader by 2047 in economic terms as well as in terms of prosperity. More importantly, it will be more inclusive, more sustainable, and more resilient. This global leadership will lead India to celebrate the Centenary with a greater sense of national pride, achievement, and fulfillment. The world will look to India as a role model for the developing world!
August 15, 1947, was a new beginning for the newly independent country. Despite her physical and natural resources, the country was ravaged by the long colonial rule that was manifested through poverty, mismanagement, and other vices. The leaders and the administration had the Herculean task of reviving them and rebuilding the country to bring back the old prosperous days of this rich country.
Economy: India inherited a Shattered Economy
Angus Maddison, a British economist, traced the economic history of India across 2,000 years starting from 1 CE in his study of the global economy. He documented in his book The World Economy that for much of human history, India had been one of the largest and most prosperous economies in the world. In the early eighteenth century when the British colonial powers entered and started colonizing it, India was the largest economy in the world, accounting for as much as 27 percent of global GDP. India, during that time, was often described as the bird of gold (sone ki chidiya).  From Alexander onwards, the Greeks, the Turks, the Moguls, the Portuguese, the British, the French, and the Dutch, all of them came and looted India and took over what belonged to India.
Major Economies of the World Over Time (Shares of Global GDP)
Source: The World Economy: A Millennial Perspective, a book written by Angus Maddison
Today, if we look back and take note of what has been done, we shall find a glorious period of success and achievements. India has been able to build itself into an upcoming and strong nation, with indices of development in all fields. The global population and the power corridor look at India with respect and awe. India matters in the spheres of power, economy, and development. The journey of 75 years has been a remarkably fulfilling one.
India's GDP stood at ₹ 2.7 lakh crore (270,000 crore – $33 billion)  at Independence. Now, 74 years on, it has reached ₹ 232 lakh crore  (23.2 million crores $2.8 trillion). India is now the sixth largest economy in the world and is on its way to becoming the third-largest by 2030.
Forex Reserves
India's forex reserves (in foreign currencies and other assets such as gold) stood at a meager $128.87 million in 1950-51. India's forex reserves now stand at $573 billion – the world's fourth-largest. Liberalization, industrial development, and foreign investment has played a major role in revitalizing the Indian Economy and helping to set her on a journey of supremacy as the fastest growing economy.
Foreign Direct Investment
In 1948, the total foreign investment in India stood at $320,000. In 2020-21, India received a record US $81.72 billion in foreign direct investment (FDI).
Agriculture and Food Production
Becoming a self-sufficient nation in agriculture and food production has been a top priority for India after gaining its independence. India has come a long way since being that country that used to import food grains in the 1950s. Now, India has successfully utilized its agrarian heritage and has become a net exporter in food grain. The total food production in 1950 was 54.92 million tons. It jumped to 305.44 million tons in 2020-21.
Poverty Reduction
In 1947, the poverty rate at the time of British departure was at 70%. A recent study by the World Bank, in April 2022, pegged the poverty rate in India at 10%.
Literacy Rate
The literacy rate in India has shown major signs of improvement. The achievement of 77.75% in 2022 is up from just 12% at the time of Independence in 1947. Kerala with a 93.91% literacy rate is the top state in India while Jammu and Kashmir with a literacy rate of 68.74% is the least literate union territory in India. With the abrogation of 370 and 35A this number is bound to change.
Steps taken by the Government of India to improve Literacy Rate in India: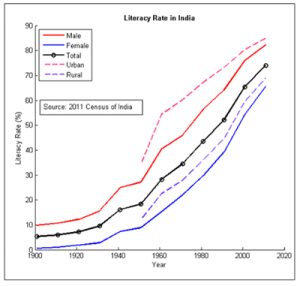 As per the Right to Education Act of 2010, the Government provides free and compulsory elementary education to all. The following steps to success include:
The setting up of new schools and colleges at district and state levels
The formation of committees to ensure proper utilization of funds allotted to improve literacy rate
Female literacy rates have increased to a great extent, thanks to the Beti Bachao, Beti Padhao initiative taken by the Modi Government.
Government support to NGOs such as Ekal Vidylay, Pratham, and AIM
Connecting India
The infrastructural development of India has radically changed the infrastructural facilities and communication network of the country 75 years after independence.
In Independent India, the Indian Railways have focused on unifying all rail gauges, electrification of railway lines, and connecting northeast India to the mainland. The railway lines have been extended, including Northeastern states to the railway network continuing to a length of more than 67,956 kilometers. Roads have expanded exponentially in the last 75 years. In 1950, India only had 0.4 million kilometers of roadways. Today, the total length of roadways in India has multiplied by 16 times that to 6.4 million kilometers, making India's road network the second largest in the world.
Space Research
India has achieved noteworthy success in the field of space research in the 75 years after its independence. The Indian Space Research Organization (ISRO) was established on August 15, 1969. In 1975, India launched its first space satellite, Aryabhata, and in 1986, Rakesh Sharma became the first Indian to go to space.  Now, under the Make in India program, space vehicles and satellites are manufactured by Indian scientists. When India successfully launched the satellite Chandrayaan to the moon, it became the first country to reach Mars through Mangalyaan. That success has only given India an appetite to achieve even more. Former president A P J Abdul Kalam shared his vision of reducing the cost of launching satellites from $20,000 per kg to $2,000 per kg by the year 2050.
Electricity for All
Rural electrification has been a great success in post-independence India. While only 3,061 Indian villages had electricity in 1950, now that percentage has reached nearly 100%. From only 50% of the population covered by access to electricity in 1995 to 76% in 2010 to nearly 100% of people, the development has been staggering.
India @ 2047: One of the Top Three Global Leaders
The International Monetary Fund (IMF) released its World Economic Outlook in April 2022 and forecasted that India could potentially achieve the $5 trillion economy target by the year 2026-27. Interestingly, the current projections by the International Monetary Fund are almost the same as the Modi-led government's target of achieving the coveted status by the fiscal year 2025-26.
The central bank, major multilateral institutions, and rating agencies released their latest FY22 real GDP growth forecasts for India. As per these forecasts, GDP growth ranges from 8.3% as per World Bank's forecast to 10% by the Asian Development Bank's forecast.
Projections of global economic rankings suggest that by 2040, the Indian economy is expected to be the third largest after China and the US. Factoring population size, favorable demographics, and economic dynamism, India's economy will be a striking distance from the US economy in terms of GDP by the time it celebrates 100 years of independence! That means that India would be re-emerging as one of the largest economies in the world just as it was in the eighteenth century.
Roadmap to India's $5 Trillion Economy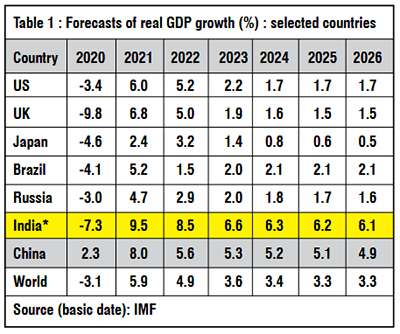 The macro-developments and trends which will lead to a $5 trillion economy are as follows: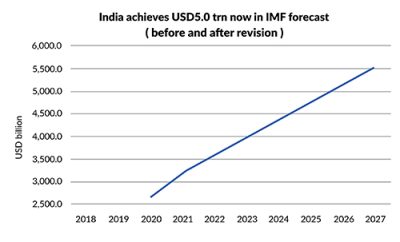 3x in economic output
Total growth of 3x in economic output translates into the third-largest economy in the world by 2040.
22% increase in higher education 
Expanding higher education enrollment rates by 22% — higher education creates 112 million college graduates between now and 2040, the largest number by country in the world by a factor of 1.3x.
US $1,500 billion investment in infrastructure
US $1,500 billion investment in infrastructure creates an additional 10 cities the size of Mumbai by 2040, each with populations of 23 million.
US $1,332 trillion of FDI and FII
US $1,332 trillion of FDI and FII attraction into India extrapolated over 23 years translates to India's share of global inbound FDI stock doubling by 2040.
US $115 billion increase in FDI outflows
Increasing FDI outflows to US $115 billion by 2040 would make India the fourth-largest overseas foreign investor globally.
5.8% share of global trade
Growing its share of global trade from its current 2.3% to a target of 5.8% by 2040 would make India the world's second-largest trading nation, behind China.
I will conclude this article with the wise words of a senior team member of Greater Pacific Capital based in UK:
A growth model that recognized these factors and harnesses India's advantages would lead to a very different middle-income country. The India of 2040 would be service- and knowledge-oriented, highly educated, productive, and wealth generating, while enjoying a level of prosperity and material well-being. "India delivering on both counts will deliver its tremendous soft-power benefits, making it an attractive partner for like-minded countries and a role-model for countries further behind and in need to develop their own development path" previously not witnessed in any country with population size. It would be a leader in key emerging technologies that are relevant internationally such as data, finance, and healthcare, which it would have deployed at scale, as well as a global engine of the mass-knowledge economy for the world, exporting services and intellectual property to the rest of the world. More importantly, achieving this transformation while adhering to the principles of democracy and free speech will ensure that this future India remains an open and free society that allows the free flow of goods, services, people and information in a manner that creates ongoing and long-term sustainable growth.
By enhancing inclusiveness, sustainability, and resilience of India's businesses and economy to raise the quality of its economic growth, Indians can enter the Centenary Year of India's Independence with a greater sense of national pride,  fulfillment and achievement! This is the vision that should drive our quest for development to become One of the top three Global Leaders by 2047!
---
---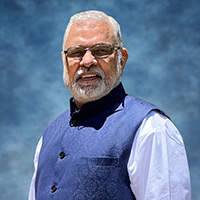 About the Author
Raj Shah
A software engineer by profession, Indian culture enthusiast, ardent promoter of Hinduism, and a cancer survivor, Raj Shah is a managing editor of Desh-Videsh Magazine and co-founder of Desh Videsh Media Group. Promoting the rich culture and heritage of India and Hinduism has been his motto ever since he arrived in the US in 1969. He has been instrumental in starting and promoting several community organizations such as the Indian Religious and Cultural Center and International Hindu University. Raj has written two books on Hinduism titled Chronology of Hinduism and Understanding Hinduism. He has also written several children books focusing on Hindu
culture and religion.