Indian Americans Shine at the 2015 Spelling Bee
In what is developing into quite an interesting trend, Indian American kids are dominating the Scripps National Spelling Bee year after year. What is even more remarkable is that the winners from the last eight years have all been of South Asian origin. This year was no exception as 13-year-old Vanya Shivashankar and 14-year-old Gokul Venkatachalam walked away with the coveted top prize as co-winners.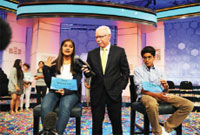 The two winning words on the night of the finale were "scherenschnitte" and "nunatak" spelt correctly by Vanya and Gokul respectively. The two competitors had been vying against each other neck-to-neck in what seemed to be a never-ending contest; they were both practically flawless, and it was hard to point out who was better. Finally, the contest ended in a tie, only the second time since 1962 that the top honor has been shared between two contestants.
For Vanya's family, it was déjà vu as her elder sibling Kavya won the Scripps National Spelling Bee in 2009. Vanya also won $100,000 in the show entitled Child Genius, in which she surpassed a number of brilliant kids competing against each other in mathematics, spelling, current affairs, and geography. Gokul, on his part, finished in third place in the 2014 Scripps National Spelling Bee behind Ansun Sujoe and Sriram Hathwar.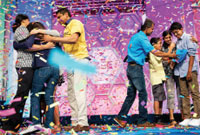 This year's National Spelling Bee witnessed nearly 200 children breezing through the preliminary rounds without a single wrong spelling. The top 50 with the highest scores sailed into the semis where as many as 21 kids did not spell a single word incorrectly. Further tests were conducted to determine the final ten for the grand finale. When the contest finally whittled down to three participants, the judges unleashed the toughest 25 words. Competitors left standing on stage after completing these 25 words have to be declared the winners, even if there is more than a single contestant as what happened last year. While Cole Shafer-Ray quickly exited after the word "acritarch,, both Vanya and Gokul stayed on to make it a marathon war of words. The judges finally relented and both contestants were declared joint winners.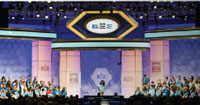 Besides the engraved trophy that they get to hold before the world, both winners will receive $35,000 as prize money, a $2,500 savings bond, a reference library and several other prizes. Both Vanya and Gokul have competed at the Scripps National Spelling Bee previously, making them determined, self-confident and rich in experience.