Indian Designers at the Oscars and Grammys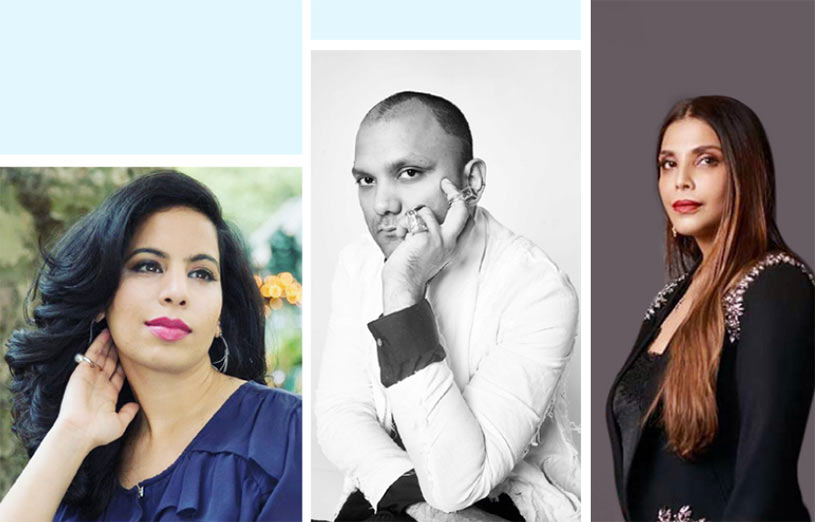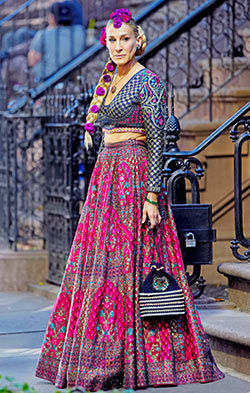 Be it the magical six yards of saree or a lehenga, even the salwar kameez, Indian attires are the favorites of many around the globe. Not just the dresses, but the creators of those dresses, the super-talented Indian fashion designers, have made their talent appreciated and sought after in the international showbiz arena of Hollywood. Their creativity, designs, and intricate detailing have established many of them as ace designers in Hollywood.
Some famous Indian designers who have made great impressions and have created a fan following include Gaurav Gupta, Tina Tandon, and Falguni Shane Peacock among others. Recently, these talented designers made a big splash at events like the Oscars and the Grammys.
Gupta's couture gowns have become a great fashion statement in Hollywood. The gowns feature elements of sculpture that make them distinctly different. Gupta began his academic career in the Delhi-based National Institute of Fashion Technology and graduated from Central Saint Martins College of Art and Design in London.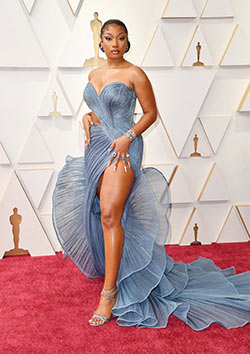 This year, rapper Megan Thee Stallion wore a Gupta couture gown for her debut at the 2022 Oscars. The icy-blue, ruffled gown looked glamorous and elegant with a thigh-high slit on the left side. The designer created this "Biomorphic Fantasy Gown" with a mystical sea creature in mind.
The Indian American designer Tina Tandon successfully blends both cultures in her creations. Born in the US, spending her early childhood in India, and returning to the US where she graduated from the Fashion Institute of Technology (FIT) in New York City made Tina's exposure truly global and foundations versatile. Today, she heads two famous brands – T.Tandon for the American styles and Posh Pari which makes beautiful Indo-Fusion centers of designer clothes.
Singer Falguni Shah, better known as Falu, received the Grammy Award in the Best Children's Album category this year. She was beautifully decked out in a Tina Tandon dress on the red carpet. Her bright red, flowy Brocade dress with a Georgette jacket in gold embroidery was a stunning Indo-Fusion dress that looked elegant from every corner.
The husband and wife duo of Shane and Falguni Peacock created internationally acclaimed dresses for women, highlighting their beauty, charm, and elegance. They launched their flagship store Peacock Pret in 2003. The couple worked together and expanded their empire in London, Manchester, Miami, and Dubai in addition to India.
While shooting scenes for her series And Just Like That in NYC, actress and fashionista Sarah Jessica Parker donned a Falguni and Shane Peacock lehenga. The Sex and the City star is famous for her fashion sense and great style. The lehenga she wore was a combination of maroon and blue with detailed embroidery work. The blouse was full-sleeve with traditional Rajasthani work on it.
They all are artists who have successfully blended western and Indian cultures, designs, and specialties through their creations. Their eye for details and aesthetic sense has made the Indian designers globally famous which is a pride and honor for India.
Indian attires
Indian saree
Indian wedding lehenga
ethnic wear salwar kameez
super-talented Indian fashion designers
international showbiz arena of Hollywood
ace designers in Hollywood
famous Indian designer Gaurav Gupta
famous Indian designer Tina Tandon
famous Indian designer Falguni Shane
Peacock, Oscars and the Grammys
great fashion statement in Hollywood
Gupta's couture gowns
Delhi-based National Institute of Fashion Technology
Saint Martins College of Art and Design in London
rapper Megan Thee Stallion wore a Gupta couture gown for her debut at the 2022 Oscars
looked glamorous and elegant
Biomorphic Fantasy Gown
Indian American designer Tina Tandon
Fashion Institute of Technology
T.Tandon for the American styles
beautiful Indo-Fusion centers of designer clothes
Singer Falguni Shah
Grammy Award, stunning Indo-Fusion dress
Shane and Falguni Peacock created internationally acclaimed dresses for women
empire in London
Manchester
Miami
Dubai in addition to India
fashionista Sarah Jessica Parker
full-sleeve with traditional Rajasthani work on it