Indian-origin, Rahul Roy-Chowdhary to become Grammarly's next CEO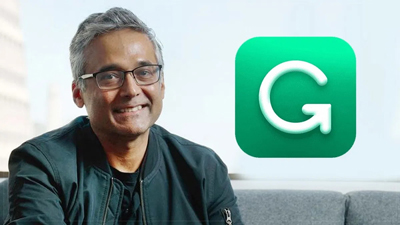 The artificial intelligence-based online text editing service Grammarly has chosen Rahul Roy-Chowdhury as its next CEO. The corporation announced that the executive of Indian descent will take over as CEO in May.
Rahul tweeted, "I joined @ Grammarly two years ago because of a deep belief in our mission to improve lives by improving communication. I'm honoured to serve that mission in a new capacity as Grammarly's CEO, starting May 1. We're just getting started."
"Our millions of users remain our north star as we continue solving their real communication challenges. Grammarly has been harnessing innovation in AI responsibly for over a decade, and we're just getting started!" Roy-Chowdhury added.
Brad Hoover, the current CEO will be succeeded by Rahul RoyChowdhury, the organization's current Global Head of Products. In a blog post, Hoover stated that Rahul's experience in both product and technology is a huge asset and that he is well-suited to guide the company through the coming challenges.
"Rahul is also mission-driven and fiercely user-focused, and his experience and learnings from building Chrome into a platform can help us move faster at scale," says the executive.
According to Hoover, "during his two years at Grammarly, Rahul has focused on driving excellence and helped us up-level as a company. He has pushed our thinking and driven the organisation forward with clarity, keen judgement, and sound decisionmaking."
"Under Rahul's leadership, we also took a big step forward with our product, increasing quality and introducing solutions to help beyond the revision stage of communication," he added.
In addition, he declared that Joe Xavier and Noam Lovinsky would take over as Grammarly's new Chief Technology Officer and Chief Product Officer, respectively.
Rahul Roy-Chowdhury spent more than 14 years at Google, where his last position was vice president of product management in California, before joining the San Francisco based company in March 2021. Between 2007 and 2009, he worked as a product manager at the Google office in Bangalore.
In 2003, Roy-Chowdhury also worked for Amazon for a short time. In addition to an MBA from Stanford University and a BA in mathematics from Hamilton College in New York, he also holds a Master's in computer science from Columbia University.
Roy-Chowdhury joins the increasing group of corporate executives of Indian descent who are in charge of major multinational companies, including Google CEO Sundar Pichai, Microsoft CEO Satya Nadella, and Starbucks CEO Laxman Narasimhan.
Grammarly was originally developed in 2009 by Max Lytvyn, Alex Shevchenko, and Dmytro Lider as a subscription-based service to assist students with their grammar and spelling.
Grammarly employs machine learning to help with contextsensitive grammar, spelling, and tone of voice in addition to fundamental writing.
Since its debut, Grammarly has created a number of products, such as Grammarly Business, that support large corporations in a variety of areas, including sales and marketing. One of its additional services is a plagiarism checker..