Indian Prime Minister Narendra Modi Picks up Trash from Beach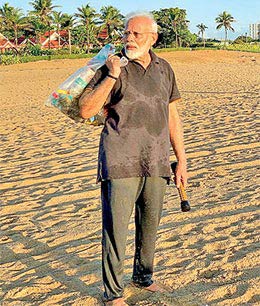 We've all heard the phrase 'practice what you preach', right? Well, Indian Prime Minister Narendra Modi seems to be following it quite diligently as well, especially when it comes to his Swachh Bharat Abhiyan aka Clean India Campaign. Just before the second round of informal summit with Chinese President Xi Jinping, PM Modi was plogging at a beach in Mamallapuram, Tamil Nadu. Plogging is the act of combining jogging with picking up litter.
Narendra Modi was seen with a large plastic bag in his hand as he went out for his early morning walk at a beach outside Taj Fisherman's Cove Resort and Spa in Mamallapuram. Clad in black kurta-pajama, Modi collected plastic bottles, banana peels, and other litter in the bag.
One of the most influential leaders of the world, the Indian PM took to Twitter where he shared a video and wrote, "Plogging at a beach in Mamallapuram this morning. It lasted for over 30 minutes. Let us ensure our public places are clean and tidy! Let us also ensure we remain fit and healthy."
Cleanliness has been one of the top priorities undertaken by PM Modi, whether it is the Clean India campaign or the campaign to ban single-use plastic in India. PM Modi was also conferred with the 2019 Global Goalkeeper Award for Swachh Bharat Mission from Bill and Melinda Gates Foundation at the United Nations.
The Modi government launched the Swachh Bharat Mission during its first tenure, on October 2, 2014. The initiative included the construction of community and public toilets, household toilets, and solid waste management. Apart from this, during his Independence Day speech this year, PM Modi vowed to end the consumption of single-use plastic in India by 2022.
Indian Prime Minister
Narendra Modi
Xi Jinping
Tamil Nadu
plogging
Mamallapuram
Swachh Bharat Abhiyan
Clean India Campaign
single-use plastic
2019 Global Goalkeeper Award