Indians Shining In The US
The political community in India did not accept the  message of "India Shining" a few years ago, but in  the  United States at this moment it is indeed "India  Shining" in its fullest aura. Recently, Indians have  been  at the forefront in the US and for good reason.  Read  on to see why so many make their motherland proud.
 A very significant name on the list is that of Aneesh  Chopra, the former Secretary of Technology with the  State of Virginia. President Barack Obama recently  appointed the 37-year old Indian-American Chief  Technology Officer of the United States. Chopra graduated with a B.A. from Johns Hopkins University in 1994 and subsequently earned a Masters in Public Policy from Harvard University's John F. Kennedy School of Government in 1997.
Prior to joining Virginia Governor Tim Kaine's cabinet, Aneesh served as Managing Director with the Advisory Board Company, a publicly-traded health care think tank serving nearly 2,500 hospitals and health systems. He led the firm's Financial Leadership Council and the Working Council for Health Plan Executives, as well as assisted the launch of the firm's first business intelligence software solution, Compass.
During his stint as Virginia's Secretary of Technology, Chopra led the Commonwealth's strategy to effectively leverage technology in government reform, promoted Virginia's innovation agenda, and fostered technology-related economic development with a special emphasis on entrepreneurship.  In his new capacity as the Chief Technology Officer, Chopra will be tasked with promoting technical innovation, leading to job creation, and using technology to lower the cost of healthcare
Aneesh Chopra has been awarded the Healthcare Information and Management Systems Society's (HIMSS) 2007 State Leadership Advocacy Award, and he was also recently named to Government Technology magazine's Top 25 in their Doers, Dreamers, and Drivers issue, which recognizes the 25 individuals they believe help set the standard for using technology to improve government. A true achiever, Chopra is certain to add more value to Obama's core team.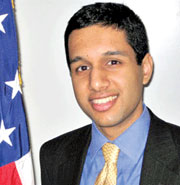 Another remarkable Indian to make a recent mark in the US is Subash Iyer. Iyer, who used to be with the management consulting giant McKinsey and Co. as its Business Analyst, has been appointed special assistant to Karen Mills, administrator of the U.S. Small Business Association (SBA).
Iyer, raised in Basking Ridge, New Jersey, has his roots in the metros of India as his father Mani Iyer, an engineer at Alcatel-Lucent, is from Chennai while mother Raji Iyer, a CPA at MetLife, hails from Mumbai.    A graduate of Columbia University with a degree focusing on economics and mathematics, Iyer began his career as a research analyst at the executive search firm Spencer Stuart. He then moved on to Goldman Sachs' Investment Management Division as a business-planning analyst before joining McKinsey's Boston, Mass., office in July 2007.
This 23-year-old recent entry to President Obama's team is all set to assist America's small businesses, which are the backbone of the nation's economy. Incidentally, small businesses employ nearly half of the nation's workforce, and are responsible for around 70 percent of net new jobs created. Iyer has been working with the SBA since February and aims to bring a "fact-based, analytical perspective to how the SBA operates." This will help SBA identify priorities on which to focus and more effectively serve USA's small businesses. One of his main objectives will be to develop assessments and metrics that help the agency assess its progress in assisting small businesses. Iyer is also charged with developing policy for Mills and managing program implementation projects.
Now, the entire Indian American community looks with eager anticipation about how this young man fares in his new responsibility.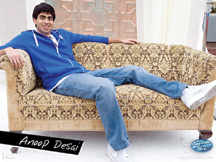 All around the United States, the reality show American Idol is indeed a super craze – where a lot of aspiring singers compete to showcase their talent and win the contest that assures instant and nationwide fame. Indian Americans are no exception, but after Sanjaya Malakar, the first ever Indian American to be in the finals, it was Anoop Desai from American Idol season eight, following suit. The fact that this 22-year old budding singer was eliminated in the final rounds of the reality show is no news now, but the amount of craze and attention Desai grabbed in the USA and India as well is indeed a matter of contention.
Anoop, a resident of Chapel Hill, North Carolina, is the only child of Manoj Desai who graduated from IIT Kanpur and came to America in 1977. Anoop's mother Nalini Desai earned her doctorate in South Africa and also studied in Navsari, Gujarat. She works in the biotech field.
A brilliant student himself, Anoop graduated with distinction from UNC-Chapel Hill (2008) with a double major in Political Science and American Studies. He also received a 4-year merit scholarship and at graduation was awarded the Peter C Baxter Memorial Prize in American Studies for his "intellectual excellence, personal warmth and creativity."
The singer, who abandoned his post -graduate degree in folklore to try his hand at becoming the next American Idol, says music is his first love. This is to the extent that after being chucked out of the Fox TV show; Anoop has planned to drop out of his school with an aim to pursue his music career.
Anoop, a fan of singer-songwriter Ne-Yo, also served as the music director of the group The Clef Hangers in his junior year and as its president in his senior year. The group has recorded two CDs that contain selections featuring Anoop as a soloist.
Nicknamed "Noop Dogg" by fans, Desai has drawn a huge army of fans in India too, to whom he says, "My fans have been so supportive throughout this process. They love and they really do care about me. That is a very gratifying feeling to know there are millions of votes coming in from people you don't even know."
Though it was most unfortunate that this popularity of Desai's in USA and his ancestral home in India failed to win him the coveted American Idol title, it is hoped that Desai's dream of making it big as a singer in the US come true.
While on one hand, Indian Americans are making big news at their adopted homeland, this time it was a resident Indian who made his country proud. Not an ordinary person though, eminent scientist and ex-President of India Abdul Kalam has recently been honored with the prestigious Hoover Medal for 2008 at a ceremony at Columbia University in New York. It is America's most prestigious engineering prize for service to humanity.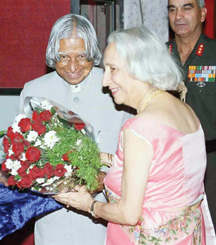 As the recipient of this award, Kalam became the first Asian to receive the honor that has been given annually since 1930 and constituted to recognize great, unselfish, non-technical services by engineers to the humanity. The award is administered by representatives from the American Society of Civil Engineers, American Institute of Mining, Metallurgical and Petroleum Engineers, American Society of Mechanical Engineers, American Institute of Chemical Engineers, and the Institute of Electrical and Electronics Engineers. The first medal was presented to President Hoover in 1930. Other recipients include President Dwight David Eisenhower, President James Earl Carter, and industrialists David Packard and Stephen Bechtel.
The prize distribution ceremony at the Columbia University Columbia University was attended by students and faculty members of the university, including two Nobel Laureates, as well as top Indian diplomats and members of the Indian American community.
David Soukup, secretary of the Hoover Board,  summed up that Kalam was chosen for this award  out  of eight nominees worldwide for his outstanding  work  for people of India. It was an enterprise to  show that  engineers do not just necessarily sit in  front of  computers, but that their work often goes  beyond and  leaves a very beneficial impact on humanity
Kalam is being recognized for making state-of-the-art  healthcare available to the common man at affordable  prices, bringing quality medical care to rural areas by  establishing a link between doctors and technocrats, using spin-offs of defense technology to create state-of-the-art medical equipment, and launching telemedicine projects connecting remote rural-based hospitals to the super-specialty hospital. It also said that uplift of the rural population of India has always been of prime concern to Kalam. Many of the projects that Kalam launched during his career have been ingeniously designed to bring some of the advantages of the modern world to the remote and economically deprived segments of the Indian population at an affordable price.
In his acceptance speech, Kalam said he was delighted to receive the 2008 Hoover Medal, and he thanked the selection committee of the Hoover Medal Board for the honor bestowed upon him. Truly, Kalam has really made not only all of India, but also the entire continent of Asia proud with his honor.