Journey to India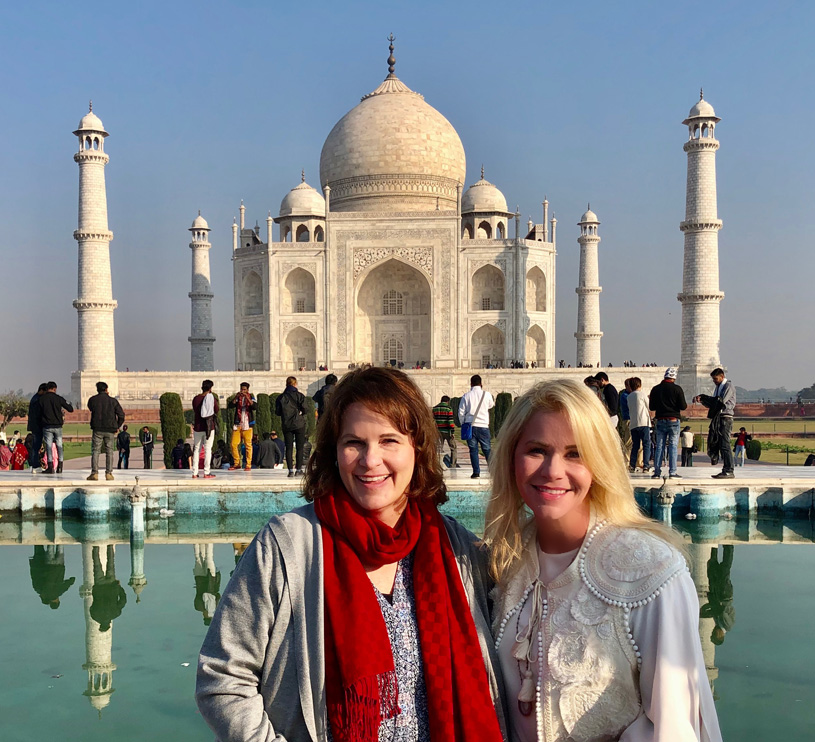 By Carolyn Bankston and Teresa Berstein
In late 2018, my dearest friend Teresa invited me to join her on a trip to India. She was arranging an Indian wedding in the US, which is her specialty, when she was invited to join the couple on an engagement photo-shoot at the Taj Mahal. We were coming up on the silver anniversary of our friendship, and this was a perfect way to celebrate. Travel for me over the past 25 years has been far and wide, but my only journey to Asia had been to the Asian side of Istanbul. Feeling deficient in checking off my bucket-list (I am a travel over-achiever) and wanting us to redeem memories from a difficult yet comical trip 20 years before, I jumped at the opportunity to travel to a country known for its diversity in culture, religion, geography and more.
Teresa, her sister and I traveled to Italy in 1998 during a sweltering July, and it was our first, and my absolute last, time on an arranged tour. There were 30 other people, with the requisite bus, tight schedule, and colorful tour operator, Dante. Throw in a good dose of immaturity, recalcitrance, impatience and fantastic humor, and we had a hellish, if not hilarious journey, which included constantly being herded on and off a bus, getting reprimanded at every turn (or literally at every stop), blowing out electrical sockets (because we brought every hair appliance imaginable and used them all at once), plenty of hurt feelings, and laughter until we cried. The stories are numerous and we have retold and enumerated our tales to each other and others ad nauseam. Because of life, and I am sure a bit of trauma from our last big trip, we had not traveled together since. And so this would be a real test of our growth individually and together.
India is a massive country – our plan was to visit, as most first-timers do, the Golden Triangle — formed by the cities of New Delhi, Agra and Jaipur. As readers will know, this is a region that had been inhabited for several thousands of years by many tribes, including some important dynasties such as the Rajputs, who were fleeing the marauding Huns and the Mughals.
After an almost 24-hour journey, we landed in Delhi and immediately set off by car for Agra to see the Taj Mahal and Agra Fort. We felt the contrast with America immediately, and we were struck by and silently observed the kaleidoscope of animals, vehicles, sounds, colors and smells. Cows, sacred to the Hindu religion, were ubiquitous, walking or lying in the street, sometimes literally stopping traffic. Car horns were constant and vehicles jostled to get ahead of one another with no awareness of boundaries. And people were everywhere— street vendors, people on the way to work, children playing — all bustling about with high energy.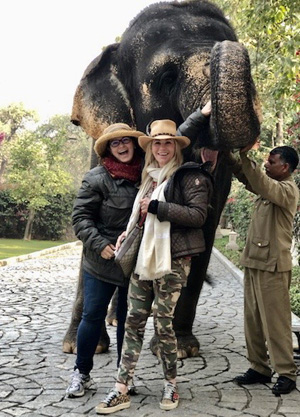 Smells ranged from noxious to delectable. Pollution in India is a well known fact, and it was quite something to smell the toxic fumes mixed with the delicious smells of the street vendor fare. To hear of the poverty and congestion of India and then see it in person was quite something — animals eating from litter piles, beggars, children with little clothing, no shoes, juxtaposed with luxury hotels barricaded behind large gates and walls.
Mixed in was a riot of color: shades of saffron yellow and orange, indigos, pinks and greens — on every person, structure, and vehicle. The colors seemed to shout beauty, joy, and pride of culture as a counter to the reality of a hard life. I was particularly delighted by the technicolor transport vehicles. Most were beautifully painted with Indian motifs, complete with bejewelled tassels hanging from rearview mirrors. These vehicles, and the ever-present cows, were my favorite sights as we traveled from city to city.
Our first view of the Taj Mahal was from the stunning Oberoi Hotel. This was the perfect place to nurse our jet lag with wine and delicious, aromatic Indian food. A perfect intro: sitting, sipping, nibbling, and there before us, the beautiful, gleaming dome and minarets of the Taj against a clear, blue sky.
The Taj is considered one of The Seven Wonders of The World. After a night's rest, we arrived before sunrise to see this impressive feat of architecture up close. We were quite fortunate to gain quick entry due to my friend's connections, and we did not experience the typical January fog that can obscure the beauty of this spectacle. Aldous Huxley, the English writer and philosopher, once wrote a scathing review of the Taj Mahal: "Marble, I perceive, covers a multitude of sins…" I am no expert in architecture, but I can only imagine this must have been some filtering through of England's rancor and envy due to India's liberation, because I found this to be a most beautiful jewel of architecture and craftsmanship.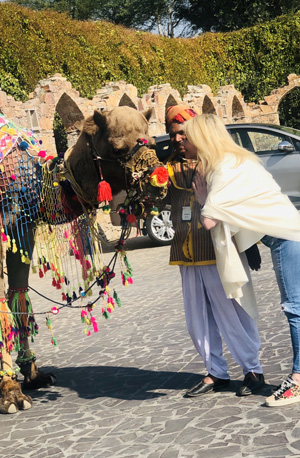 However, as with all beauty in life, it is complicated, and this testament of love by Shah Jahan to his second wife, Mumtaz Mahal, is no exception. First is the myth of the workers and artisans hands being cut-off and eyes gouged out, so they could never create another masterpiece in its like. Whether or not this is true, this was a period of intense rivalry, competition and warfare. So much so that with the state in disarray, Shah Jahan lost power to one of his sons, ending in the fallen emperor being put under permanent house arrest at Agra Fort left to gaze at the monument to his deceased wife from a distance.
Walking through the main gate, our first view was in the reflecting pool, inverting and replicating its beauty and magnificence. Continuing our walk, we immediately recognized the light effect. Because of the light changes during the day and evening, the marble changes color. It was a crisp, clear morning, and as the sun rose, our first perspective showed the color moving between a gossamer and pale salmon pink. It was truly ravishing set against a stage-set, blue sky. As the morning wore on and we walked closer, the color transformed to a creamy, parchment white. Hours were spent admiring the architecture, stonework, the precious stone inlays and gardens. My favorite ornamentation inside the tomb, was the number of plant species depicted, many in intricate, inlaid stone. Upon leaving, there was yet another color change to a beautiful, pearly, almost iridescent, white. Leaving felt like walking out of a dream, a mirage. We are grateful for our incredible luck receiving such warm hospitality and perfect weather during our visit to this impressive site.
Onward to Jaipur, also known as the "pink city" due to the rosy hue of the original sandstone buildings. But first, an update on Teresa and me. Our friendship has weathered many seasons and we have matured considerably, apparent by our getting on fabulously, better than a married couple I would say. We are both strong personalities, but we have both learned the art of negotiation. This time, no drama and much laughter, which completely warmed my heart; like family but better. Anyway, back to the energetic, beautiful Jaipur — a feast of palaces, textiles, jewels, spices and snake charmers.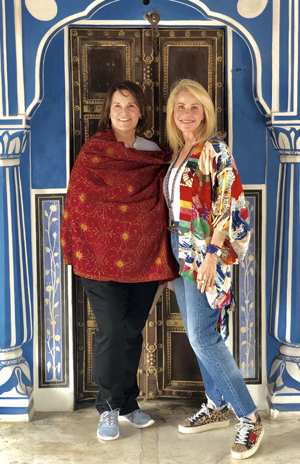 City Palace, built by the founder of Jaipur, King Sawai Jai Singh II, and where the Royal Family of Jaipur still resides, is a must-see for its ornately decorated entrance gates, carved marble interiors, and (always a favorite for me) the inlaid ornamentation. This is a fine example of Mughal, Rajput and European architecture combined. I particularly enjoyed the museum, which has an assortment of textiles, including carpets, Kashmiri pashmina shawls, Sanganeri block prints, Benares silk saris and silk embroideries, all rich in color and detail.
A unique site in Jaipur is Jantar Mantar, a UNESCO World Heritage Site, completed in 1734, also by King Sawai Jai Singh II. He was an expert in astronomy and astrology (both sciences are embedded in Indian culture), amongst other interests. Jantar Mantar, which translates to "calculation instrument," is the largest of 5 historical astronomical observatories in India: it features 14 astronomical instruments to view planetary positions and make astrological and weather calculations. This site is a departure from other Indian sites, not only because of its scientific and astrological significance, but because it is a piece of modern architecture built in the 18th century. Isamu Noguchi was struck by Jantar Mantar's geometric elements and its interaction between light and space, and used them as inspiration for his own work.
One fascinating instrument is the Samrat Yantra, the largest sundial in the world at over 27 meters high (88 feet). It can tell time, day or night, with a precision of about two seconds. Its shadow moves approximately 6 cm (2.36 in) a minute, easily visible to the human eye. It has a small cupola above the instrument from which eclipses and such weather events as monsoons were announced.
The last highlight of our adventure was more than we hoped for. After leaving Amber Fort in Jaipur (another incredible site) we headed to Alila Fort in Bishangarh, also part of Jaipur and the Aravalli mountain range. This was such a special place, because, well, it's special! But also because it was nice to have a break to relax from our marathon touring, and there could not have been a more perfect place to rest. Alila Fort is a 230-year old historic landmark converted into a boutique, luxury hotel that underwent a seven-year renovation focused on sustainable design. Painstaking attention to detail is evident everywhere you turn, mixing the exciting Jaipur Gharana architecture with modern, clean design. Truly perfect. We arrived after sundown, and driving up to the illuminated stone guard-house was breathtaking in itself. It sits atop a granite hill and, in keeping with Rajput fortress style, has turrets, many small windows, arched entrances, all in local sandstone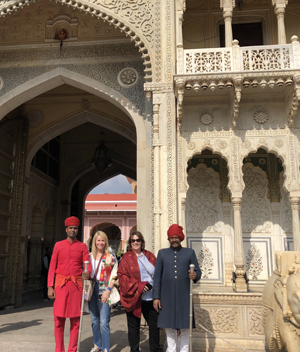 We were greeted warmly at the haveli (townhouse) at the base of the fort, with a pool, gym and organic garden. From here we were taken to reception, and upon entering we were completely enveloped by warmth: glowing lanterns, an incredible staff, and the melodic sound of a bansuri (Indian Flute).
Our room was in one of the turrets. It was beautifully designed — clean, spartan, yet inviting. Every morning, walking out, we were greeted by the bansuri player down below. It was mesmerizing gazing at him through the stone lattice-work outside our room.
The restaurants, one inside and one outside, were impeccable. The indoor restaurant is housed in two rooms of the former royal quarters and is perfection in Indian architecture and finishes; typical arches and columns, subtle Indian motifs, walls are finished in an original Rajasthani plastering technique. The outdoor restaurant features Indian barbecue, while musicians entertain guests who cannot help but get up and dance to the festive songs.
Different activities are offered here, and we opted for the excursion to town. We were escorted in a festive, camel-drawn carriage, not unlike the beautiful local motor-transport vehicles, except our engine had four legs and an attitude, as camels often do. We visited local weavers, ceramicists, and jewelers. The people were hard-working, warm and kind. Our stay ended with a catered lunch for two in the organic garden, gazing up at this magnificent site, contemplating our next trip.
indian tour packages
luxury tours to india
luxury holidays
tailor made holidays
Trip to India
india calling tours
Taj Mahal
City Palace
Amber Fort
Sun Temple
Brihadishwara Temple
Golden Temple
Mehrauli Archaeological Park
Kanha Tiger Reserve
Purana Qila
Bandhavgarh Tiger Reserve
Taj Mahal
Agra
Historic Building
City Palace
Jaipur
Palace
Amber Fort
Amber
Fort
Sun Temple
Konark
Hindu Temple
Brihadishwara Temple
Thanjavur (Tanjore)
Hindu Temple
Golden Temple
Amritsar
Sikh Temple
Mehrauli Archaeological Park
Park
Kanha Tiger Reserve
Wildlife Reserve
Purana Qila
Fort
Bandhavgarh Tiger Reserve
Wildlife Reserve
Recent articles tour
tours
tour of India
tour India
India tour
India tours
India tour package
tour to India
India tour
itineraries for India
silver anniversary
travel overachiever
sweltering July
requisite bus tight
tour operator
immaturity recalcitrance impatience
fantastic humor
hellish
hilarious
massive country
Golden Triangle
Delhi
Agra
kaleidoscope
animals vehicles
Hindu religion
toxic fumes
poverty
technicolor transport vehicles
Indian motifs
bejewelled tassels
jet lag
delicious aromatic Indian food
Seven Wonders
intense rivalry competition
disarray Shah Jahan
stageset blue
intricate inlaid stone
original sandstone buildings
drama
energetic beautiful Jaipur
palaces textiles jewels
snake charmers City Palace
Mughal Rajput
textiles including carpets Kashmiri pashmina shawls Sanganeri block prints Benares
Indian culture
historical astronomical observatories
Indian sites
scientific
astrological
Isamu Noguchi
approximately cm
Amber Fort
Jaipur another incredible site
Bishangarh
Alila Fort
year old historic landmark
boutique luxury hotel
sevenyear renovation
Painstaking attention
Jaipur Gharana architecture
illuminated stone guardhouse
Rajput fortress style
stone latticework
indoor restaurant
Indian architecture
Indian barbecue
musicians entertain guests
beautiful local motortransport vehicles
local weavers ceramicists
organic garden
magnificent site contemplating