Kayamkulam resident makes history as the first Indian mayor of Stafford.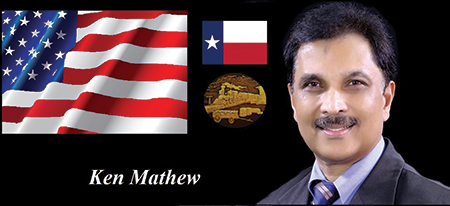 Ken Mathew, a native of Krishnapuram in Kayamkulam, has achieved a significant milestone by becoming the first Malayalee and Indian to be elected as the Mayor of Stafford City in the United States. This historic event marks a momentous occasion in the city's 67-year history.
Mathew secured his victory by obtaining more than 50% of the votes cast in the city, defeating the incumbent Mayor, Cecil Willis. It is noteworthy that Mathew's win also signifies his status as the first minority Mayor of Stafford, a city located southwest of Houston.
Scheduled to be inaugurated on Tuesday, Mathew will assume the role of Mayor. His dedicated service to Stafford spans over 17 years, making him the longest-serving council member in the city. In a telephone conversation with TNIE from Stafford, Mathew expressed his immense joy and pride, not only for himself but also for the Indian community of Stafford.
He acknowledged the pivotal role played by the unwavering support from the community in achieving this victory. Furthermore, he expressed deep gratitude for the diverse population thriving in their city. The support he received from individuals representing different ethnic backgrounds was instrumental in securing his triumph.
Stafford comprises a vibrant mix of Caucasian, African American, Hispanic, and Asian communities, all of which are cherished by Mathew. His involvement with the Stafford City Council began in 2006 when he was first elected. Prior to that, he served on the city's Planning and Zoning Commission for several years.
Mathew migrated to the US in the 1970s after completing his degree at the University of Bombay. He joined his wife, Leelamma, in Detroit, where she was attending the University of Detroit. Later, he obtained an MBA and pursued a career as an accountant and financial executive, working for various corporations, including Toshiba in the Houston area.
A resident of Stafford since 1982, Mathew previously held the position of pro-tem Mayor during his tenure as a City Council member. Additionally, he has served in notable roles such as Vice President of the Stafford Economic Development Corporation and advisory board member for Houston Community College and Fort Bend System.
Mathew's two daughters, Midhu and Soosan, have pursued careers as doctors in Houston, and his entire family has established their lives in the United States.