Keep the Festive Spirit Alive in the US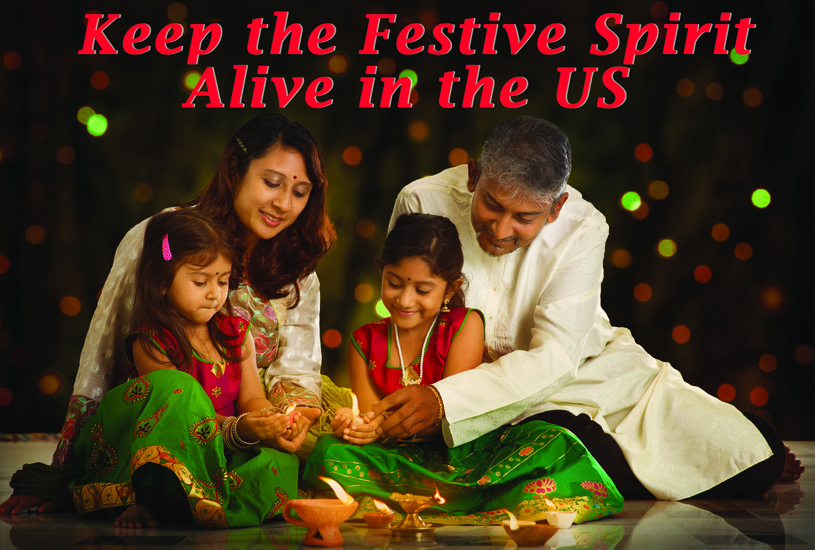 Celebrating festivals is not always easy when you're away from your home country,
but there are ways to keep the festive spirit alive!
By Taniya Talukdar
India is perhaps one of the few countries in the world that has a festival season that is kickstarted by Ganesh Chaturthi in the month of September. But, it is the month of October that actually sees the glorification of Navratri, Durga Puja, Dussehra and Diwali. People in India enjoy holidays during this time, which gives them gives them the chance to spend time with family and friends in perfect bonhomie.
Being in the USA, it can be quite a challenge to keep the festivities going. Apart from being in a different country with a different culture, the lack of holidays during this time proves to be a dampner. There is always a way around and people here shift the celebrations over to the weekend that lets them keep up with the festive revelry.
So what if you're not in India during this time? Make the most of it here with the help of our guide:

Diwali
Diwali or Deepavali, also known as the festival of lights and referred to as the Indian Christmas by many in the US, is one of the most celebrated festivals. It is observed by North and South Indians alike as it is by the Gujaratis, Bengalis, Maharashtrians and so on. One can celebrate Diwali in many ways here, one of them being a part of the different regional Indian groups like Tamil, Telugu, Gujarati, Bengalis, Punjabis, etc. Each group arranges different cultural programs and activities followed by dinner and socializing. Artists from India are invited to perform apart from local participants who put in well rehearsed performances. This also includes rangoli competitions given that the art form is an integral part of Diwali festivities. Card games and gambling too are a must during Diwali and you can arrange for a card session at your place and invite friends over. Make it a potluck affair where people can bring in a dish of their choice and contribute towards making the party a success. You may also offer puja at the local Hindu temple or organize for a puja at home with the help of family and friends to soak in the festive spirit.
Navratri
This is the festival of nine nights that celebrates Goddess Durga and glorifies Shakti. During the nine nights, Goddess Durga is worshipped in nine different forms. This culminates to Dusshera on the 10th day celebrating the triumph of good over evil. Navaratri is observed all over the country in India by different ethnic and regional groups especially in the state of Gujarat where people wear colorful costumes and perform garba at community celebrations venues. The US too has similar community celebrations. Joint Secretary of Federation of Indian Associations, Mohin Patel, says, "We organize celebrations in NYC to promote Indian culture and help Indians here stay in touch with their culture and roots. This way the culture remains alive among the younger generation too. Interestingly, not only Indians but many non-Indians participate in it. We bring over artists from India to perform at the garba." The nine nights are spread over several weekends to enable people to participate. "Food too is available there as people get tired and hungry after playing garba and can bond with other members over food," informs Mohin. Get in touch with the local group that organizes garba to be a part of it.

Durga Puja
Bengalis worship the Goddess Durga during Navratri as Durga Puja. The celebrations last for four days followed by visarjan (immersion of the Goddess). In the US celebrations last for 2 days over a weekend. It is organized at a community level by the regional Bengali group and are present in different states of the US. Immigrant high states like California, Texas and New York have higher number of such groups and each group organizes their own puja. For example, Boston is reportedly having five different Durga puja celebrations this year and you can go pandal hopping just like back in India. Apart the puja itself, several cultural activities take place simultaneously at the venue. Artists are invited over from India to participate and there are several competitions arranged for kids like painting, singing, dancing and more. Dhunuchi nach is another feature of Durga puja and all are welcome to participate.
With such bonhomie available right here, it's impossible to miss home. So connect with your local group and be a part of the festival season in any way that you want!