Marconi Society Awards Indian Students Tackling Women's Safety & Air Pollution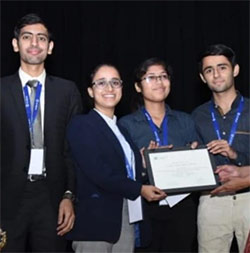 The Marconi Society has awarded top prizes to students in India who have come up with innovative solutions that address the challenges of women's safety and air pollution. The Marconi Society celebrates, inspires, and connects innovators building tomorrow's technologies in service of a digitally inclusive world.
The two solutions won the prize as a part of the contest organized in India by the Marconi Society's Celestini Program. Celestini Program is run by the Society's Young Scholars, and is a way to inspire and empower students in developing countries and using technology to solve local issues.
Teams of students from Delhi's Bharti Vidyapeeth College of Engineering won both prizes. A team of students developed an Android App, Rakshak that detects speech patterns via the audio microphone of the user's smartphone to sense that the user is in trouble and generates SOS alerts and the location of the user, and sends them to emergency contacts specified by the user. The app detects audio snippets with speech commands requesting help or saying "stop" in distressed tones to send out the alert. Piyush Agrawal, Subham Banga, Aniket Sharma and Ujjwal Upadhyay developed the app to tackle the issue of women's safety in India.
The second-place winning team, from the same educational institution, addressed the issue of air quality in India. Harshita Diddee, Shivam Grover, Shivani Jindal and Divyanshu Sharma created a privacy-aware smartphone app called VisionAir. It uses photos of the horizon taken from a smartphone to estimate air quality.
The winning team (Rakshak) of the Celestini Program will receive a cash prize of $1500 and the second-place team (VisionAir) receives $500. Talking about the Program, Chair of the Marconi Society, Vint Cerf said, "This is the third successful year of the Celestini Program in India. We see a clear trend of Celestini Program participants choosing research careers and technology-oriented graduate programs, which helps us fulfill our mission of inspiring the bright minds that will bring the benefits of connectivity to the next billion."
Students from India
Marconi Society
Celestini Program
Bharti Vidyapeeth College of Engineering
Rakshak
VisionAir
Android App