Meghavi Ketul Indian Wedding
Meghavi Parekh and Ketul Shah's love story is one that is full of surprises and romantic gestures. Though the two both lived in Parsippany, New Jersey, they first met during a video conference with mutual friends in 2011. Recognizing a special connection at that virtual meeting, Ketul instantly sent a Facebook friend request to Meghavi that she accepted. The virtual friendship led to a real life one when the two started meeting in person. 
Meghavi and Ketul began dating in earnest in September of 2012. After dating for five years, Ketul proposed and Meghavi happily accepted! Meghavi was overwhelmed by the way Ketul proposed, which took place in phases. First, the couple went on a sunset helicopter trip of New York and witnessed the mesmerizing sights together. The next weekend was the eventful one.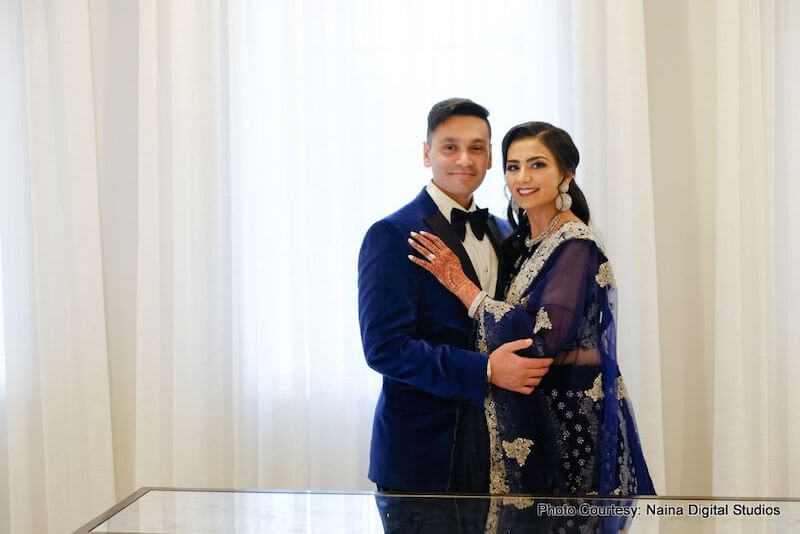 ---
BANQUET HALLS The Mansion At Mountain Lakes 973-794-3900 | CAKE Chocal8Kiss Bakery 888-986-2253 | DECORATOR JP Décor 551-655-7114 | HAIR AND MAKEUP Aysh Makeup 732-552-5900 | HORSE Equishare Baraat Horses 908-797-3993 | MEHNDI Henna By Shweta 862-596-8064 | MUSICIAN ILLUSION DJs 201-736-7987 | PHOTOGRAPHER/VIDEOGRAPHY Naina Digital Studio 732-881-6700 | CATERING Aashirwad Palace 973-366-9949
---
Ketul sent a surprise package to Meghavi, a box on which "I love you" was written in 10 different languages. There was a beautiful red dress in it with a note to be ready by 12:30pm. The blushing Meghavi dressed in red went on a lunch date with her true love. Just after lunch, Ketul hurried to a ferry ride in New York. Just when they reached the pier, Meghavi was awestruck to find all their close friends carrying a banner that read "Baku (my dear) will you marry me?." Meghavi was sincerely touched by Ketul's romantic gesture and the presence of friends during the great moment of her life.
The couple decided to marry in May 2019. Meghavi and Ketul did not want a wedding planner, and instead, they decided to plan the details themselves with the help of their family and close friends. The couple wanted to enjoy every bit of the planning, and according to Meghavi, it was a huge task, but the process and the successful execution of the plans made them truly content. 
They chose a venue close to Parsippany as both families and their friends lived nearby. Just like their personal chemistry, the choice of venue also stroked a chord of unity and romanticism together. During their search for the perfect venue, Meghavi and Ketul visited The Mansion at Mountain Lakes and were overwhelmed by its rustic elegance. The two agreed that it was the perfect location for their dream marriage.