MEMORABLE FILMS OF BOLLYWOOD From start to 1970s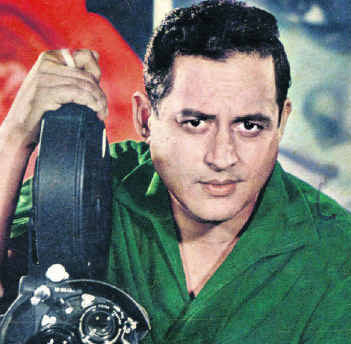 Someone once quipped that there are three kinds of films in the world – good films, bad films, and Hindi films. That statement may sound amusing, but it is a fact that Hindi films that churn out of Bollywood are of a totally different genre. It seems like Hindi films are being made and released nearly every Friday at a theatre near us. Just like the waves of a sea that never ceases to hit the shore, Hindi films never cease to hit the screen. Over the years there have been a lot of changes that have taken place in the movie world, but the formula used by makers of Hindi films has not changed. Week after week, month after month, and year after year, the films continue to make us happy, sad, laugh, and cry!
Hindi films have a long history beginning with silent movies. But possibly the most notable development that took place was the advent of the speaking films starting with Alam Ara. After that in the next few decades, thousands of films have been made, but there are some that have made an indelible mark in the minds of the viewers. Every year, the Hindi film industry has delivered some film that has made all of the country sit up and view in awe. The story, cast, and performance all have mesmerized moviegoers, and more often than not, they continue to recollect the magic of the movie even fifty years from then.
In this article, we will attempt to remember some of the films produced by the Hindi film industry that deserves a mention even today in any film related discussion. The list is unending, the films are aplenty, but there are always the best of the best. Part one of this article will highlight memorable films of Bollywood through the 1970s, while the second part next month will focus on the 1980s through the present date.
The first memorable film that comes to mind is definitely Achyut Kanya, made in 1936. This Ashok Kumar- Devika Rani film was very popular among moviegoers of that era. Another Ashok Kumar film that could be well remembered by our grand fathers was the unforgettable Kismet (1943). The film, which had Ashok Kumar in a negative role, is one of the highest grossing films and ran continuously for years in the theatres. In the late 1940s, the Hindi film industry had some wonderful actors starting their careers like Raj Kapoor, Balraj Sahni, Dev Anand, Dilip Kumar, Madhubala, Nargis and the likes.
Raj Kapoor delivered some unforgettable films in and around this time. Aag (1948), Baarsaat (1949) and of course, Andaz (1949), that had, for the only time, the great Dilip Kumar, Raj Kapoor and Nargis in the same frame. The same year, 1949, another blockbuster, Mahal, starring Ashok Kumar and Madhubala was immortalized by the haunting "Ayega Aanewala" musical number by Lata Mangeshkar.
The 1950s and the 1960s are often touted as the Golden period of Hindi film industry – quite rightly so. The beginning of the era was characterized by a series of treasured and cherished films by the evergreen trio of Bollywood – Dev Anand, Dilip Kumar and Raj Kapoor. The immortal Raj-Nargis duo's Awaara (1951) can be marked as the first internationally acclaimed blockbuster from Bollywood. The film not only gained tremendous popularity in India but also in overseas countries especially Russia, where people today still hum the song "Awaara Hoon." One after another, the Raj-Nargis pair gave cinegoers unforgettable hits during that time that are still remembered by the connosieurs, among them Shri 420 being the most notable. The film CID (1956) directed by Guru Dutt, starring Dev Anand, Shakila, and introducing Waheeda Rehman was probably a landmark film in Dev's career. His previous film Baazi (1951) with Geeta Dutt was also a smash hit, but CID took Dev to new levels. Tragedy King, Dilip Kumar, was also instrumental in delivering a series of remarkable films. The 1955 rendition of Bengali novelist Sarat Chandra Chatterjee's Devdaas with Dilip Kumar in the title role with Vyjanthimala as Chandramukhi and Suchitra Sen as Paro is still considered the benchmark of tragedy-oriented performance and undoubtedly, a classic in its own rights. Dilip Kumar's subsequent films Naya Daur (1957) and Madhumati (1958), both with Vyjanthimala, are films that still continue to enthrall the viewer every time they watch.
While the trio ruled the 50s, others were in the background. Ashok Kumar was still in his at the peak of his career when he starred in a hilarious comedy film with his brothers Kishore and Anoop, Chalti Ka Naam Gadi (1958) as well as a crime thriller, Howrah Bridge, with Madhubala in the same year. The "Ayee ye Meherbaan" song starring Madhubala remains a high point of the film and cannot be forgotten by anyone who has ever seen it. Lower profile, but still great actors, such as Bharat Bhushan, whose Baiju Bawra (1952) is considered by many as a film that can demand a place in the any collector's archive. Another classic film of the decade was Do Bigha Zameen (1953), in which Balraj Sahni delivered a remarkable performance. Sahni's role as 'Babuji' in 1955's Seema with Nutan is also worth mentioning.
The 50s also gave rise to a new league of actors, directors, and script writers, who produced a different genre of films, quite distinctive from those seen earlier. A product of this new vision were women-oriented films, most conspicuously marked by the all-time classic Mother India (1957) starring Nargis and supported by Raj Kumar, Rajendra Kumar and Sunil Dutt. This film happens to be one of the most memorable films of Bollywood and leaves the viewers of Generation X and Generation Y of today still in awe of the unbelievable role played by Nargis. Incidentally, her real life husband Sunil Dutt, with whom she fell in love on the set of Mother India, had a stupendous performance in Sujata (1959) with Nutan as the heroine.
Lastly, any discussion on the current topic would be incomplete without the mention of two of Guru Dutt's films Pyasa (1957) and Kagaz ke Phool (1959). Termed as two of the best films ever made in the history of Hindi film industry, these films ironically did not get the viewers' patronage at that time. But, later, the industry understood the true worth of the film, in terms of technical brilliance, story and performance. The Guru Dutt-Waheeda Rehman starrer Kagaz ke Phool is immortalized not only the nostalgic numbers sung by Mohd. Rafi and Geeta Dutt, but also for a particular scene uniquely picturised in light and shadow during the song "Waqt ne kiya."
The beginning of the 60s was marked by another classic of Hindi films – K. Asif's Mughal-e-Azm (1960). The film, based on the love story of Salim and Anarkali, was the most pompous and lavishly made films of the contemporary time. Starring Prithviraj Kapoor, Dilip Kumar and Madhubala, this film continues to mesmerize each and every cinegoer even today. The same year had Guru Dutt in an unforgettable role with Waheeda in Chaudvin ka Chand and Bharat Bhusan –Madhubala starrer Baarsaat ki Raat. Dev Anand and Asha Parekh's highly entertaining Jab Pyar Kisi se Hota Hai (1961), Balraj Sahni's enactment of Rabindra Nath Tagore's Kabuliwala (1961), Biswajeet-Waheeda's haunting super-natural Bees Saal Baad and Joy Mukherjee's romantic films Ek Musafir Ek Hasina (1962) and Phir Wohi Dil Laya Hoon (1963) – all needs mention for the pure entertainment value they provided to the cine-goers.
Films of the 50's stalwarts continued to captivate the audience. Ashok Kumar's Bandini (1963) with Nutan and Dharmendra and Jewel Thief (1967) with Dev Anand and Vyjanthimala were extremely popular and notable films of the decade. Dilip Kumar continued to charm his fans through films like Leader (1964) with Vyjanthiumala and Dil Diya Dard Liya (1966) and Aadmi (1968) with Waheeda Rehman. In fact, almost all the films of Dilip Kumar in that era are worth seeing. Dev Anand's Tere Ghar ke Saamne (1963) with Nutan tickled the funny bone while Guru Dutt's role as Bhootnath in Saheb Bibi Gulam (1962) was matched by a astounding performance of Meena Kumari in the same film.
The 1960s also delivered some of the greatest masterpieces of Hindi film that can never be forgotten by one and sundry.
Raj Kapoor's love triangle Sangam (1964) with Rajendra Kumar and Vyjanthimala remains an all-time favourite. The friendship of Gopal and Sundar (played by Raj and Rajendra respectively) and the latter's sacrifice of life for the sake of love, coupled with great musical numbers from Mukesh like 'Dost Dost Na Raha' became the basis of many future film plots. B.R. Chopra's Waqt (1965) is another film that falls under the unforgettable category. Balraj Sahni, Sunil Dutt, Raj Kumar and Shashi Kapoor played the lead roles in this arguably first ever lost-and-found film of Bollywood.
And then there was Guide (1965). Dev Anand produced, directed and acted in the lead role with Waheeda Rehman as the heroine in this film that is often regarded as his best film. Internationally acclaimed, critically praised Guide won several awards from Indian and foreign film festivals and is considered as a landmark in Hind film production. Also worth a mention is the emotionally charged Manoj Kumar's patriotic film Upkaar (1967), which in turn, initiated a series of patriotic films. It is heard that the then Prime Minister of India Pt. Jawaharlal Nehru was also enthused by seeing the movie.
The 60s also saw the rise and rule of a new breed of actors who brought with them new styles and attitudes, hence adding a new dimension to the Hindi cinema. Shammi Kapoor, touted as India's answer to Elvis Presley, created an indelible mark in the minds of film lovers by his unique dance styles and distinctive mannerism through fully engaging movies like Junglee (1964), An Evening in Paris (1967) and Teesri Manzil (1968). Junglee, which incidentally happens to be the first film completely done in color, is known to be immortalized by the song 'Yahoo !' Mohd Rafi was at his best while rendering the playback for these films, making them more attractive and popular to the common public. Then there were some extraordinary films enacted by Dharmendra – another new age actor of the 60s. The unlikely pairing of Dharmendra and Meena Kumari made a classic out of Phool Aur Pathhar (1966).
Some other highly notable and popular films of the 60s were Rajendra Kumar's all time favorite with Sadhna – Mere Mehboob (1963), the Bharat Bhushan–Mala Sinha film Jahan Ara (1964) based on the life of the Mughal princess, Jeetendra's Farz (1967) with Asha Parekh, Mere Huzoor (1968) with Raj Kumar and Mala Sinha, the uproarious Padosan (1968) starring Sunil Dutt, Kishore Kumar, Mehmood and Saira Banu (often billed as the funniest film of Bollywood in that era), and another stunning performance by Nargis in Raat aur Din (1967).
Shakti Samanta's Aradhana (1970) starring Rajesh Khanna and Sharmila Tagore was the first notable film of the decade. It also marked the beginning of the soft romantic films which took Rajesh Khanna to the pinnacle of success. Other Rajesh Khanna films of the contemporary time that are still etched in the mind and soul of film lovers are Hrishikesh Mukherjee's soul-stirring drama Anand, co-starred by Amitabh Bachchan, where Rajesh Khanna played a cancer-affected person, Safar (1970) with Sharmila Tagore and Firoz Khan and Amar Prem (1971).
In the year 1970, there were some other movies made that find a place in the chronicles of Indian cinema. Mera Naam Joker, a masterpiece by Raj Kapoor is one such film. Portraying the life of a circus joker, enacted by Raj himself, the film was in a class of its own. Another unforgettable film was Manoj Kumar's Purab aur Paschim, a film which emphasized on the virtues of being Indian against all foreign vices. Dilip Kumar's Sagina mahato may not be commercially as successful as his previous films, but then the film made on real-life character of Sagina, had a totally different approach and angle of film making.
Pakeezah, directed by Kamal Amrohi, showcased breath taking performances from Meena Kumari, Raj Kumar and Ashok Kumar. The film which took several years to make, traces the life of a courtesan, immortalized by Meena Kumari. Raj Kapoor by this time had stopped acting in films but that did not deter him from making one of the most successful films in Indian film history, in which his son, Rishi Kapoor, played the hero: Bobby (1973). Bobby created a huge uproar among moviegoers and met with unprecedented success. Raj Kapoor also made another very different kind of film, Satyam Shivam Sundaram (1978), with his younger brother Shashi Kapoor in the lead role with Zeenat Aman as the female lead.
One more remarkable film made in the 70s on the theme of lost-and-found was Yaadon Ki Baraat (1973). This multi-starrer movie with Dharmendra, Tariq Anwar and Zeenat Aman caught the attention of the audience through its compact storyline and humming song numbers. Mohd. Rafi's "Chura Liya Hai tumne jo dilko" was one of them.
Other notable films of that period include Rishi Kapoor's Hum Kissise Kam Nahin (1977), Raj Kumar's mystique Lal Pathhar (1971) with Hema Malini and Rakhee, Sanjeev Kumar and Jaya Bhaduri's outstanding rendition of a dumb couple in Koshish (1972), the great Satyajit Ray's Satranj ke Khladi (1977) with Sanjeev Kumar, Firoz Khan's magnum opus Dharmatma (1975), and Jeetendra's unforgettable Caravan (1971) with Asha Parekh.
The 70s also saw the emergence of the angry young man, Amitabh Bachchan, who rose from a series of flop films and obscurity to deliver one hit after another and started his journey to the apex of Indian film industry – a position which he still holds today after 30 years. Amitabh's action packed films remain all-time favorites and are viewed even today with the same aura and awe as ever. Prakash Mehra's Zanzeer(1973) was the film that brought Amitabh to the limelight and then there was no looking back. Followed next was Deewar (1975) with Shashi Kapoor and made immortal by dialogues like 'Mere paas ma hai,"multi-starrer Kabhie Kabhie (1976) with Shashi Kapoor, Rishi Kapoor and the likes, the amazingly entertaining Amar Akbar Anthony (1977) with Rishi Kapoor, Vinod Khanna, Parveen Babi, Neetu Singh and Shabana Azmi and the 1978 blockbuster Don that created such a uproar – all contributed to Bachchan's success and made eternal favorites by Amitabh's high-adrenaline performance.
But can any article about the memorable and most popular films of Bollywood be ever complete without the all-time greatest film, Sholay(1975), mentioned? This film, with a multi-star cast in the likes of Sanjeev Kumar, Amitabh Bachchan, Dharmendra, Hema Malini, Jaya Bachchan and a mesmerizing yet fear-inducing Amjad Khan as Gabbar Singh, happened to be one of the top grossing films in Bollywood history, with unmatched popularity for years and decades together.
As said earlier, the list is unending, and compilation is difficult, yet the article has attempted to bring up most of the memorable films of Hindi film industry. Through out the years, Bollywood movies have continued to entertain cinema lovers of the country and still do so. There is no gainsay that in the present day situation, where people from all segments of the Indian population are all tensed up, struggling to meet ends and amidst the violence and unrest prevailing everywhere – Hindi films provide a welcome relief and often soothes the disturbed mind. The three hour wonders will, no doubt, continue to satisfy the quest for entertainment that Indian people of all ages look forward to!
MEMORABLE FILMS OF BOLLYWOOD From start to 1970s