Must Read Books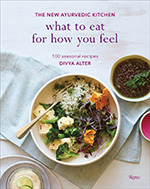 What to Eat for How You Feel: The New Ayurvedic Kitchen – 100 Seasonal Recipes
by Divya Alter
Drawing on her many years of vegetarian cooking, catering, and teaching, in this book Divya Alter explains how to create flavorful meals with seasonal ingredients by applying Ayurvedic principles. With food combinations, methods of preparation, and healing spices customized for individual needs, this is an inspirational guide to achieving optimal health through a personalized way of living and eating.
This volume features 100 recipes for breakfasts, soups, salads, main dishes, one-pot meals, treats, and beverages in three seasonal-based chapters. It includes an ingredient guide along with recipes for staples such as cultured ghee, fresh cheese, yogurt, nondairy milk alternatives, dressings, chutneys, and spice blends.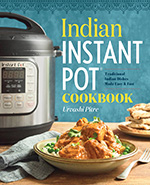 Indian Instant Pot® Cookbook: Traditional Indian Dishes Made Easy and Fast
by Urvashi Pitre
It's tempting to dine out when you think about the intricacies involved in making traditional dals and curries. But Indian Instant Pot Cookbook combines the technique of pressure-cooking with classic Indian foods to give families an easier (and healthier) way of preparing authentic Indian meals. Join Urvashi Pitre, who is best known as the "Butter Chicken Lady," as she shares the how-to's of creating delicious Indian dishes of all types in Indian Instant Pot Cookbook.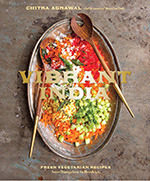 Vibrant India: Fresh Vegetarian Recipes from Bangalore to Brooklyn
by Chitra Agrawal

Lifelong vegetarian and chef Chitra Agrawal takes you on an epicurean journey to her mother's hometown of Bangalore and back to Brooklyn, where she adapts her family's South Indian recipes for home cooks. This particular style of Indian home cooking, often called the "yoga diet," is light and fresh, yet satisfying and rich in bold and complex flavors. Grains, legumes, fresh produce, coconut, and yogurt—along with herbs, citrus, chiles, and spices—form the cornerstone of this delectable cuisine, rooted in vegetarian customs and honed over centuries for optimum taste and nutrition.
Whether you are a vegetarian or just looking for ways to incorporate more vegetarian recipes into your repertoire, Vibrant India is a practical guide for bringing delicious Indian home cooking to your table on a regular basis.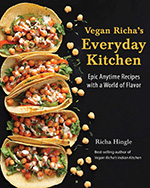 Vegan Richa's Everyday Kitchen: Epic Anytime Recipes with a World of Flavor
by Richa Hingle

In her second book, Richa Hingle applies her culinary skills to international comfort foods. She delivers a wealth of flavor-packed "awesome sauces" and mix-and-match ideas to inspire you to create stunning meal combinations.
These unique recipes have amazing depths of flavor, are easy to make, and have allergy-friendly options. Enjoy Richa's wow factor in sensational curries, comforting casseroles, and the next-generation of plant-based burgers, and more. Chapters are devoted to flavor-packed sauces, soups, sandwiches, breakfasts, sweets, and more. You will also find helpful techniques and mix-and-match ideas that will inspire creativity and provide stunning everyday meal combinations. You will find this book to be indispensable in your kitchen, and the recipes will appeal to both vegans and non-vegans alike.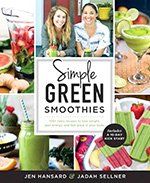 Simple Green Smoothies: 100+ Tasty Recipes to Lose Weight, Gain Energy, and Feel Great in Your Body
by Jen Hansard and Jadah Sellner

Jen Hansard and Jadah Sellner are on a fresh path to health and happiness- deprivation not included. In their book, Simple Green Smoothies, these two friends invite you into a sane and tasty approach to health that will inspire and energize you on your own journey toward a happier life. The Simple Green Smoothies' lifestyle doesn't involve counting calories or eliminating an entire food group. Instead, it encourages you to make one simple change: drink one green smoothie a day.