Must Read Books December 2020
Want to share a great read?
Email your suggestions to info@deshvidesh.com
---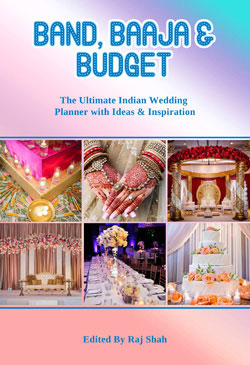 Band, Baaja and Budget: The Ultimate Indian Wedding Planner with Ideas & Inspiration
Edited By Raj Shah
If you are Indian, it is likely that your parents and grandparents have been dreaming about your fairytale wedding even before you began grade school. Of course, ever since you started watching romantic Bollywood movies, you had plenty of your own ideas for how to celebrate your big day.
Band, Baaja and Budget: The Ultimate Indian Wedding Planner with Ideas & Inspiration
helps you envision your big day—from the big decisions like selecting a venue down to the small details like designing place cards — complete with ideas on how to show off your unique style. Filled with fresh ideas for planning your Mehndi, designing your Mandap, and selecting a wedding cake, this book is filled with original ideas, real Indian wedding photographs, and tested-and-proven advice from real brides as well as wedding professionals. From the engagement to the sangeet and the mehndi to reception, every little detail is covered. Band, Baaja, and Budget, like a trusted friend, helps you discover not only your own priorities, but also helps you comb through all the fine print clauses. With advice on how to work with vendors from the venue coordinator, caterer, invitation designer to the DJ, lehenga designer, and travel company, this guide will even prepare you for last-minute surprises. Most importantly, the book serves as a reminder that your wedding should be exciting and to relax and enjoy the celebration you've dreamed of all these years.
With over 100 real wedding photographs, this wedding planner and guide is a practical yet gorgeous Indian wedding book.
---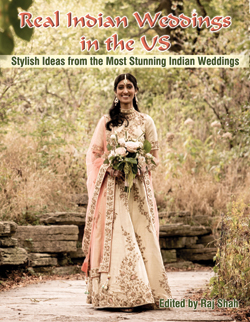 Real Indian Weddings in the US
Stylish Ideas from the Most Stunning Indian Weddings
Edited By Raj Shah
For every Indian bride who wants a beautiful dream to become reality, for every parent and grandparent who wants an enviable and spectacular celebration, and for every groom who wants to host a fun-filled party, Real Indian Weddings in the US offers hundreds of ideas to inspire and delight. Filled with memorable photographs from professionals who specialize in Indian weddings and with advice from real brides, this book is an ideal guide for anyone involved in the planning of an unforgettable wedding.
Raj Shah, Managing Editor of Desh-Videsh wedding magazine, compiled twenty-five weddings from around the country – each chosen for the event's creativity, uniqueness, size, setting, guest list, and range of budgets so that readers can easily adapt any of the details to fit their own one-of-a-kind needs. Real Indian Weddings in the US shows how couples created unforgettable events full of surprises while also encompassing a variety of themes, styles, and colors across diverse locations. For the best inspiration, Shah turns to the people who have the most experience of creating truly beautiful weddings – the brides themselves.
urning dreams into reality, this book will inspire future brides, grooms, family members, and friends in planning an enviable, unique and memorable celebration.
Band, Baaja and Budget: The Ultimate Indian Wedding Planner with Ideas & Inspiration
Raj Shah- Managing Editor of Desh-Videsh wedding magazine,
fairytale wedding
romantic Bollywood movies
Mehndi
designing your Mandap
wedding cake
Indian wedding photographs
wedding professionals
engagement ceremony
sangeet Night
mehndi ceremony
wedding reception
venue coordinator
caterer
invitation designer
DJ, lehenga designer
travel company
gorgeous Indian wedding book
Real Indian Weddings in the US
Stylish Ideas from the Most Stunning Indian Weddings
Desh-Videsh wedding magazine