My India, My Love
My India, My Love
By Raj Shah
"Where Ganges, woods, Himalayan caves, and men dream God
–I am hallowed; my body touched that sod." These were the last
words uttered by Paramahansa Yogananda during a banquet at
the Biltmore Hotel in Los Angeles with the Indian Ambassador to
America on March 7, 1952. Immediately after that, he went into
Maha samadhi, consciously leaving his body forever.
Even after living in the USA for almost 50 years, I feel exactly
how Yogananda felt. "Dread famine may prowl and tear flesh, yet
would I love to be again in my Hindustan." Paramahansa Yogananda
calls India by her original and ancient name, Hindustan. I echo his
sentiment when he says, "a million thieves of disease;" and "clouds
of fate, may shower scalding drop of searing sorrow," but despite all
these calamities, he would still "love to reappear" in India.
And yes, I would also like to be reborn in India and as a Hindu.
Osho, well known for his revolutionary contribution to the science of inner transformation, writes very passionately about India in his book, "India My Love: A Spiritual Journey." India is not just a geography or history. It is not only a nation, a country, a mere piece of land. It is something more: it is a metaphor, poetry, something invisible but very tangible. It is vibrating with certain energy fields that no other country can claim."
Yes, I agree India has problems with overpopulation, poverty, lack of running water and pollution, to name a few. But let us not compare India with more developed countries like the United States; let us compare the present India with what India was 70 years ago.
On August 15, 2018, we celebrate India's 72nd Independence Day. On this day 72 years ago, India was born as a free democratic country, one that faced many challenges ahead. During the past 72 years, India has overcome several hurdles, and she has earned global recognition in various fields. This Independence Day, don't just celebrate the freedom, but take pride in what India has achieved.
The list below shows some of India's greatest achievements in different fields.
GDP

The Indian economy is expected to grow at an annual rate of 7.4% in 2018 and 7.8% in 2019, according to a recently released IMF Economic Outlook. It is the strongest growth rate in seven quarters as manufacturing and investments grew at a faster pace. It is the highest in all G20 Nations. China is 6.4%, United States 2.8 %, United Kingdom 1.2%, and Japan at its lowest 1.1%.
The World's Most Competitive Economies
India now ranks 39th among the world's most competitive economies, up 16 places from last year – the biggest leap for any country in the World Economic Forum's Global Competitiveness Report 2016-2017.
$108 Billion

India is now the second fastest growing services economy in the world, up 10% in the past year, according to a report by the industry body Confederation of Indian Industry (CII) and KPMG. Information technology alone accounted for $108 billion worth of services exports in 2014-15, primarily to the United States and Europe.
Foreign Exchange Reserve
Foreign Exchange Reserve is also known as Forex Reserve. India's forex reserve as of March 30, 2018 stands at US $424.36 billion as compared to March 30, 2017, when it was US $369.95 billion.
$600 Billion
In a 2014 National Public Radio (NPR) report, it was estimated families in India own somewhere between $600-$800 billion worth of gold, mostly in women's jewelry. Indian households own more gold than the reserves of USA, Switzerland and Germany combined.
$15.6 Billion: Band Billion Barat

The average Indian couple will spend ⅕ of the money they earn their entire lives on their wedding. Though this might not be true for every family, a Business Insider report stated that the average Indian couple will spend 20% of all the money they'll ever make on that one single event.
India's Billionaires

34% of India's billionaires have actually started their companies from the ground up.
120 Million: Kumbh Mela


Kumbh Mela – a religious pilgrimage – is the world's largest gathering of people, with 120 million taking part in 2013.
Mosques
India has 300,000 mosques – more than any other country. It has the third largest Muslim population in the world.
Indian Railways and Post Offices
Indian Railways became one of the largest railway networks comprising 71,000 miles of track over a route of 41,826 miles and 7,112 stations, and the system carries more than 23 million passengers daily. With 155,618 post offices and over 566,000 employees, India has the largest postal network in the world.
Voting Rights
India gave every adult the right to vote from its first day. In the US, the right to vote to every individual was given more than 150 years after their independence.
Indian Women in Politics
India has one of the highest numbers of female politicians and was among the very first countries to have woman head of state, Indira Gandhi. Women have held high offices in India including that of the President, Prime Minister, Speaker of the Lok Sabha and Leader of the Opposition party. One of the five major states has women chief ministers.
Largest Production
India is the world's largest milk producer, with 18 percent of global production and the largest producer of cotton with production of 6.51 million tones of the fiber. She is also the largest producer of wood fuel.
Cricket – the Other Religion

India's Sachin Tendulkar is the highest run getter in Test cricket, and he also scored the highest number of Test and ODI centuries.
Dabbawalas – Entrepreneurship
5,000 Dabbawalas feed more than 200,000 people each day and have a staggering success rate, with just one error every 6,000,000 transactions
Media
India has 5,600 different newspapers and 3,500 different magazines with approximately 120 million readers every day.
So the next time you visit India with your children, rather than complaining about dirty street and noise pollution, point out the positive change you see in your city and on your local streets. Point out the love and affection shown by your relatives and your neighbors.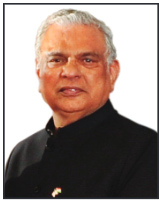 About Raj Shah
A software engineer by profession, Indian culture enthusiast, ardent promoter of Hinduism, and a cancer survivor, Raj Shah is a managing editor of Desh-Videsh Magazine and co-founder of Desh Videsh Media Group. Promoting the rich culture and heritage of India and Hinduism has been his motto ever since he arrived in the US.
He has been instrumental in starting and promoting several community organizations such as the Indian Religious and Cultural Center and Hindu University of America South Florida Chapter. He serves as a chairman of Board of International Hindu University. Raj has written two books on Hinduism titled Chronology of Hinduism in which he has documented the rich history of the world's oldest religion, and Understanding Hinduism – The Basic Facts about Hinduism and Frequently Asked Questions. He has also written three children books, We love Diwali, Holi Hai and The Complete Ramayan in 100 Tweets.