Nikki Haley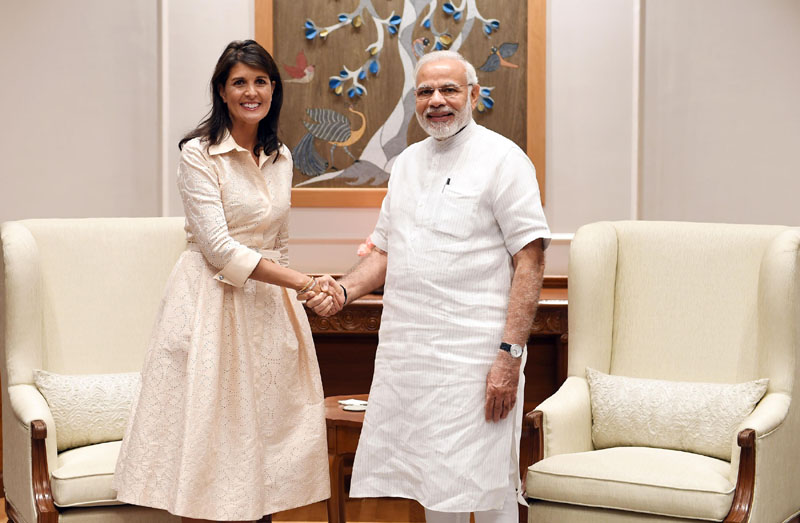 Nikki Haley is an Indian-American politician, diplomat, and businesswoman who served as the United States Ambassador to the United Nations from 2017 to 2018. She was also the first woman to serve as the governor of South Carolina from 2011 to 2017.
Nimrata Randhawa (her birth name) was born on January 20, 1972, in Bamberg, South Carolina, to Indian Sikh immigrants. She grew up in Bamberg, attending Bamberg-Ehrhardt High School and then Clemson University, where she earned a Bachelor of Science degree in accounting.
After college, Haley worked for her family's clothing business, Exotica International, before entering politics. In 2004, she was elected to the South Carolina House of Representatives, representing the 87th district. In 2010, she was elected governor of South Carolina, becoming the first woman and the first person of Indian descent to hold the office.
As governor, Haley focused on job creation and economic development, attracting major corporations to the state, and reducing unemployment. She also implemented tax reforms and education reforms, and she became known for her response to the 2015 Charleston church shooting, which she called a hate crime and led the effort to remove the Confederate flag from the state capitol grounds.
In 2016, President-elect Donald Trump nominated Haley to be the United States Ambassador to the United Nations, and she was confirmed by the Senate in January 2017. As ambassador, she was known for her strong stance on human rights and her criticism of Russia's actions in Ukraine and Syria.
Haley resigned from her position as ambassador in December 2018 and returned to the private sector. Since then, she has been active in politics, serving on several boards and speaking at political events. In 2019, she published a memoir, "With All Due Respect: Defending America with Grit and Grace."
Haley is married to Michael Haley, an officer in the South Carolina Army National Guard who served in Afghanistan, and they have two children.
Could Nikki Haley be our first female president?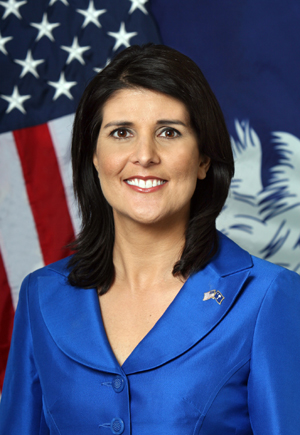 It's been almost 100 years since women were given the right to vote in the United States, yet we have never had a female president. This could all change in the next few years, as former South Carolina Governor and United Nations Ambassador Nikki Haley announced her bid to run for the United States Presidency in 2024. If she wins the nomination, she will become the first Indian-American to ever do so.
During her time as governor, Haley implemented several initiatives that made her a popular figure in the Republican Party. She is also credited with taking steps to improve economic development and job growth in South Carolina.
In addition to her political experience, Haley is also well known for her diplomatic and foreign policy work. She served as US Ambassador to the United Nations from 2017 to 2018, where she championed human rights and freedom of expression while leading the UN's effort to fight poverty. In this role, she strongly condemned oppressive regimes such as North Korea and Iran and worked hard to restore ties between the United States and its allies.
Now that she is running for President of the United States, Haley has a unique platform to help shape the future of America. Her supporters believe that if elected, she could bring much-needed diversity to the White House while using her diplomatic skills to improve relations with other countries. At the same time, her policies would focus on creating jobs, reducing taxes, and strengthening national security.
If successful, Haley would be the first female president in US history and the first Indian-American to hold the office. This would be a major milestone in American politics and could open up new possibilities for people from all backgrounds. Regardless of her eventual success or failure in the election, it is clear that Nikki Haley has made an impact on politics and international relations.
The daughter of two Indian immigrants, Haley was born in South Carolina and grew up in a small town outside of Charleston. She attended Clemson University before entering politics, and she served in the South Carolina House of Representatives from 2005 to 2011. She then went on to become the first female governor of South Carolina, serving from 2011 to 2017.
In 2017, President Donald Trump appointed her to serve as ambassador to the United Nations. During her time there, Haley managed to successfully champion the cause of human rights around the world. She also helped to increase U.S. contributions to global humanitarian aid efforts and worked to bring about an end to conflict in places like Syria and Afghanistan.
As the first Indian-American to pursue the presidency of the United States, Haley has a unique perspective that could help bridge some of the divides between different political ideologies. Her candidacy will undoubtedly draw attention from both sides of the aisle, and it will be interesting to see how she develops her platform.
If successful, she could make history as the first female and first Indian-American president of the United States. It's an exciting prospect for many in America, and one that could bring much-needed change to our nation's highest office.