PATIALA
One of the richest princely states in British India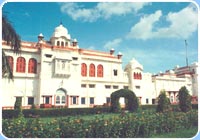 Patiala is now a repository of stories in old brick and stone.Three kids are coming down the narrow track, dragging along an old bicycle; they are looking for a neon tree. I point out one near Jalau Khana, the old shuttered building fronted by a colonnade, and they move on. Once again, there is silence: a fragile quiet, for the merest sound will scare the hundreds of pigeons perched on the fort wall into spectacular flight.
The trespasser in me realises that the Patiala royals were obsessed with security. I am looking for the slightest opening, even a breach, in Qila Androon's wall but it is as the watchman said – strictly out of bounds. There's only one gate leading into the Qila and the guard there will not let me in at any cost. Well, not until I get permission from the Deputy Commissioner of the Archaeology Department of Punjab and that's unlikely because it's Sunday. My hopes of seeing the eternal flame brought by Ala Singh, the founder of Patiala, from Jwalamukhi temple are dashed but heck, Patiala has a lot more to fill my day!
Guns & chandellers
In fact, even as I yearn to enter Qila Androon (Punjabi equivalent of the Hindi word andar, meaning inner), I am standing in Qila Mubarak, a later day fortification encircling the old fort. And it's not just a hardy wall built to thwart enemies, but an impressive fort palace with a Darbar Hall (ceremonial court), living quarters for queens and several palatial buildings built under western influence.
The highlight of this outer fort is the Arms and Chandeliers Gallery, housed in the Darbar Hall. It stands atop a mound on the right of Qila Androon Chowk, the open public space between the gateways of Qila Mubarak and Qila Androon. It's difficult to say which of the gallery's collections is more impressive: the weapons or the chandeliers. If a seven-barrel bolt-action gun is ingenious, it is difficult to peel your eyes off the two tree-like Bohemian glass chandeliers. The 20 heavy chandeliers hanging from the ceiling can send you into a frenzy, but the stem royals (both Patialvis and British) staring down from their wall mounted frames demand decorum.
There's a story about how the chandeliers came to Patiala. Maharaja Mohinder Singh (1852-76) was shopping in Kolkata, where he saw the chandeliers and enquired the price of one. The salesman snubbed him saying ordinary people could not afford them. At this, Mohinder Singh asked him to quote a sum for the entire collection and ship it to Patiala post-haste! Walking along the hall's rear wall you cannot fail to admire the four carved walnut wood doors. Spare a few minutes for the roof as well. It is a false ceiling, made of coloured wooden tiles. Considering that the building is a darbar, shouldn't it have a gallery for the women members of the royal family? The architect at Patiala addressed the need for purdah with tiny windows set at mezzanine height. These too have black walnut shutters. While it is difficult to pick a clear winner from the swords, lances, guns, armour and chandeliers, the silver alloy chariot used by Maharaja Bhupinder Singh, grandfather of the present scion (and Punjab chief minister) Amarinder Singh, is a big hit with all visitors. The four-wheeled carriage was built in Kolkata in 1909 to be used on ceremonial occasions and was drawn by six horses.
Footloose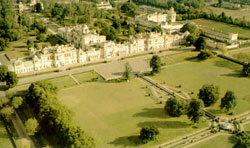 Coming out of Qila Mubarak, I set out in quest of the famed Patiala jutti (moccasins). The market street under the fort wall is known for bangles and parandis (traditional ribbons for hair) but these are not in my line. Since it is the wedding season, beautiful turbans for grooms and chunnis for brides dominate the shop windows.On checking with locals, I learn that Adalat Bazaar is the centre of the jutti trade. In fact, workmen live and make juttis just behind the shops. It's good that I am walking, as driving through the Sunday morning crowd in the market is practically impossible. Although Patiala is one of the four biggest cities of Punjab, its markets still have that small town look. Most shops are small and practically jut into the streets. Adalat Bazaar lives up to its promise. Every second shop here sells juttis in all shapes, sizes and colours. Plain ones and richly crafted ones. Thick, sturdy ones for men. Dainty, soft ones for women. The blue beaded ones catch my fancy. They would make a great gift but it would be sacrilege to put the delicate things on ground!
The juttis here are a steal. Most are priced between Rs 100 and Rs 500. And you can always beat the price down to half for the really expensive ones. The traders and craftsmen of Adalat Bazaar are not untouched by change. The variety of juttis available with them shows that they understand the importance of design. What's more, the Kolhapuri chappals on their shelves indicate their willingness to adapt to changing tastes.
Garden City. It's not for nothing that Patiala is called a city of gardens and palaces. The Baradari Gardens in the city's heart are living proof of the Patiala royals' love for reenery. The old Moti Bagh is perhaps the most tastefully laid out garden in the city and it is also the setting of two brilliant palaces, namely Sheesh Mahal and Moti Bagh Palace. Moti Bagh lies on the city's outskirts and I wend my way there in a cycle rickshaw. On the way, we pass Mohindra College, founded by Viceroy Lord Northbrook in 1875 during Maharaja Mohinder Singh's reign. The college building shows none of the Mughal or Rajasthani influences that dominate Qila Mubarak. It is an out and out Roman building.
Moti Bagh is a sprawling estate. We leave the gate leading to Moti Bagh palace and continue to the other end, where Sheesh Mahal stands beside its dried up tank. Maharaja Narinder Singh had got this amazing palace built in 1847, at a cost of Rs 5 lakh. Consider some of the palace's exotic highlights: a large tank that would require some effort to fill up in the dry season. A suspension bridge across the tank, modelled on Rishikesh's Lakshman Jhula. Two large ornamental watchtowers in the tank. Gardens laid out on the pattern of Lahore's Shalimar Bagh, with fountains, terraces and water channels. As its name suggests, Sheesh Mahal had galleries decorated entirely with mirrors while other chambers were decorated with paintings in the Raj as than and Kangra styles. Today, however, its claim to fame is its museum of over 3,000 medals and decorations pieced together by Maharaja Bhupinder Singh.
The Moti Bagh palace has been recently painted and looks as godd as new. It certainly qualifies as one of the most beautiful palaces in the country. While I can vouch for its beauty, there is one claim I couldn't have verified even if I had spent one full day on the premises – that it has 1,000 rooms. As an institute of sports, the palace does not hold much interest for tourists but its museum of sports certainly is an attraction. Milkha Singh's spikes, Gama Pehalwan's millstone and Maharaja Bhupinder Singh's silver bat are just some of the curiosities on display here.
Three museums in a day is a bit too much for someone who visits one in maybe three years. I emerge from Moti Bagh's museum more overwhelmed than impressed. The simple pleasure of sitting on freshly trimmed grass in the December sun is too much to resist. For the next half hour, I do not grudge the Patiala royals their opulent palaces.
Patiala Heritage Festival. Come February and Patiala will become the stage forss a grand heritage festival. For nine days – February 12-20 Patiala Heritage Festival will bring together the most famous classical dancers, singers and musicians from across the country.
Another highlight of the festival's first edition last year was the crafts mela, showcasing handicrafts from across the country. The festival had also managed a cultural coup of sorts by getting Pakistani band Junoon to perform. With cross-border Punjab ties on the upswing ever since, expect even greater representation from West Punjab (Pakistan) this time.