Planning your Perfect Wedding Mehendi
~ by Amber Temkin ~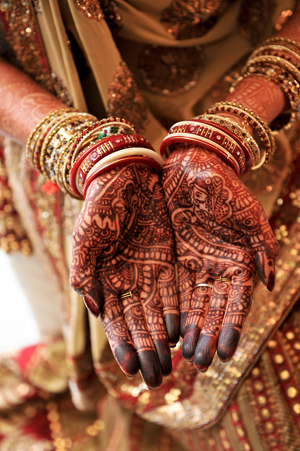 Maybe you have seen this… A lovely bride with a gorgeous dress, beautiful hair, makeup, jewelry and then you see her hands … drab mehndi that looks like it was scribbled on as an afterthought. You change the subject quickly and compliment her on her beautiful diamond ring, all the while thinking how sad that she is going to have to wear that ugly henna for two more weeks. You think, "I don't want that for my wedding!"
Your henna (and the henna on your family and guests) is going to be in almost every picture from your wedding day. When your guests come up to greet you, they will want to see the beauty and intensity of your henna stain. To ensure that your mehndi adds to the beauty and experience of your wedding, consider the following five tips.
The Quality of the Art. Do you want a one-of-a-kind design to match your sari, lehnga or dress? Do you want a traditional design from a particular country, region or state? Would you like the henna to compliment the unique shape of your hands and feet? Perhaps you prefer a modern edgy design that fuses a traditional look with your contemporary style? A talented henna artist can incorporate some or all of these qualities into your mehndi. For a nominal fee, most henna artists will provide a bridal consultation where you can look at different design books and have a "sample henna" performed before you actually book her for your wedding. Ask to see images of the artist's work, but be wary of slick looking professional quality images that do not give a photo credit to the professional photographer, these are often not the artist's work and may have been stolen from the websites of other henna artists.
The Ingredients and Quality of the Paste. The henna artist should know and disclose the ingredients in her paste. Professional henna artists usually make their own fresh henna paste and will gladly tell you the contents of their paste. Be wary of ready made cones that do not disclose their ingredients. Some commonly imported ready-made cones have been found to contain kerosene, PPD, artificial dyes, preservatives and/or dangerously high levels of lead. These toxic ingredients are not safe for application to the skin and can have disastrous results. It is important that the henna artist knows her henna source and can tell you exactly what is in her paste. In addition, it is important that the paste be fresh to ensure good color. Henna paste has a limited shelf life and the dye ability weakens over time. This is another good reason to do a "test run" with your henna artist well in advance.
The Professionalism of the Artist. There are many types of henna artists, from hobbyists to full time professionals who train and manage a team of henna artists. A beginner or a hobbyist is more likely to give you a cheap price because they have another job and just do henna on the side. As in any art form, every artist must get their start somewhere and you can sometimes find a talented artist willing to work cheap if you do enough searching. On the other hand, you are probably thinking that this is your wedding day and you want to make sure everything is just as you imagined it would be. You have one chance to do this right and you don't want to take any chances that your henna or your guest's henna looks bad. If these are your thoughts, you would be better served by hiring a professional henna artist that has the experience, resources, talent and skill to give you the mehndi experience you have dreamed of.
The Experience and Reputation of the Artist. Experienced reputable artists will be able to guide you through the process of your henna from start to finish. She will be able to create a design for you or help guide you towards a design that fits your vision. She will be able to offer you options for your henna work, gilding work, glitter work, crystal work and sealing options, etc. She will be able to tell you how long your bridal henna application will take, to ensure your pre-wedding or henna-party schedule goes according to plan. She will be able to tell you how many artists are needed to accommodate your schedule and your guest count. She will tell you how to care for your henna for a deep long lasting stain. An experienced henna artist will be adept at working behind the scenes to coordinate as many henna artists as your event requires and she will be skillful at working with other wedding vendors.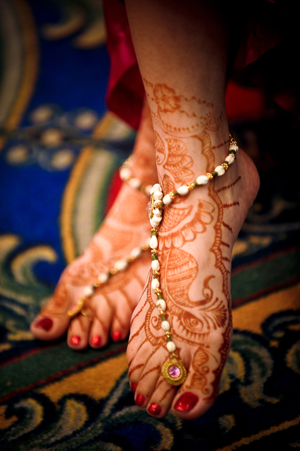 Budget. How much do you want to spend? Two-four percent of the total wedding budget is the typical guideline for henna. While henna is not considered a high ticket item in the overall wedding budget, there are a few things to keep in mind when shopping around. Your bridal, family and guest henna will be in the wedding photos forever, so you want it to look good. Unlike clothing, jewelry, hair or makeup, your henna stain can not be changed once it is done (though it can be embellished with gilding, crystals and colors!). Hiring an experienced professional will help ensure it is done right. You, your family and guests will continue wearing their henna after the wedding and this will serve as a strong visual reminder of your event. If done well, henna is a meaningful and cherished party favor that guests love to show off. Do you want strong color that will last through your honeymoon or do you need it to fade quickly so you can go back to work right away? If you are on a tight budget, many professional henna artists accept personal appointments where you can travel to the artist to have your mehndi done before the wedding for a discounted rate. Another way to save money is to have smaller designs. Remember, it will look better in the photos to have small designs that are done well, than large designs that are done poorly.
Your professional henna artist will be able to guide you through all of these choices to find the right match for you.
Amber Temkin is a Professional Henna Artist based in South Florida. She specializes in Custom Bridal Henna and events. She can be reached through her website www.HennaParty.com or by calling 954-612-5221.