Astrology & ESP Psychic Readings By Shanti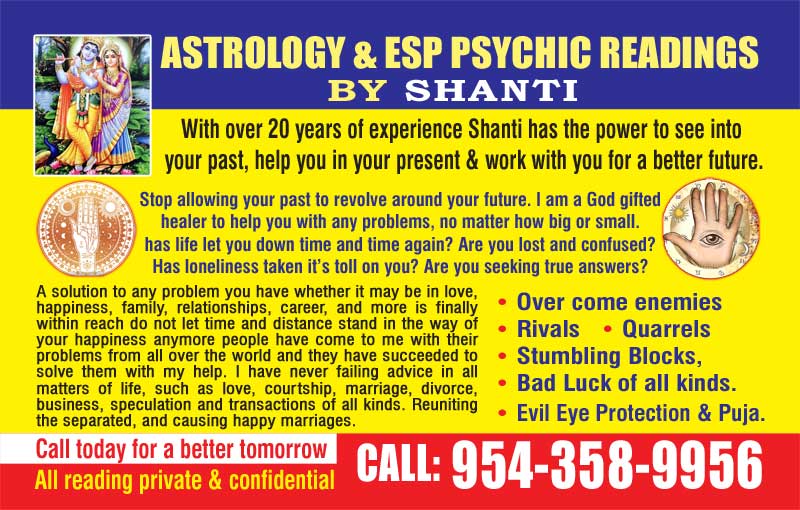 Astrology & ESP Psychic Readings
By Shanti
With over 20 years of experience Shanti has the power to see into your past, help you in your present & work with you for a better future.
Stop allowing your past to revolve around your future. I am a God gifted healer to help you with any problems, no matter how big or small. has life let you down time and time again? Are you lost and confused? Has loneliness taken it's toll on you? Are you seeking true answers?
A solution to any problem you have whether it may be in love, happiness, family, relationships, career, and more is finally within reach do not let time and distance stand in the way of your happiness anymore people have come to me with their problems from all over the world and they have succeeded to solve them with my help. I have never failing advice in all matters of life, such as love, courtship, marriage, divorce, business, speculation and transactions of all kinds. Reuniting the separated, and causing happy marriages.
• Over come enemies • Rivals • Quarrels • Stumbling Blocks • Bad Luck of all kinds. • Evil Eye Protection & Puja.
Call today for a better tomorrow
All reading private & confidential
Call: 954-358-9956
rivals
quarrels
stumbling blocks
bad luck of all kinds.
Evil eye protection & puja.
love
speculation and transactions of all kinds Reuniting
happiness
family
relationships
career
courtship
marriage
the separated and causing happy marriages
divorce
business