Broward County Office of Economic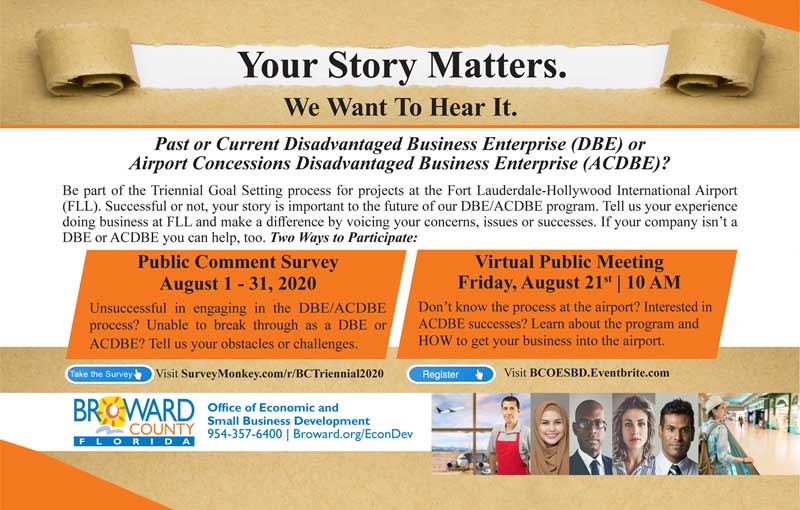 Story Matters
Current Disadvantaged Business Enterprise DBE
Concessions
important
future
experience
business
difference
concerns
company
Participate Public Comment Survey August Unsuccessful
DBE ACDBE process Unable
Triennial Goal Setting
Economic
Small Business Development
Broward County Florida
Your Story Matters.
We Want To Hear It.
Past or Current Disadvantaged Business Enterprise (DBE) or Airport Concessions Disadvantaged Business Enterprise (ACDBE)?
Be part of the Triennial Goal Setting process for projects at the Fort Lauderdale-Hollywood International Airport (FLL). Successful or not, your story is important to the future of our DBE/ACDBE program. Tell us your experience doing business at FLL and make a difference by voicing your concerns, issues or successes. If your company isn't a DBE or ACDBE you can help, too. Two Ways to Participate:
Public Comment Survey August 1 – 31, 2020
Unsuccessful in engaging in the DBE/ACDBE process? Unable to break through as a DBE or ACDBE? Tell us your obstacles or challenges.
Virtual Public MeetingFriday, August 21st | 10 AM Don't know the process at the airport? Interested in ACDBE successes? Learn about the program and HOW to get your business into the airport.
Take the Survey
Visit SurveyMonkey.com/r/BCTriennial2020
Register
Visit BCOESBD.Eventbrite.com
Broward County Florida
Office of Economic and Small Business Development
954-357-6400 | Broward.org/EconDev