Dvijvedic Astrology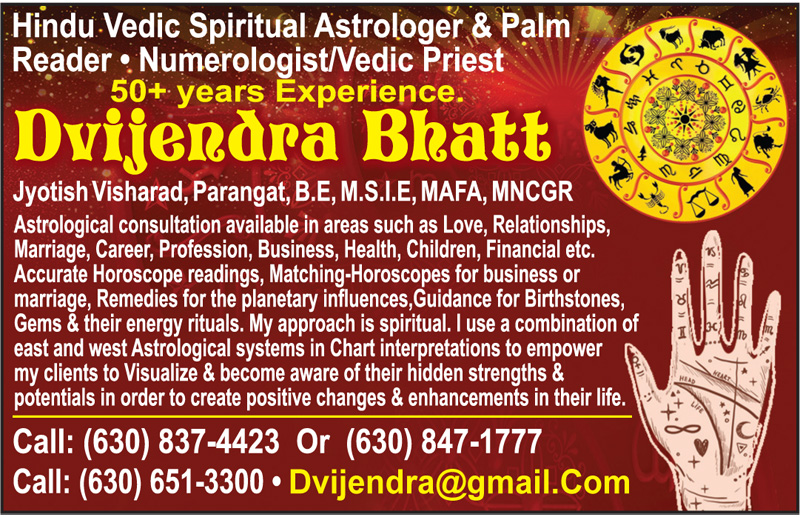 Author in Bartlett
Lecturer in Bartlett
Teacher & counselor in Bartlett
Spiritual guidance in Bartlett
Vedic Priest in Bartlett
All Hindu/Vedic Ceremonies
Yagna-Havan
Pooja & Spiritual Remedies
Gems Consultants
Hindu-Vedic Astrologer in Bartlett
Palmist in Bartlett
Vaastu-Shastra
Numerologist in Bartlett
Hindu Vedic Spiritual Astrologer & Palm Reader Numerologist/Vedic Priest
50+ years Experience.
Dvijendra Bhatt
Jyotish Visharad, Parangat, B.E, M.S.I.E, MAFA, MNCGR
Astrological consultation available in areas such as Love, Relationship,
Marriage, Career, Profession, Business, Health, Children, Financial etc.
Accurate Horoscope readings, Matching-Horoscopes for business or
marriage, Remedies for the planetary influences, Guidance for Brithstones,
Gems & their energy rituals. My approach is spiritual. I ue a combination of
east and west Astrological systems in Chart interpretations to empower
my clients to Visualize & become aware of their hidden strengths &
potentials in order to create positive changes & enhancements in their life.
Call: (630) 837-4423 Or (630) 847-1777
Call: (630) 651-3300 • dvijendra@gmail.com