Mahavir Wholesale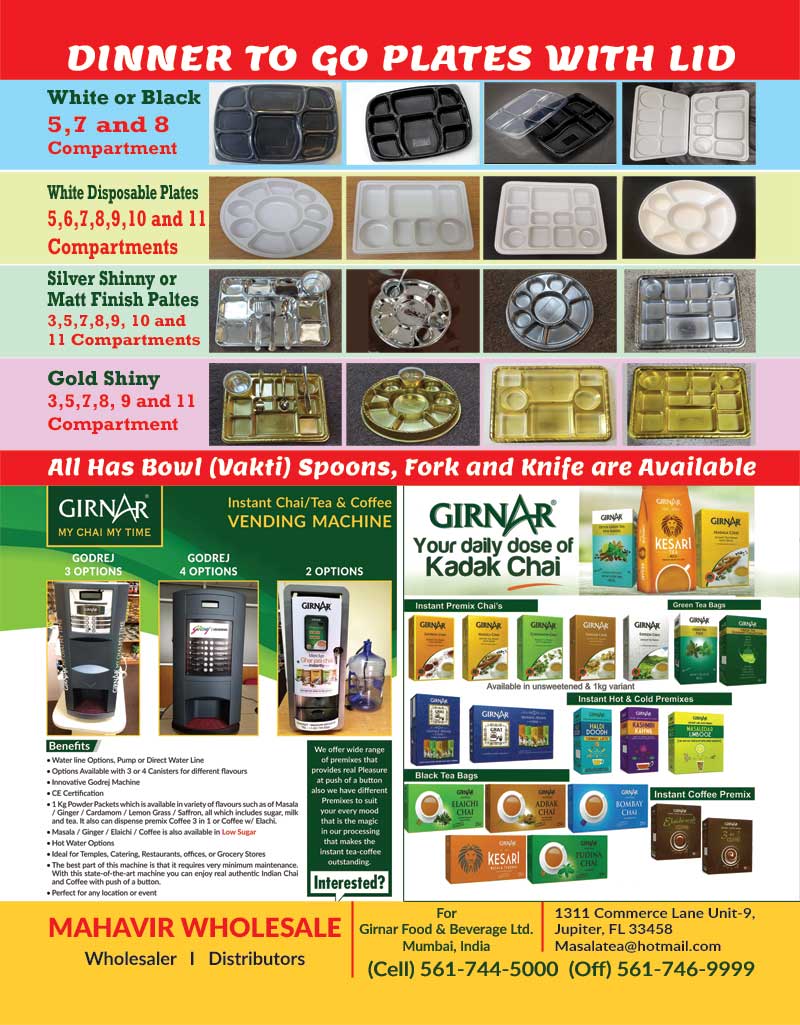 Mahavir Wholesale
DINNER TO GO PLATES WITH LID
White or Black
5, 7 and 8 Compartment
White Disposable Plates
5,6,7,8,9,10 and 11 Compartments
Silver Shinny or Matt Finish Paltes
3, 5, 7, 8, 9, 10 and 11 Compartments
Gold Shiny
3, 5, 7, 8, 9 and 11 Compartment
All Has Bowl (Vakti) Spoons, Fork and Knife are Available
GIRNAR
MY CHAI MY TIME
Instant Chai / Tea & Coffee
VENDING MACHINE
GODREJ
3 OPTIONS
GODREJ
4 OPTIONS
2 OPTIONS
Benefits
Water line Options, Pump or Direct Water Line
Options Available with 3 or 4 Canisters for different flavous
Innovative Godrej Machine
CE Certification
1 Kg Powder Packets which is available in variety of flavours such as Masala / Ginger / Cardamom / Lemon Grass / Saffron, all which includes sugar, milk and tea. It also can dispense premix Coffee 3 in 1 or Coffee w/ Elachi.
Masala / Ginger / Elaichi / Coffee is also available in Low Sugar
Hot Water Options
Ideal for Temples, Catering, Restaurants, offices, or Grocery Stores
The best part of this machine is that it requires very minimum maintenance. With this state-of-the-art machine you can enjoy real authentic Indian Chai and Coffee with push of a button.
Perfect for any location or event
We offer wide range of premixes that provides real pleasure at push of a button also we have different Premixes to suit your every mood that is the magic in our processing that makes the instant tea-coffee outstanding.
Interested?
MAHAVIR WHOLESALE
Wholesaler | Distributors
For
Girnar Food & Beverage Ltd.
Mumbai, India
(Cell) 561-744-5000 (Off) 561-746-9999
1311 Commerce Lane Unit – 9,
Jupiter, FL 33458