Modha Financial Group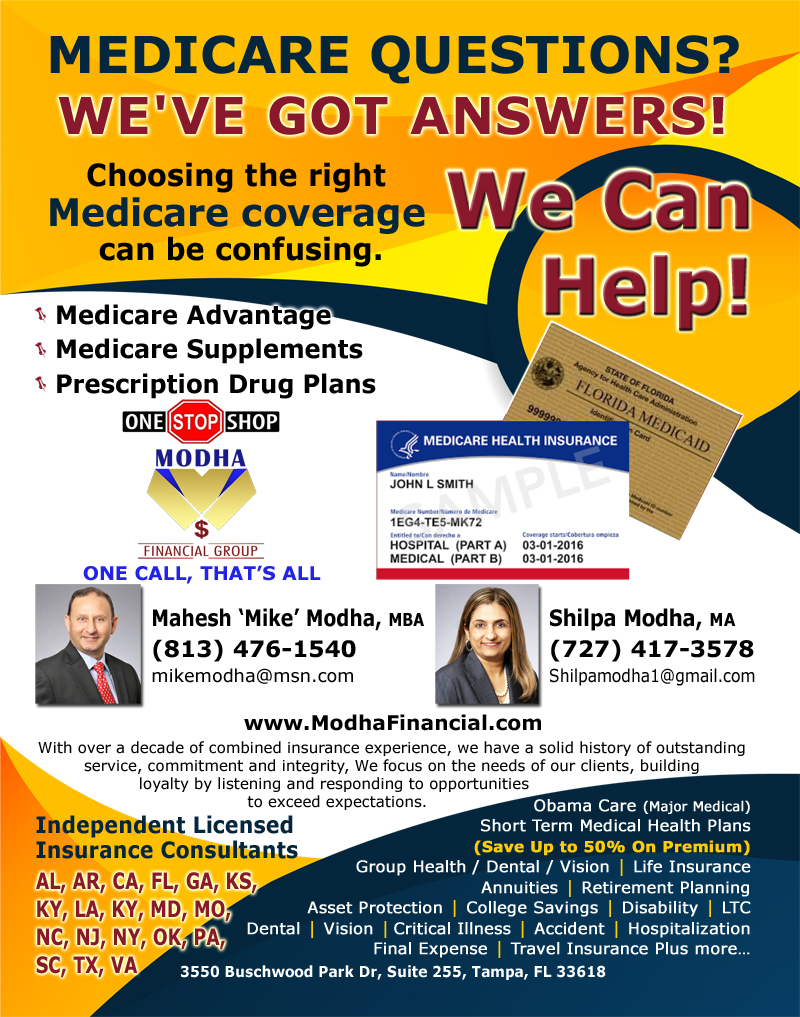 Obama Care (Major Medical)
Group Health
Dental
Vision
Life Insurance
Annuities
Retirement Planning
Asset Protection
College Savings
Disability
LTC
Short Term Medical Health Plans (Save Up to 50% On Premium)
Dental
Vision
Critical Illness
Accident
Hospitalization
Final Expense
Travel Insurance
Medicare Questions?
We've Got Answers!
Medicare Advantage
Medicare Supplements
Prescription Drug Plans
Choosing the right Medicare coverage can be confusing.
We Can Help!
One Stop Shop
Modha Financial Group
One Call, That's All
Mike Modha
(813) 476-1540
mikemodha@msn.com
Shilpa Modha
(727) 417-3578
Shilpamodha1@gmail.com
With over a decade of combined insurance experience, we have a solid history of outstanding service, commitment and integrity, We focus on the needs of our clients, building loyalty by listening and responding to opportunities to exceed expectations.
Independent Licensed Insurance Consultants
AL,AR, CA, FL, GA, KS, NJ, NC, SC, TX
3550 Buschwood Park Dr, Suite 255, Tampa, FL 33618