North American Bancard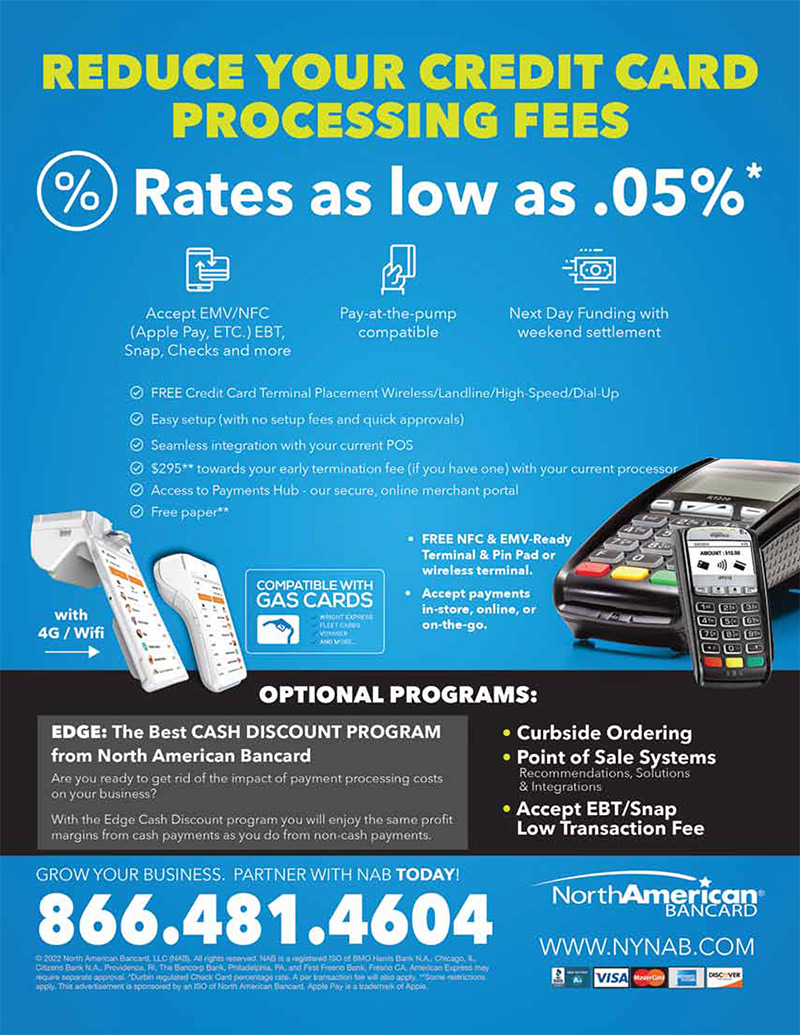 REDUCE YOUR CREDIT CARD PROCESSING FEES
Rates as low as .05%*
Accept EMV/NFC (Apple Pay, ETC.) EBT, Snap, Checks and more
Pay-at-the-pump compatible
Next Day Funding with weekend settlement
FREE Credit Card Terminal Placement Wireless/Landline/High-Speed/Dial-Up
Easy setup (with no setup fees and quick approvals)
Seamless integration with your credit POS
$295** towards your early termination fee (if you have one) with your current processor
Access to Payments Hub – our secure, online merchant portal
Free paper**
FREE NFC & EM V-Ready Terminal & Pin Pad or wireless AL & PIN terminal.
Accept payments in-store, online, or on-the-go.
with 4G / Wifi
COMPATIBLE WITH GAS CARDS
WRIGHT EXPRESS
FLEET CARDS
VOYAGER
AND MORE…
OPTIONAL PROGRAMS
866.481.4604
Make the same profit margin with  cash and non-cash payments!
Cash Discount
NAB makes it easy to make the same profit from non-cash payments as you do with cash payments with our cash discount program.
Curbside Ordering
Point of Sale Systems
Recommendations, Solutions & Integrations
PLEASE CONTACT NEIL SHAH
248-497-1342
North American Bancard
www.denvernab.com
©2021 North American Bancard is a registered ISO of Wells Fargo Bank, N.A., Concord, CA, and The Bancorp Bank, Philadelphia, PA., BMO Harris N.A., Chicago, IL and Citizens Bank N.A., Providence, RI. American Express may require separate approval. *Durbin regulated Check Card percentage rate. A per transaction fee will also apply. **Some restrictions apply. This advertisement is sponsored by an ISO of North American Bancard. Apple Pay is a trademark of Apple Inc.
FREE Credit Card Terminal Placement Wireless/Landline/High-Speed/Dial-Up
Easy setup (with no setup fees and quick approvals)
Seamless integration with your credit POS
$295** towards your early termination fee (if you have one) with your current processor
Access to Payments Hub – our secure, online merchant portal
Free paper**
FREE NFC & EM V-Ready Terminal & Pin Pad or wireless AL & PIN terminal
Accept payments in-store, online, or on-the-go
COMPATIBLE WITH GAS CARDS
WRIGHT EXPRESS
FLEET CARDS
VOYAGER
Curbside Ordering
Point of Sale Systems