North American Bancard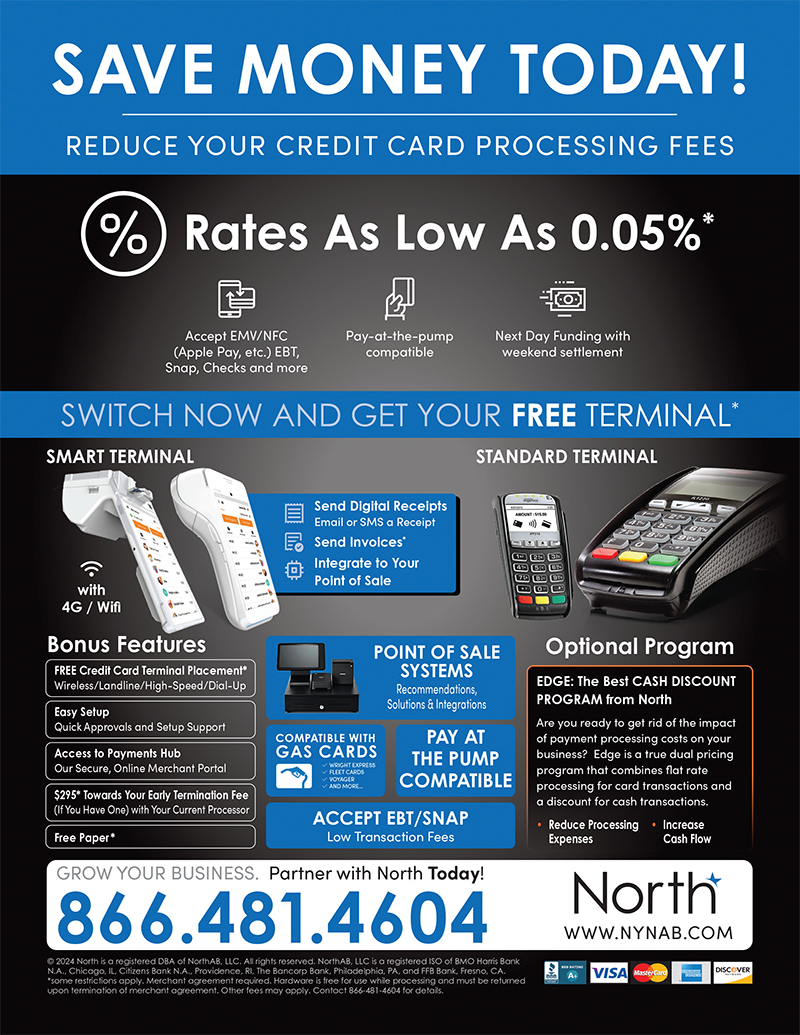 REDUCE YOUR CREDIT CARD PROCESSING FEES
Rates as low as .05%*
Accept EMV/NFC (Apple Pay, ETC.) EBT, Snap, Checks and more
Pay-at-the-pump compatible
Next Day Funding with weekend settlement
* FREE Credit Card Terminal Placement Wireless/Landline/High-Speed/Dial-Up
* Easy setup (with no setup fees and quick approvals)
* Seamless integration with your credit POS
* $295** towards your early termination fee (if you have one) with your current processor
* Access to Payments Hub – our secure, online merchant portal
* Free paper**
FREE NFC & EM V-Ready Terminal & Pin Pad or wireless terminal.
Accept payments in-store, online, or on-the-go.
with 4G / Wifi
COMPATIBLE WITH GAS CARDS
WRIGHT EXPRESS
FLEET CARDS
VOYAGER
AND MORE…
OPTIONAL PROGRAMS
EDGE: The Best CASH DISCOUNT PROGRAM
from North American Bancard
Are you ready to get rid of the impact of payment processing costs on your business?
With the Edge Cash Discount program you will enjoy the same profit margins from cash payments as you do from non-cash payments.
Curbside Ordering
Point of Sales Systems
Recommendations, Solutions & Integrations
Accept EBT/Snap Low Transaction Fee
GROW YOUR BUSINESS, PARTNER WITH NAB TODAY!
866.481.4604
North American Bancard
www.nynab.com
FREE Credit Card Terminal Placement Wireless/Landline/High-Speed/Dial-Up
Easy setup (with no setup fees and quick approvals)
Seamless integration with your credit POS
$295** towards your early termination fee (if you have one) with your current processor
Access to Payments Hub – our secure, online merchant portal
Free paper**
FREE NFC & EM V-Ready Terminal & Pin Pad or wireless AL & PIN terminal
Accept payments in-store, online, or on-the-go
COMPATIBLE WITH GAS CARDS
WRIGHT EXPRESS
FLEET CARDS
VOYAGER
Curbside Ordering
Point of Sale Systems