Pandya Family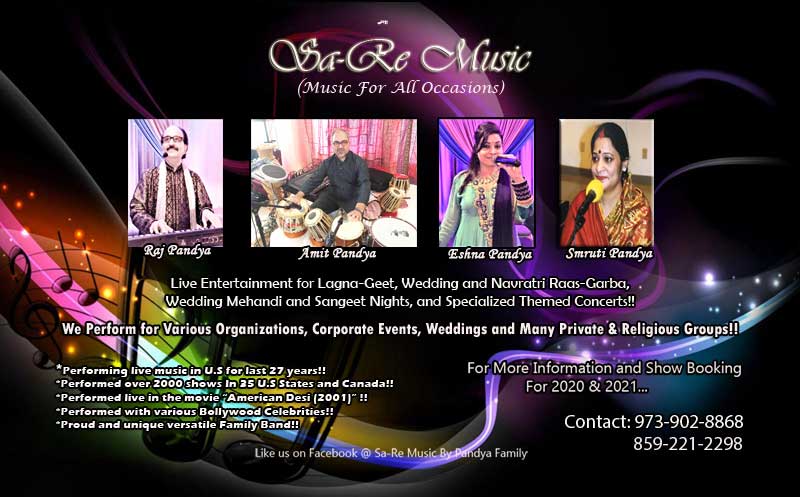 Music For All Occasions
Wedding and Navratri Raas-Garba
Sa-Re Music By Pandya Family
Raj Pandya
Performing live music in U.S for last 27 years
Performed over 2000 shows In 35 U.S States and Canada
Performed live in the movie "American Desi (2001)"
Performed with various Bollywood Celebrities
Proud and unique versatile Family Band
Corporate Events
Weddings and Many Private & Religious Groups
Amit Pandya
Wedding Mehandi and Sangeet Nights
Live Entertainment for Lagna-Geet
Eshna Pandya
We Perform for Various Organizations
Smruti Pandya
Specialized Themed Concerts
Sa-Re Music
(Music For All Occasions)
Raj Pandya
Amit Pandya
Eshna Pandya
Smruti Pandya
Live Entertainment for Lagna-Geet, Wedding and Navratri Raas-Garba,
Wedding Mehandi and Sangeet Nights, and Specialized Themed Concerts!!
We Perform for Various Organizations, Corporate Events, Weddings and Many Private & Religious Groups!!
*Performing live music in U.S for last 27 years!!
*Performed over 2000 shows In 35 U.S States and Canada!!
*Performed live in the movie "American Desi (2001)" !!
*Performed with various Bollywood Celebrities!!
*Proud and unique versatile Family Band!!
For More Information and Show Booking For 2020 & 2021…
Contact: 973-902-8868, 859-221-2298
Like us on Facebook @ Sa-Re Music By Pandya Family