Patel Processing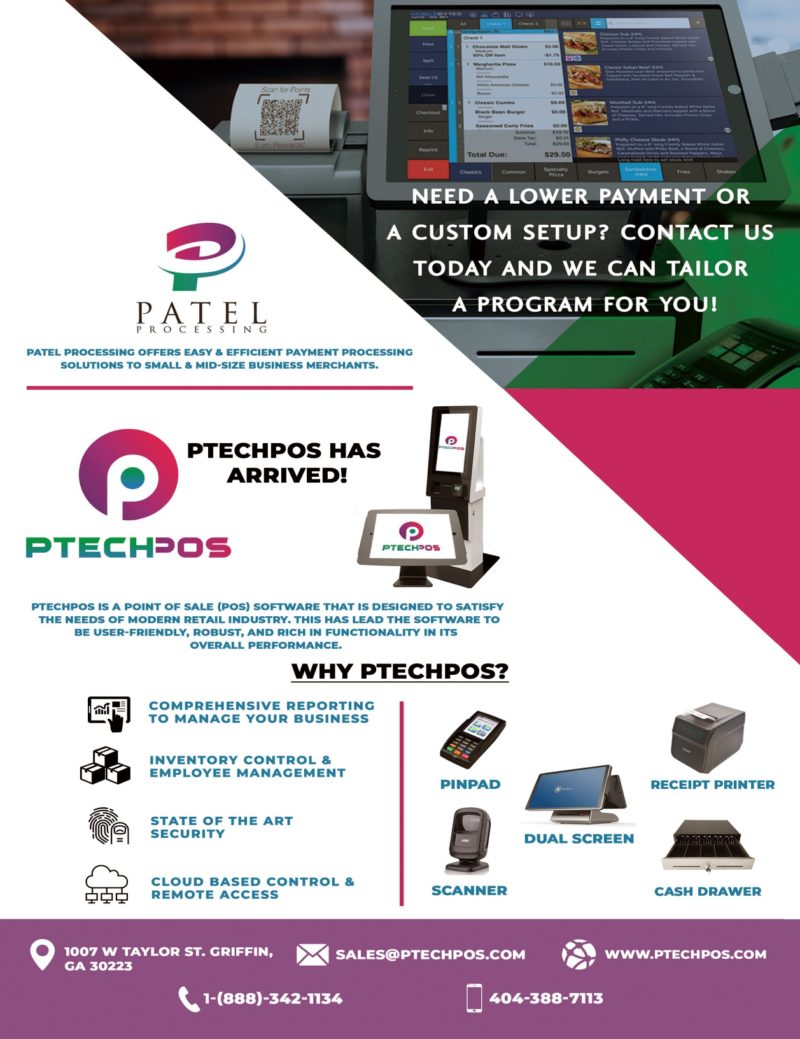 EFFICIENT PAYMENT PROCESSING
PAYMENT PROCESSING SOLUTIONS TO SMALL & MID-SIZE BUSINESS MERCHANTS
EMPLOYEE MANAGEMENT
NEEDS OF MODERN RETAIL INDUSTRY
INVENTORY CONTROL SOFTWARE
EMPLOYEE MANAGEMENT SOFTWARE

NEED A LOWER PAYMENT OR
A CUSTOM SETUP? CONTACT US
TODAY AND WE CAN TAILOR
A PROGRAM FOR YOU!
PATEL PROCESSING
PATEL PROCESSING OFFERS EASY & EFFICIENT PAYMENT PROCESSING
SOLUTIONS TO SMALL & MID-SIZE BUSINESS MERCHANTS.
PTECHPOS HAS ARRIVED!
PTECHPOS IS A POINT OF SALE (POS) SOFTWARE THAT IS DESIGNED TO SATISFY
THE NEEDS OF MODERN RETAIL INDUSTRY. THIS HAS LEAD THE SOFTWARE TO
BE USER-FRIENDLY, ROBUST, AND RICH IN FUNCTIONALITY IN ITS
OVERALL PERFORMANCE.
WHY PTECHPOS?
COMPREHENSIVE REPORTING TO MANAGE YOUR BUSINESS
INVENTORY CONTROL & EMPLOYEE MANAGEMENT
STATE OF THE ART SECURITY
CLOUD BASED CONTROL & REMOTE ACCESS
PINPAD
RECEIPT PRINTER
DUAL SCREEN
SCANNER
CASH DRAWER
1007 W TAYLOR ST. GRIFFIN, GA 30223
SALES@PTECHPOS.COM
WWW.PTECHPOS.COM
1-(888)-342-1134
404-388-7113