Renaissance Atlanta Waverly Hotel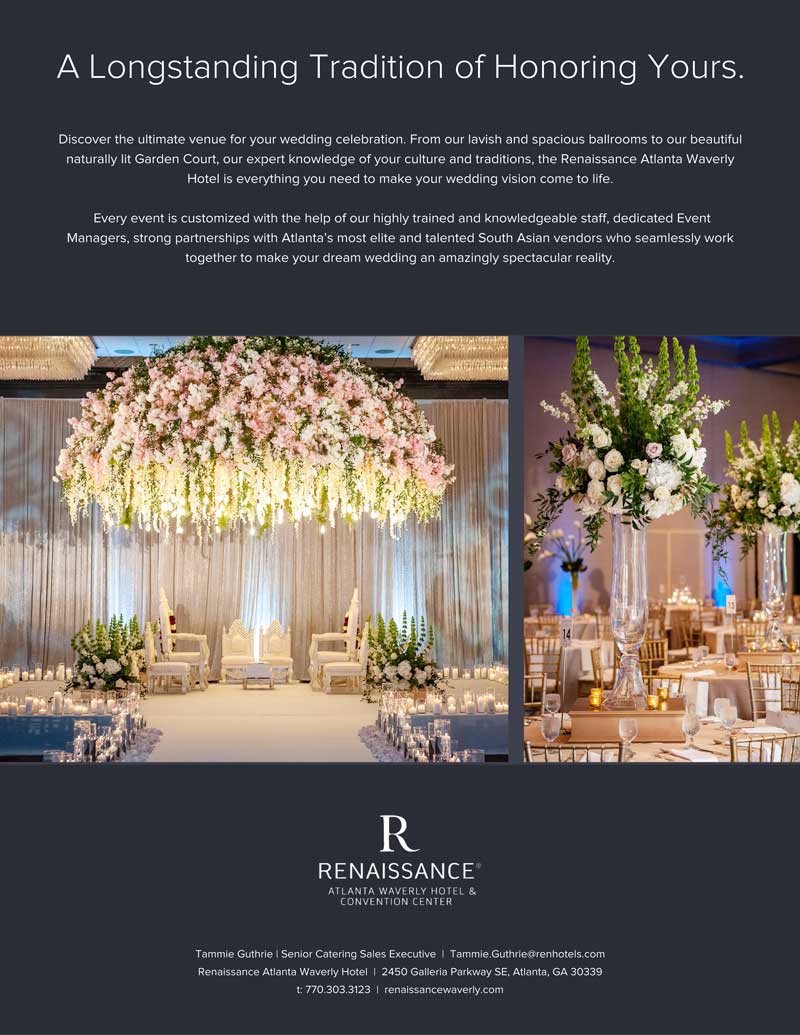 A longstanding Tradition Of Honouring yours.
Bring your wedding traditions to one of our vibrant event spaces. Four gorgeous ballrooms that can accomodate upto 1200 guests. And an astonishing 14- Story atrium that will wow  your guests from the moment they step through our doors.
Customize every moment of your unique event with the help of our experienced team of experts. Our event planners, highly trained staff and our strong partnerships with Atlanta's most talented South Asian vendors seamlessly work together to make your vision come to life.
VISIT RENAISSANCEWAVERLYWEDDINGS.COM
TO START PLANNING YOUR WEDDING TODAY.
RENAISSANCE ATLANTA WAVERLY HOTEL & CONVENTION CENTER
2450 Galleria Parkway, Atlanta, GA 30339
t: 770-953-4500 f: 770-953-0740
renaissancewaverly.com
experienced team
vibrant event spaces
LONGSTANDING TRADITION
most talented
HONORING YOURS
CONVENTION CENTER
Customize
Bring wedding
Galleria Parkway
unique event
Asian vendors
RENAISSANCE ATLANTA WAVERLY HOTEL
strong partnerships
GA
YOUR WEDDING TODAY
Our event
VISIT RENAISSANCEWAVERLYWEDDINGS.COM
Atlanta
START
gorgeous ballrooms