Trinity Memorial Gardens Funeral Home and Cemetery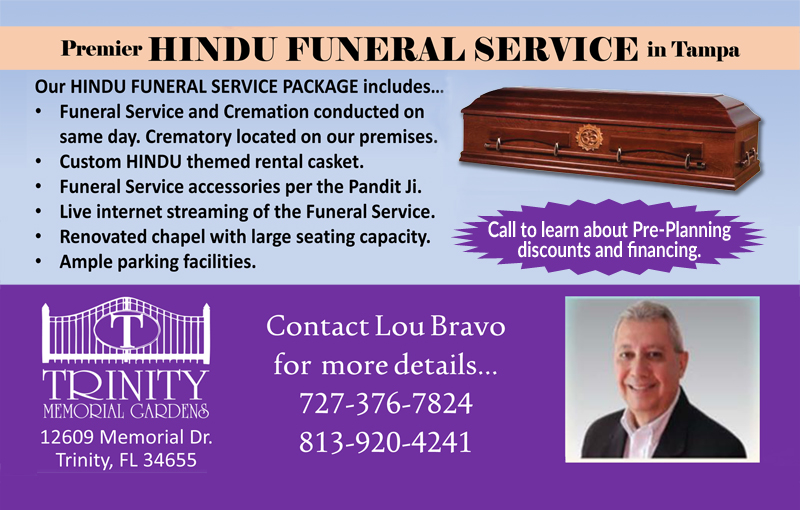 ---
Hindu Funeral Service in the TAMPA BAY
Premium Cremation Casket
Pre-Need Arrangement Discount
Design A Healing Experience
Veteran's Services
Service and Cremation conducted ANY day of the week
Live Internet Streaming of Service
Crematory on premises
Custom rental casket
Special package discount price for pre-need
large open parking area
Financing available: 0% Interest for 48 months
Trinity Memorial Gardens
12609 Memorial Drive,
Trinity, FL 34655
Hindu Funeral Service
Trinity Memorial Gardens Delivers
Premier Hindu Funeral service
in the TAMPA BAY area.
For Details Call: LOU BRAVO
813-920-4241 • 727-376-7824
ALL INCLUSIVE PACKAGE PRICE
• Service and Cremation conducted ANY day of the week
• Crematory on our premises • Custom designed rental casket
• Live internet streaming of the service
• Special package discount price for pre-need
• Financing available: 0% Interest for 48 months
• Large open parking area
Discounts Apply on Pre-Need Sales Only.
Offer Expires June 30, 2020.
At Need
Retail
$6,595
Pre Need
Pricing
$5,595
Includes
1 Day Funeral Service
Rental Cremation Casket
Financing: 4 Years, 0% Interest
$1,119 Down Payment
$93.58 48 Monthly Payments