Prabhas-Starred Adipurush Makes Its Way to the Tribeca Film Festival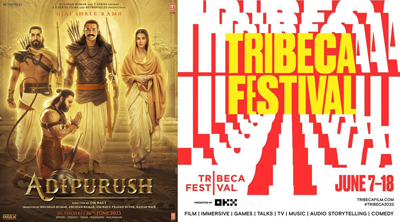 Adipurush, starring Prabhas, premiered at the global Tribeca Film Festival on June 13, which is set to be held in Manhattan from June 7 to June 18. Directed by Om Raut, the film is predicted to drop in New York amid great anticipation from fans.
Taran Adarsh, a trade analyst, shared the news of the premiere at the famed Tribeca festival and wrote, "PRABHAS: 'ADIPURUSH' TO PREMIERE AT TRIBECA FESTIVAL ON JUNE 13… #Adipurush will have its world premiere in New York on June 13, 2023. The movie will release in India and international markets three days later, on June 16, 2023. #Prabhas."
Produced by T-Series, the film also stars Kriti Sanon, Sunny Singh, and Saif Ali Khan. Touted to be the modern-day adaptation of the Ramayana, Prabhas is set to play the role of Lord Rama, and Kriti will play the role of Sita. Meanwhile, Sunny Singh will star as Lakshman, and Saif Ali Khan will play Lankesh in the film.
Raut shared that Adipurush is not just a film but "an emotion" that "resonates with the very spirit of India". The film will be showcased in 3D format as a "Midnight Offering" at the Tribeca Film Festival. Adipurush is set to light the film world aflame by bringing the myth of the Ramayana to life on the screens.