Rahul, Kohli move up in T20I rankings after fine efforts
India opener Lokesh Rahul and captain Virat Kohli have made significant progress in the MRF Tyres ICC Men's T20I Player Rankings after producing two superb knocks each in the three-match home series against the West Indies which they won 2-1.
Pollard, Cottrell gain for the West Indies after three-match series in India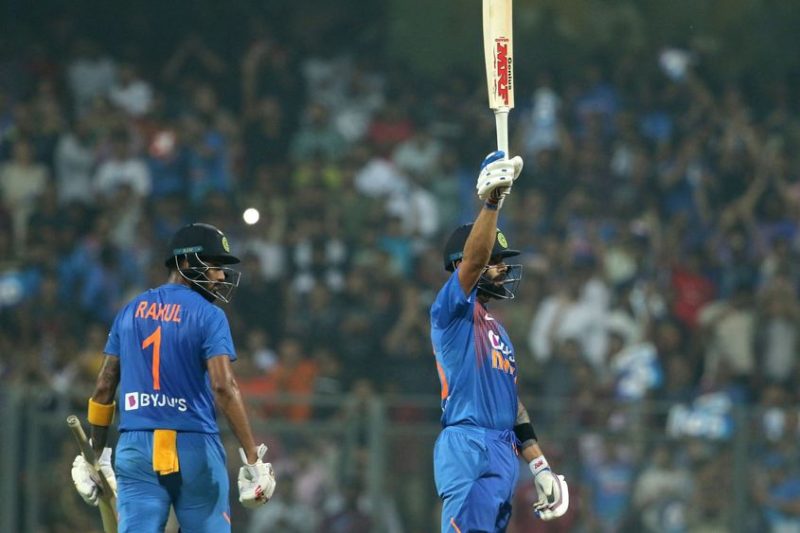 Rahul's scores of 62 and 91 in the first and third T20Is have lifted him three places to sixth position while Kohli's unbeaten knocks of 94 and 70 in those two matches have taken him back into the 10 as he has gained five positions from his pre-series 15th place. Rohit Sharma is the third Indian in the top 10, in ninth position.
Kohli, who was named player of the series after finishing with an aggregate of 183 runs, is now in the top 10 in all three formats, occupying top position in the Test and ODI rankings.
Other Indian players to gain in the latest rankings update include left-hander Rishabh Pant (up 15 places to 74th) among batsmen and Washington Sundar (up 19 places to 14th) and Deepak Chahar (up 22 places to 21st) among bowlers.
For the West Indies, Kieron Pollard has moved from 106th to 79th position with 105 runs in the series including a fighting 68 in the final match in Mumbai while Nicholas Pooran is up from 96th to 83rd. Shimron Hetmyer's 120-run aggregate sees him gain 100 slots and reach 104th position.
In the bowlers' list, Sheldon Cottrell has gained eight slots to reach 12th place while Jason Holder is up from 82nd to 71st.
MRF Tyres ICC Men's T20I Player Rankings (as of 12 December 2019)
Batsmen (top 10)
| | | | | | | |
| --- | --- | --- | --- | --- | --- | --- |
| Rank(+/-) | Player | Team | Pts | Avge | S/R | Highest Rating |
| 1 | Babar Azam | Pak | 879 | 50.17 | 127 | 896 v Eng at Cardiff 2019 |
| 2 | Aaron Finch | Aus | 810 | 38.32 | 156 | 901 v Zim at Harare 2018 |
| 3 | Dawid Malan | Eng | 782* | 57.25 | 156 | 798 v NZ at Napier 2019 |
| 4 | Colin Munro | NZ | 780 | 30.92 | 160 | 831 v Pak at Dubai 2018 |
| 5 | Glenn Maxwell | Aus | 766 | 35.02 | 160 | 837 v SL at Adelaide 2019 |
| 6(+3) | Lokesh Rahul | Ind | 734 | 30.76 | 146 | 854 v Eng at Old Trafford 2018 |
| 7 | Evin Lewis | WI | 699 | 30.85 | 153 | 782 v Eng at Durham 2017 |
| 8(-2) | H Zazai | Afg | 692* | 43.25 | 163 | 736 v WI at Lucknow 2019 |
| 9(-1) | Rohit Sharma | Ind | 686 | 32.10 | 138 | 719 v WI at Lucknow 2018 |
| 10(+5) | Virat Kohli | Ind | 685 | 52.66 | 138 | 897 v Eng at Edgbaston 2014 |
Article and Image Credits: www.icc-cricket.com
final match in Mumbai
left-hander Rishabh Pant
Test and ODI rankings
MRF Tyres ICC Men's T20I Player Rankings
India captain Virat Kohli
India opener Lokesh Rahul