Real Indian Weddings in the US
Want to share a great read?
Email your suggestions to info@deshvidesh.com
---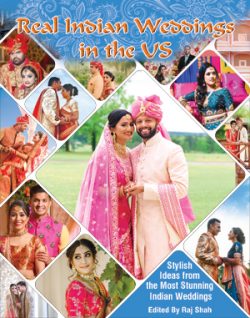 Real Indian Weddings in the US
Stylish Ideas from the Most Stunning Indian Weddings
Edited By Raj Shah
For every Indian bride who wants a beautiful dream to become reality, for every parent and grandparent who wants an enviable and spectacular celebration, and for every groom who wants to host a fun-filled party, Real Indian Weddings in the US offers hundreds of ideas to inspire and delight. Filled with memorable photographs from professionals who specialize in Indian weddings and with advice from real brides, this book is an ideal guide for anyone involved in the planning of an unforgettable wedding.
Raj Shah, Managing Editor of Desh-Videsh wedding magazine, compiled twenty-five weddings from around the country – each chosen for the event's creativity, uniqueness, size, setting, guest list, and range of budgets so that readers can easily adapt any of the details to fit their own one-of-a-kind needs. Real Indian Weddings in the US shows how couples created unforgettable events full of surprises while also encompassing a variety of themes, styles, and colors across diverse locations. For the best inspiration, Shah turns to the people who have the most experience of creating truly beautiful weddings – the brides themselves.
urning dreams into reality, this book will inspire future brides, grooms, family members, and friends in planning an enviable, unique and memorable celebration.
Real Indian Weddings in the US
stylish Ideas from the Most Stunning Indian Weddings
Desh-Videsh wedding magazine