Reliance Jio Signs Content Partnership Deal with Disney India

Reliance Jio Signs Content Partnership Deal with Disney India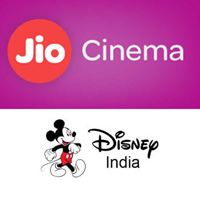 Reliance Jio has signed a content partnership deal with Disney India, and JioCinema will host a dedicated Disney branded section on its homepage, which would include animation, movies, series, and shorts. In a statement issued by the company, it revealed, "JioCinema and Disney India have come together to offer timeless stories and beloved characters from the biggest brands in storytelling- Disney, Pixar, Marvel, and Lucas film to Jio users across age groups." Through this deal, Jio users will have access to a large number of international as well as locally created content.
The on-demand streaming app will also bring unique character customization option where users can choose and browse content on their favorite Disney, Marvel, Pixar or Star Wars character such as Captain America, Lightening McQueen, and Mickey Mouse, etc.
For kids, JioCinema now features popular stories and characters such as The Lion King, The Jungle Book, and Disney Princesses like Snow White, Cinderella, Sleeping Beauty and more. For superhero fans, it now has a collection of Marvel films like Thor, Iron Man, and Captain America: The First Avenger. It also has animated series such as Marvel's Guardians of the Galaxy, Marvel's Avengers Assemble and more.