Sanand The Moter City of India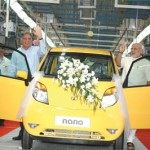 Sanand was just another sleepy little town in Gujarat of which many people knew nothing. It took some resistance from the government of West Bengal and a proactive Gujarat government to set this town on a roll and catapult it to instant attention.
The activity began in the year 2008, when Ratan Tata was arguing relentlessly over the construction of a manufacturing facility for the Tata Nano, which had already been unveiled to the public and was readying for its launch. When the West Bengal government turned back on the Singur plant and asked Tata to pack its bags and leave, Narendra Modi stepped forward. Remarkably, things moved at break neck speed – papers and permission were obtained in a miraculous three days as opposed to the regulation ninety. Since then, Sanand has been shaken out of its happy revelry and is today buzzing with activity.
A slew of automobile companies are gunning for land to begin their own
manufacturing plants at Sanand. This is not an incidental, but a careful move by the Gujarat government at making Sanand the biggest automotive hub in India. There are large amounts of land, which have been bought out by the government in Sanand and the many villages that surround it. The land has been purchased with the intent of giving them out to the many automobile companies that come knocking. It is not just the land that has posed an attraction, but also the many benefits. There is an expedited process as getting necessary permits and clearances. The region itself has been tagged as a special investment region, bringing with it tax incentives to all automobile and ancillary companies.
There has, since, been a surge of automobile comp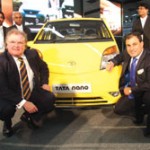 anies making in-depth inspections and detailed studies into the viability of having operations conducted out of Sanand. In most cases, the results have been amply rewarding. To start, Ford has already made an official announcement of the new plant it will be setting up in Sanand. There is a continual increase in the number of cars being sold, as also in the new products and lines being launched, and the set up of the Sanand facility will be optimal in catering to both.
Ford is in no way the only company with its eyes set on Sanand. Maruti is keen to set up shop here as well. This may come as a surprise, considering all other six plants are located in Haryana. Clearly, the opportunity is too good to resist. Should Maruti be successful in setting up operations in Sanand, it will be second in stature only to the manufacturing facility of the Tata plant.
The benefits for automobile companies are not just in the incentives offered. The location is also extremely favorable to most. Ford, for one, has an existing facility in Chennai, and this plant will help them cater to the northern region better. For Maruti, this is a great gateway to the western and southern regions, given that Haryana can manage the rest. The logistics are not just easier, but also cheaper. For companies like Maruti, which also export a number of their models into Africa and Europe, this is among the most viable destinations possible, with Kandla and Mundra serving as ideal ports. Connectivity through road, rail and sea is an advantage that pushes Sanand into a different league.
With the coming in of the automobile companies, the auto ancillaries cannot be far behind. A number of auto part companies including Rico, have already made way into Sanand. While Rico is among the few that has already begun operations, others cannot be far behind. It only seems like a question of time before Sanand becomes a completely self-contained automobile epicenter.
While there is so much in it for the automobile companies, what has prompted Gujarat to make such a strong decision? One cannot ignore the instant recognition that Sanand and the surrounding regions have been enjoying. While there are pockets of Gujarat already on the global map, this is yet another feather in its cap. You cannot take away from the large sums that are being raked in from land deals. While the government may have had to procure some money in acquiring the land from farmers and other owners, it is nothing compared to what auto giants are willing to pay. There are also plenty of other ways in which they look to generate income, including real estate surrounding Sanand and tourist activity. What has also become a welcome opportunity is the scope for employment that has been created in the region. With the many attractive benefits that Sanand has managed to pull together, there is little doubt that the decision to bring in the automobile industry was made cleverly, and very quickly, at that.
There is another angle, which however, cannot be ignored. Is this growth too fast, too good, or too real to last? One cannot help but take a look at the situation in Detroit, which in a case similar to Sanand, lost out in the euphoria of wheels and engines. While growth is certain, and at a very rapid pace as can be observed by the frenzied activity surrounding Sanand, one can only hope that the automobile industry is not its only saving grace. It is clear from trends that Sanand is slated to become the next big "Motor City." One cannot help but wonder if things are moving at too fast a pace for its own good. However, from the pluses that are evident in the movement being seen, there are only signs of reassurance as we speak. Given that Sanand had no real identity of its own to lose in the first place, there are no portents of gloom hanging large.