Sardar Udham Highly Praised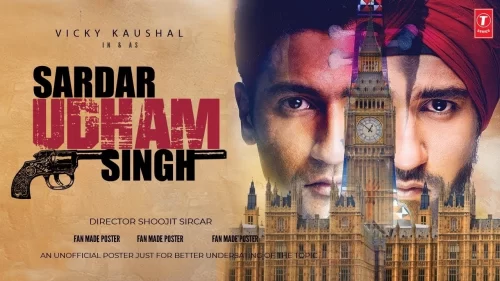 'A biopic with a difference' – that is the opinion of critics and viewers of the newly released film Sardar Udham, featuring Vicky Kaushal portraying the role of the famous revolutionary. The film is based on the life of Sardar Udham Singh, the revolutionary who executed General Michael O'Dwyer in London as revenge for the Jallianwala Bagh Massacre (the infamous Amritsar Massacre, in which the British army brutally and callously murdered hundreds of peaceful protesters in a holy city). The film, directed by Shoojit Sircar, is highly acclaimed for its excellent treatment of the subject matter; its portrayal of the character without hyper-dramatics (as is common in most of the biopics); and its spectacular script (written by Shubhendu Bhattacharya and Ritesh Shah).
The portrayal of Udham Singh's character – including his struggles, principles, and ideologies – has been presented by Vicky Kaushal so successfully that (even for him) this is one of Kaushal's best performances ever. Moreover, the narration of the events, and the presentation of the Jallianwala Bagh Massacre, is highly poignant and engaging in a realistic way that intentionally lacks melodrama or high-spirited dialogues. The cinematography of Avik Mukhopadhyay has contributed a great deal in creating the authentic ambience of this period film.
Critics and other viewers of the film have showered its director and lead actor with huge rounds of applause. Some have compared the film to Stephen Spielberg's Schindler's List. Vicky Kaushal expressed his gratitude to director Shoojit Sircar for having even considered him for such a role. He also dedicated the film to the late actor Irrfan, who had been Shoojit's first preference for playing the role of Udham Singh. The film has received an excellent rating (9.2) at IMDb and has been shortlisted for potential submission to the Oscars as India's official entry.
Sardar Udham
Vicky Kaushal
Shoojit Sircar
Amazon Prime Video
Jallianwala Bagh Massacre
Michael O'Dwyer