Saumya Kamble from Pune has bagged the title of 'India's Best Dancer' (Season 2) and her father's praise as 'India's Best Daughter'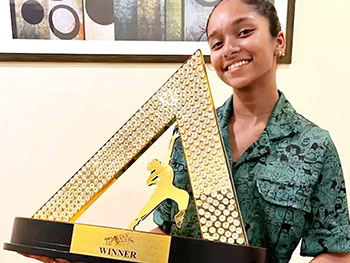 Saumya Kamble is the new champion of Indi's Best Dancer Season 2. The 16-year-old girl from Pune mesmerized the judges Terence Lewis, Geeta Kapur and Malaika Arora. Her skills in belly dancing and freestyle dance were highly acclaimed by not only the judges but also the celebrity guests. Singing legend Asha Bhosle lovingly called her 'Choti Helen'. Praising her belly dancing skills actor Nora Fatehi gifted her belly dancing coin belt.
Saumya was awarded a trophy and cash prize of 1.5 Million INR by Sony Entertainment Television and a Maruti Suzuki Swift Car. Her choreographer Vartika Jha got a .5 million cash prize. Saumya defeated the finalists Gourav Sarwan from Jaipur, Roza Rana from Odisha, Raktim Thakuria from Assam and Zamroodh from Kerala. Gourav Sarwan was declared the first runner up and Roza Rana the second runner up.
The teenager's father wants her to become a doctor and her mother wants her to become a famous dancer. Saumya has been trying to strike a balance between both her parents' wishes without compromising on her skills. Her father called her 'India's Best Daughter' in the show. Her choreographer also praised her skills, diligence and quick learning aptitude.
Saumya was on cloud nine after winning the show. She thanked all the judges and viewers who voted for her. She made special mention of her choreographer Vartika Jha calling her elder sister. According to Saumya, this show became an integral part of her life and dance will be a vital part of her future life. She thanked all the like-minded people she met at the show and expressed her gratitude for the learning experience at the platform.
Saumya Kamble
India's Best Dancer – Season 2
Pune
Choti Helen
Asha Bhosle
Terence Lewis
Geeta Kapur
Malaika Arora