Shivani And Kunal Indian Wedding
Shivani and Kunal discovered their compatibility from the beginning. The two met each other virtually through dating app, Dil Mil, and theirs was a long-distance relationship where the couple would connect further by vacationing together. Kunal's love for dogs and the outdoors attracted Shivani so much that within a year she decided to move from South Carolina to Florida to be closer to Kunal and truly get to know him. 
Kunal proposed to Shivani in August 2019. Though his original plan was to propose during a weekend trip to visit his parents, Kunal came home from work one day and decided he could not wait. He got down on one knee ready to propose to the love of his life. Funnily, in his haste he forgot the ring! He ran to the other room to get the ring, returned, and proposed again with the ring. Shivani thought he might be joking, but he was not. Already deeply in love, Shivani had only one answer: "Yes."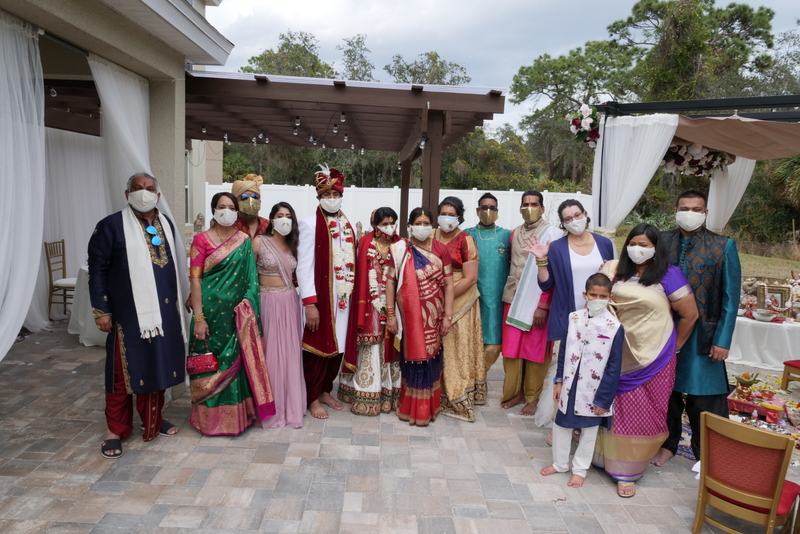 ---
PHOTOGRAPHER/VIDEOGRAPH: Fine Art Production 407-979-4749 | VENUE: Kunal and Shivani's Backyard | HAIR AND MAKEUP:  Cori Newhook Makeup | Flavors  of India Cocoa beach FL | MUSICIAN: Krish entertainment 352-299-0743 | BRIDE'S OUTFIT: Riya Boutique Atlanta 404-819-4114
---
The couple decided to get married January 31, 2021, but though Shivani, Kunal, and their families always dreamed of a big, fat Indian wedding, but the Covid pandemic and restrictions meant a change in plans. Instead, they planned a simple wedding with only 15 guests and no reception. Given the two were nature lovers and lived on a preserve, Shivani and Kunal chose to host their wedding in their home's backyard in Mims, Florida. The couple did their own wedding planning with the help of their families and the bride's sister. 
The wedding ceremony was full of personal touches by Shivani's parents, who made sure every little detail was perfect. Her parents made customized chairs for the bride and groom and bought elephant statues and decorated them with jewels. These touches of affection and love from the parents made the wedding that much more special.
Shivani and Kunal's love for Indian traditions showed throughout the wedding. The groom entered to the beat of a dhol. They chose to play instrumental versions of their favorite 90s Bollywood hits during the ceremony. To ensure everyone could be a part of the wedding rituals and hear the meaningful words, the music was kept to a low volume. The mandap was decorated in burgundy, green, and white with touches of gold and elephants placed all around. Not to be forgotten, the couple's dog was even part of the first look photos looking dashing in custom Indian clothing!  
There were some lighthearted moments, like when the guests kept hitting their heads on the chandeliers. Shivani was worried about having a wedding during a pandemic, and she was worried that the guests or even herself might get Covid. Despite the challenges, the couple enjoyed planning their own wedding.  
The couple's advice is to get personally involved in each stage of planning to make the moments special. For those live streaming their wedding, don't forget that the video will catch everything that is said! Since there were just a few guests in attendance, it was important to the couple to focus on the photographs and videography to capture every beautiful moment. Shivani and Kunal's wedding was a ceremony that beautifully captured the couple's love and sense of belonging.