Sri Sri Ravi Shankar gets 'Gandhi Peace Pilgrim' award By Ravi R. Ponangi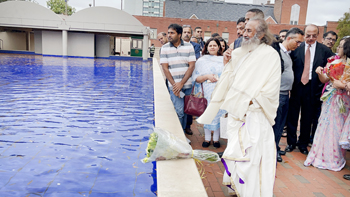 Sri Sri Ravi Shankar, eminent spiritual leader and global emissary of peace, non-violence and humanity, was honored with the Gandhi Peace Pilgrim award by the Gandhi Foundation of USA (GFUSA) on November 10, 2022.
The prestigious award was bestowed in appreciation and recognition of Guruji's efforts to spread messages of peace and non-violence, as embraced by Mahatma Gandhi and Dr. Martin Luther King Jr. Guruji accepted the award at a ceremony in front of the Mahatma Gandhi statue at the Martin Luther King Jr. National Historic Site in Atlanta.
GFUSA Chairman Subash Razdan presented the award to Guruji in the presence of Isaac Farris, former president of The Martin Luther King Jr. Center for Nonviolent Social Change and nephew of Dr. Martin Luther King Jr., Dr. Swati Kulkarni, India's Consul General in Atlanta, and government and elected officials of Georgia. A large crowd representing various communities also attended.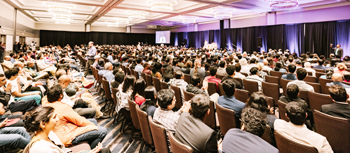 In his acceptance speech Guruji emphasized the significance and relevance of non-violence at all times, especially in the current era of polarization and global tension. Guests present at the ceremony congratulated Guruji, the founder of The Art of Living, an international, non-profit, educational and humanitarian organization, and expressed appreciation for his teachings of universal peace and unity.
After the award ceremony, Guruji led a peace walk to the King family tomb and laid wreaths for Dr. King and his wife, Coretta Scott King. His 3-day Atlanta visit, from November 9-11, included activities and programs of meditation, speeches and interactive sessions attended by thousands of people in and around Atlanta.
He visited the Georgia Institute of Technology, the Martin Luther King Jr. International Chapel, Emory University and other notable locations, where he shared his valuable opinions on issues such as mental health, work-life balance, the stress of academics, etc.
He extended a public invitation to the World Culture Festival, hosted by The Art of Living and scheduled to take place in Washington, D.C. in September 2023. This global event, envisioned by Guruji as the "Olympics" of world culture, is expected to attract 250,000 people for meditation and an opinion-sharing platform for eminent leaders, visionaries, artists, educators, philanthropists and others.