Star Plus' TV Show Ishqbaaz takes a generation leap

Star Plus' TV Show Ishqbaaz takes a generation leap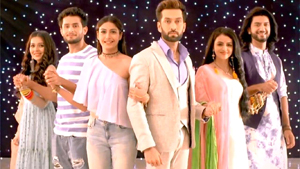 One of the hit TV shows of Star Plus has taken a generation leap with most of the old cast being eliminated. Actor Nakuul Mehta has been retained in the new season as Shivaansh Singh Oberoi, son of Shivaay (Nakuul) and Anika (Surbhi Chandna). Post leap, Nakuul is seen donning a brand new look, complete with a funky hairstyle.
A few weeks before the leap, the makers had released promos that showed the earlier main characters, Shivaay and Anika, talking about their son, which gave the fans a brief insight into the new storyline. Shivaansh plays a carefree, successful rockstar, who is quite unlike his father Shivaay, who was a sophisticated businessman. The old story concluded with Shivaay and Anika dying in a mysterious car accident, and the new story will take that thread forward along with some new characters. In the new show debutant actress Manjiri Pupala is playing Aditi, a police office, and Shivaansh's love interest.
Before the leap happened, Nakuul Mehta and Surbhi Chandna took to social media to bid an emotional farewell to their characters, Shivaay and Anika respectively. With the leap and the new storyline, the show's name has got a makeover as well – Ishqbaaz: Pyaar Ki Ek Dhinchaak Kahaani.