Stronger cooperation on the agenda when Indian, Australian Defence Ministers meet on Wednesday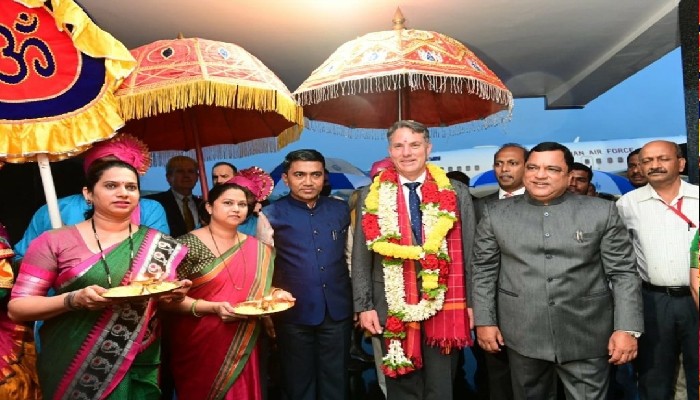 India and Australia share a Comprehensive Strategic Partnership since June 2020.
India and Australia will be looking at strengthening defence and security cooperation when their Defence Ministers meet in New Delhi on Wednesday.
During bilateral talks between Defence Minister Rajnath Singh and Australian Deputy Prime Minister and Defence Minister Richard Marles, the two sides are also expected to discuss steps to bolster their engagement in the Indo-Pacific.
"The two Ministers will review the defence cooperation between the two countries and explore new initiatives to further strengthen bilateral engagements," the Ministry of Defence said on Tuesday.
They will also exchange views on regional and global issues of shared interest, the ministry added.
Marles reached Goa on Monday on the first leg of his four-day visit to India. On Tuesday, he visited Goa Shipyard Limited and will be visiting INS Hansa later in the day during his stay in Goa.
India and Australia share a Comprehensive Strategic Partnership since June 2020 and defence is a key pillar of this partnership.
"The partnership is based on a shared vision of free, open, inclusive and prosperous Indo-Pacific region. The two democracies have a common interest in peace and prosperity of the entire region," the defence ministry pointed out.
Ahead of his departure for India, the Australian Deputy PM said, "India is one of Australia's closest security partners and the Government is focused on revitalising Australia's historically deep engagement with our partners across the Indo-Pacific".
"The rules-based international order that has brought peace and prosperity to the Indo-Pacific for decades is experiencing pressure, as we face shifts in the geostrategic order," Deputy Prime Minister Marles was quoted as saying in an official media release.
"Australia stands ready to work closer with India in support of an open, inclusive and resilient Indo-Pacific," he added.
Noting that he was looking forward to meeting his Indian counterpart, Marles said, "Minister Singh has been instrumental in advancing India-Australia defence ties and I look forward to working with him to enhance the defence pillar of our Comprehensive Strategic Partnership".
For More Details please visit: https://www.indianewsnetwork.com/