Talented Indian Wins Top Chef Masters
Author by Rina Shah The Arpan Group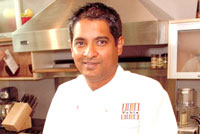 Floyd Cardoz, an illustrious and award-winning chef who specializes in modern Indian cuisine, is the first-ever Indian to win the exclusive title of Top Chef Master. A hit television show on Bravo TV, the series allows talented chefs to showcase their abilities.
In the third season of Top Chef Masters, 12 world-renowned chefs competed against one another to see how well they fare in fierce culinary competition. Each week, judges from the field narrowed down the pool of chefs based on elimination style challenges. The chefs all competed for the chance to win $100,000 for a charity of their choice. With so much money at stake, the chefs engaged in some of the most difficult challenges ever seen during the Top Chef Masters series.
After being announced the third Top Chef Master, Cardoz exclaimed, "I was totally shocked and surprised. I didn't pick myself to be the winner." His modesty and humble attitude made him well-liked and admired among fellow contestants. During many episodes, Cardoz would happily share family joys, and he often invoked the memory of his late father. His appreciation for both family and food is endearing and easily made him a favorite for viewers.
Known for cooking dishes with the sensual flavors and spices of India, Cardoz received his culinary training at the Taj Mahal Intercontinental Hotel in Mumbai and Les Roches in Switzerland. Cardoz consistently ranked during the top three winning chefs during the Top Chef Master elimination challenges. Some of his most memorable dishes included those from the finale, during which the three remaining chefs were asked to recreate food memories. For his first food memory, Cardoz took a seemingly simple dish, upma, and recreated it using wild mushrooms and coconut milk. The result was a masterpiece, one that was loved by the judges.
As winner of Top Chef Masters, Cardoz won $100,000 for his chosen charity, Mount Sinai School of Medicine's Young Scientist Cancer Research Fund. The Fund supports young scientists as they research new ways to prevent, diagnose, and/or treat cancer. Cardoz's engagement with the community goes far beyond the Top Chef Master competition. In 2007, Cardoz's generosity led to receipt of the "Humanitarian Award of the Year Award" from Share Our Strength.
Before participating in the Top Chef Master competition, Cardoz was the executive chef of Tabla, a groundbreaking restaurant serving modern Indian cuisine. During his tenure as chef at Tabla, the restaurant received a number of awards including a three star review from The New York Times. Cardoz will now move forward to pursue a new opportunity as Executive Chef/Partner of North End Grill, a Danny Meyer Restaurant to be located in New York City's Battery Park.
Rina Shah is the CEO of The Arpan Group is a solutions firm that specializes in strategic, multicultural public relations. For more information, visit www.thearpangroup.com.