The Fashionhs and Styles of Bridal Wear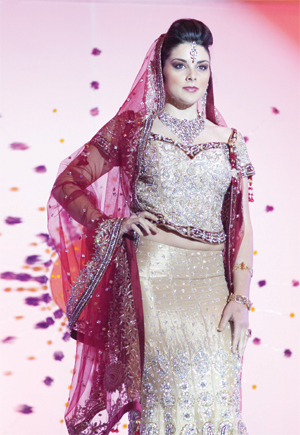 The very mention of your wedding is sure to send shivers of excitement and nervousness down your spine. It could take over a year for you to get your shopping done – one of the most interesting and anticipated parts of your big day, quite possibly. Most brides look forward to the planning and preparation more than they do the day itself. The details, lavish indulgences, and generous gifts can make every bride's wedding dreams come true. As the most important day of her life, one that she has dreamt of since she was a little girl, a wedding is something she has wanted ever since she knew how to spell the word love.
True Indian weddings put even the grandest royal weddings to shame. The elaborate, opulent and colorful symbols bring out every emotion during the event. The décor is painstakingly planned to bring color to life and exude nothing but love, joy, and togetherness.
By far the most elaborately chosen of all wedding elements has to be the bride's clothing. To the delight of every bride, there are several occasions for her to really dress up and be in the spotlight. With exquisite palettes of every conceivable shade and a plethora of styles possible, there can be no two occasions where the bride needs to feel stifled for choice.
Indian weddings give everyone plenty of occasions to dress in their finest, meet with one another and bond over a happy occasion. With lunches and dinners that are hosted in honor of the couple months before the wedding fantasy even begins, families have ample opportunities to get to know one another – and even better, gives the bride a chance to build her formal wardrobe. Smart western outfits for outdoor events and theme parties as well as classic Indian wear for more conservative events give brides plenty of room for experimentation.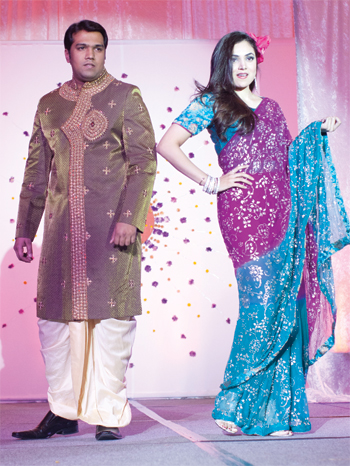 Building up to the traditional ceremony are functions that have now become customary during everyone's wedding festivities. The engagement ceremony, sangeet and mendhi, wedding ceremony, and reception present occasions for welcome celebrations.
With so many functions, a bride certainly does not want to repeat styles or even color themes. For each set of clothes, there must be an accompanying set of matching shoes, and jewelry to distinguish every moment from the next. The wedding trousseau of an average Indian bride could put the entire wardrobe of some girls to shame. With great attention to ensure that the colors, impact and overall appearance is a stark contrast to every other look, the preparation and groundwork required for a bride's attire can be laborious. This is certainly why designers have their work cut out for them before the start of every wedding season.
Among the most preferred attire for wedding ceremonies include the sari, salwar kameez and lengha choli. Although fashioned in different styles, these are the foundations on which a bride's look is based. While the sari is a great choice for the reception, the sangeet or possibly even the bidaai, the salwar kameez finds limited scope in the menhdi or perhaps smaller puja or informal get togethers. The lengha
Designer SHYAMAL & BHUMIKA…………..
Available at
TONE FASHION in ATLANTA,GA
Designer Bhumika on the left wears a beautiful long length anarkali outfit with a mix and match of brocades in the yokes and borders
Super star Actress Sonakshi Sinha wears a double sari a mix of brocade handwoven in Benaras, to hand embroidered chikankari embroidery on the offwhite portion of the saree and marodi pittawork embroideries in the border in contrast
Designer Shyamal wears a bandhgala jacket with velvet trim and jodhpur pants for the bottoms.