The Kashmir Files is the New Blockbuster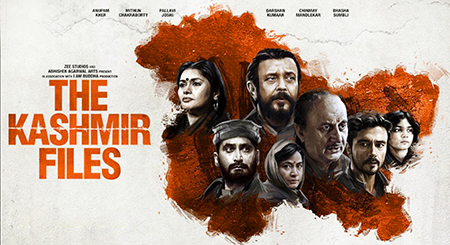 There was no publicity hype surrounding the film, and no dashing promotionals were released. Yet The Kashmir Files, directed by Vivek Agnihotri, is a blockbuster—and the film has grossed close to 1000 million. Apart from the general viewership, the film has been highly acclaimed by Indian Prime Minister Shri Narendra Modi, who reiterated the necessity of Freedom of Expression regarding this fact-based film. Released on March 11, 2022, this film has become a blockbuster within the first week. Many state governments have made the film tax free and have even granted a half-day holiday for government employees who wish to go watch the movie.
The cast of the movie includes Anupam Kher, Mithun Chakraborty, Darshan Kumaar, Pallavi Joshi, Puneet Issar, Mrinal Kulkarni, Bhasha Sumbli, and others. The story depicts a person's accounts of the deaths of his parents when he visits Kashmir upon the death of his grandfather. The story, its authenticity, and the appeal of the plight of the Kashmiri Pandits have created a huge uproar among the viewers. Good reviews and word-of-mouth publicity has generated very good business for the film, proving once again that the content is king.
The film gradually geared up at the box office. Following an opening day collection of approximately 35.5 million INR, its earnings came close to 1000 million INR marks by the end of the week. According to film trade analysts, it is a blockbuster among mid-range films. No such film has ever been so successful. Not only is this an outstanding achievement for the film's creators, director, and actors, but it is also an exceptional landmark for the Indian film industry, whose depictions of real-life incidents have received much acclaim. The success of the film has resulted in its being shown on an increased number of screens, the number of which increased to 2000 screens in the second week (up from only 630 screens at the time of release).
The Kashmir Files 11 Days BoxOffice Collection
Day
India

N

et Collection
Day 1
[1st Friday]
$465,964
Day 2
[1st Saturday]
$1.1 Millions
Day 3
[1st Sunday]
$1.9 Millions
Day 4
[1st Monday]
$1.9 Millions
Day 5
[1st Tuesday]
$2.3 Millions
Day 6
[1st Wednesday]
$2.5 Millions
Day 7
[1st Thursday]
$2.3 Millions
Week 1
Collection
127.8 Millions
Day 8
[2nd Friday]
2.5 Millions
Day 9
[2nd Saturday]
3.2 Millions
Day 10
[2nd Sunday]
3.4 Millions
Day 11
[2nd Monday]
1.6 Millions
Total
$22 Millions

1st Week Total collection in the USA

was $1.4 Millions
The Kashmir Files
Vivek Agnihotri
Kashmiri Pandits
Anupam Kher
Mithun Chakraborty