The Story of India with Michael Wood

A British television production company has produced a documentary film on the history of India. PBS and BBC jointly commissioned this documentary series, the first-ever made for television.
It is written and presented by the acclaimed writer, historian, and broadcaster, Michael Wood, and it has already been transmitted on BBC to great acclaim and reviews. Composed of six, one-hour series, the documentary is state of the art, shot in high definition, and on 5.1 surround sound. The music was recorded with the Royal Philharmonic Orchestra and includes music by A. R. Rahman. It looks and sounds fantastic as well as being "unashamedly brainy," according to The Telegraph.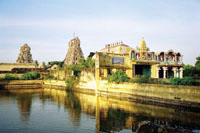 It is the result of meticulous research and captures the beauty and depth of India the like of which has never been done before. The Story of India is the story of a journey of 10,000 years and 10,000 miles down the alleyways of the rich and opulent cultures of India. From astronomers and anthropologists to bronze sculptors, yoga to Uru boats, Ramlila to Sufi mystics, royal palaces of Rajaraja Chola to broken lives torn by partition, from the archaeological field of Kalinga to dazzling modern India, from Shashai Tharoor to the Dalai Lama this program covers it all!
Wood, like a latter-day Valmiki or modern Jataka-narrator, has taken the world on a journey. His beautifully shot Story of India series, which will be shown in at least 100 countries, range across Ashoka's epoch-making edicts with the remarkable renunciation of violence by an empire that uniquely unified the whole sub-continent.
This series will be televised on PBS in the United States beginning on January 5, 2009.
January 5 9:00PM #101 Beginnings
10:00PM #102 The Power of Ideas
January 12 9:00PM #103 Spice Routes and Silk Roads
10:00PM #104 Age of Gold
January 19 9:00PM #105 The Meeting of Two Oceans
10:00PM #106 Freedom and Liberation
The BBC transmission last year attracted the highest percentage of British-Indian viewers ever recorded on UK television along with exceptional audience appreciation ratings.
Visit the PBS web site (http://www.pbs.org/thestoryofindia) to find trailers, promos, and many fabulous reviews of the series. From 21st December the PBS website link will be interactive so when clicked on the pictures they will come up with information about Indian culture and heritage. This will be a fun way to introduce young people and children(especially), to their roots.