Turning the Page: Reflections of a Graduating Senior
Desh-Videsh congratulates Suhani on her upcoming graduation from
the University of Georgia. We wish her well in all future endeavors!
As my four years of undergrad come to an end, and as graduation nears, I can't help but feel bittersweet about my experiences. From the first time you stepped foot in your dorm room to the moment you move the tassel on your graduation cap, every single second you've spent on your college campus comes swinging back at you as you begin packing away your things.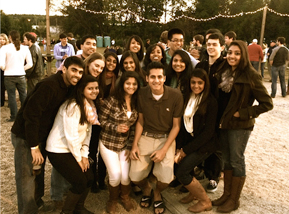 I still remember when I found out I was accepted to The University of Georgia. I sat in front of my computer as my parents looked over my shoulder and clicked on the button that read Check Status. A split second later the screen read Accepted. Silence… And then I shrieked. My parents and I were so ecstatic. I could barely keep my feet on the ground. My parents were in the kitchen calling my best friend's parents while I was calling my best friend. There were hugs and screams of joy, but behind the thrill, there was an aura of sadness. I knew this meant that I was leaving everything I knew behind – my friends, my family, my room. This acceptance was everything I worked towards the past four years of my life, but it was also what I was going to be living for the next four or more years.
When move-in day arrived, I cried. A lot. My dad and I unloaded the last few boxes from the car and as he carried a case of Kirkland water bottles to my dorm, I remember thinking to myself, "What kind of town doesn't have a Costco? Every town should have a Costco." Getting used to the huge campus and sharing a public bathroom with twenty other girls was interesting. Making friends on such an immense campus was difficult, and I missed my parents and my friends more than ever. Coming from such a close-knit group of friends, it took a while for me to learn how make new ones. But I survived. I found my group of friends, and I kept in touch with old ones. At the end of my freshman year, I moved out of my dorm and into an apartment with three lovely ladies, and with them I've grown as a person.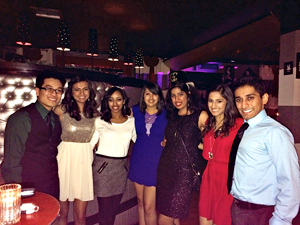 Over the course of these four years, I have learned a lot. College was where I learned to walk in heels – whether it was putting on pretty pink pumps for a rendezvous downtown, wedges for Sunday brunch, or modest kitten heels for interviews. Whatever the occasion, I quickly learned that the best doctor in town is always Dr. Scholl's. From spending many late nights at local coffee shops, I think by now I've also figured out the difference between a latte, cappuccino, café Americano, and an espresso – all the while trying to get over my current caffeine addiction. In addition, some – like me – learned how to do a proper load of laundry while some of my friends learned how to buy new underwear. Lazy bums… you know who you are. College was where I discovered quinoa and learned how to make a proper smoothie. I have learned that teachers who podcast are gods – listening to lectures in the comfort of a warm cozy bed – what more could a student ask for?! One thing I know my parents are thankful for is learning how to get ready on time; they were always complaining about how long it took me to get ready. So if there is one thing their thousands of dollars paid for during these four years, it was teaching me how to get out of bed, get showered and out the door in less than ten minutes.
Through the fun and games my college experience would not have been complete without a trip abroad. Everyone should be able to go abroad at least once as an undergraduate, and that too, on their own. Whether it's for two weeks, three months, a semester, or an entire year, the experience is nothing less than exhilarating. It is expensive and hard, so if you can't go abroad, the least you can do is go to Alaska or Hawaii. And, you don't have to worry about a visa. Just get out of your comfort zone. Going abroad gives you an entirely new perspective on the world and in essence, life. Whether you are studying, volunteering, interning, or even just traveling abroad, you grow to appreciate diversity and collaborate with different cultures on worthy projects. With the number of stories and experiences you bring back, you genuinely come back a renewed person.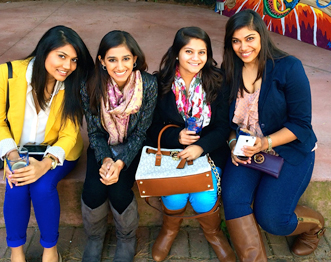 Whatever one decides to do, college is difficult. It can be difficult to go from something so familiar to something intimidating and vast. But eventually everyone finds their niche, as did I. And you know what? I liked it. No, I loved it. These four years of college have been a roller coaster. In hindsight, I made some really stupid mistakes, but even those mistakes have played a role in getting me to where I am right now. (I know, I know… I probably shouldn't have been watching reruns of Grey's Anatomy when I had to study for a Pathogenesis final, but hey, at least I know more about intubating a person than the rest of my class. That will eventually count for something right?) I have learned that I don't need to have everything figured out. I can, and should, ask for help when I need it because I have friends, family, and professors that want nothing but the best for me. Managing my social life with my academics has been a challenge. From leaving passive aggressive sticky notes for my roommates around the apartment to making some of the best memories with them, I wouldn't trade these four years for anything in the world.
I think about the flutters of excitement in my stomach when I stepped out of the car with my parents unloading boxes into my dorm room; fast forward four years and my roommates and I are timidly asking each other whose pots and pans are in the cabinets, wary of saying something that might make any one of us burst into tears.
Yes, I'm graduating, but I'm only 21. I'm still young (at least that's what everyone keeps telling me). So now is my time. It's time to live like never before. I may be getting older, but that only means I will have more opportunities. I have learned to take advantage of every situation life throws my way because if there is one thing you can never get back, it is a moment that has passed and the time after it has been wasted. So now is the time.
Four years have gone by, and I sit here thinking of all the amazing experiences I have had and the amazing people I have met and I can't help but think that I am not done yet. A chapter in my life has closed, but there is so much more to come. There is a reason why they call the ceremonies commencement ceremonies – graduation is not the end, it is just the beginning.
About the Author
Suhani Patel, a senior at the University of Georgia (UGA) in Athens, is majoring in Microbiology and minoring in Spanish. She is thrilled to be graduating in May 2014. A healthcare enthusiast and an avid reader, Suhani will read anything from classic literature to Web MD articles to the Harry Potter series. Suhani enjoys traveling and exploring new restaurants and has a weakness for local coffee shops.