Unveil India's Next Unicorn on Prime Video with 'Mission Start Ab'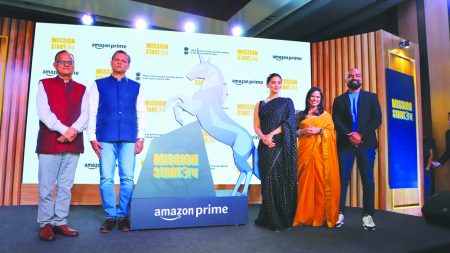 Ten early stage ventures are set to showcase their 'made for India' innovations and receive mentorship from top investors in an upcoming original show. The collaboration between Prime Video and the Office of the Principal Scientific Adviser, Government of India, has given rise to Mission Start Ab, an original TV series that aims to highlight India's grassroots innovators and their success stories. Through a series of challenges, promising entrepreneurs will strive to scale up their businesses and secure funding.
Mission Start Ab will engage audiences by sharing the human stories behind each promising startup. The seven-episode series will captivate viewers with narratives of unique Indian startups and founders, depicting their humble beginnings, tenacity, and the sacrifices made to realize their dreams.
Ajay Kumar Sood, Principal Scientific Adviser, Government of India, expressed his delight in announcing Prime Video's reality series, Mission Start Ab. He believes the captivating series will serve as a powerful platform, showcasing the inspiring stories of those driving social change through innovation. Sood is optimistic that it will offer valuable learning opportunities to grassroots innovators in India, providing insights into sustainable startup practices and attracting the right investors. The show is currently in production and is scheduled to premiere soon on Prime Video.
Sushant Sreeram, Country Director of Prime Video India, stated that the mission of Prime Video has always been to be a force for good and an enabler of India's economy. This collaboration with the Office of the PSA is another milestone in their journey towards contributing to the growth of India's creative economy, showcasing the platform's commitment to the country and its viewers.
The series will feature three renowned investors who will search for India's next unicorn by subjecting the ten early stage founders to intense exercises and simulations, evaluating their entrepreneurial, management, communication, and crisis management skills. The investors will also invest in some of the ventures promoted by these audacious entrepreneurs, serving as mentors to empower and challenge some of the brightest minds in the country's vast startup ecosystem.
Alia Bhatt, an actor, entrepreneur, and investor, was also present at the event and spoke about her journey as an entrepreneur. She applauded the Office of the PSA, Government of India, and Prime Video India for their initiative in enabling and empowering entrepreneurs through Mission Start Ab, which she believes will have a far-reaching impact on the country's growing startup ecosystem.
Supporting and nurturing entrepreneurs has been one of Amazon's focus areas in India. Over the years, Amazon has taken various initiatives to support India's startup ecosystem, including programs like Amazon Launchpad and Amazon Global Selling Propel Accelerator, among others.