Visually Impaired Contestant Becomes First Crorepati in KBC 13
The famous Sony Entertainment quiz show – Kaun Banega Crorepati (or KBC) – got its first Crorepati winner this season. She is Himani Bundela, a visually impaired contestant from Agra. She was accompanied by her father. She answered the 1 Crore question correctly. When coming to the last question (carrying with it a prize value of Rs 7 Crores), she was unsure of how to answer. So, she quit the show with her prize money of Rs 1 Crore.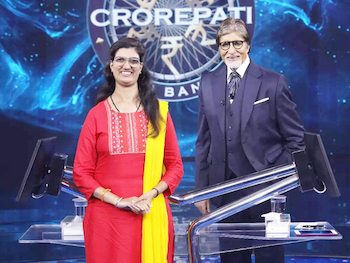 This is the 13th season of KBC. Hosted by the living legend Amitabh Bachchan, the show is famous for its excellent hosting by Big B; and for his sense of humour. It is also famous for the profiles and reactions of the contestants participating in the show. They come from different walks of life, representing various strata and classes of Indian society. Their simplicity and intellect, along with their total awe for the host, makes the show extremely popular among the viewers.
This year, the show began to be telecast on 23 August and became an instant hit, as always. The Himani Bundela episode was telecast on 31 August 2021. 25-year-old Himani is a school teacher at a central government school, where she teaches mental math. She lost her eyesight in 2011 following an accident. This cheerful girl was praised and encouraged by Amitabh Bachchan in all possible ways.
Himani is in the noble profession of teaching. Her aim in life is to help the physically challenged students by teaching them mental math via her innovative method of teaching. Her father also expressed his satisfaction and pride for the achievements of her daughter.
Himani Bundela
First Crorepati
KBC 13
Amitabh Bachchan
Agra
teacher