Watch Siddharth Shukla ace blindfold task on Hum, Tum Aur Quarantine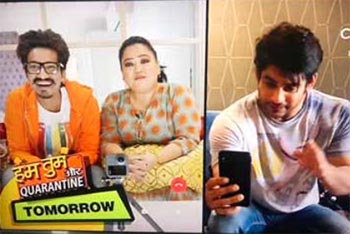 On April 14, Siddharth Shukla appeared on Harsh Limbachiyaa and Bharti Singh's show Hum Tum aur Quarantine. All fans of this Big Boss 13 champion were revved up to see his appearance on the newly launched comedy show. Hum Tum aur Quarantine is Harsh and Bharti's home show that they run using their home based production unit. On April 14, the comedy ace couple connected to Siddharth Shukla via video call. After a few pleasantries Bharati asked Shukla to keep staying indoors as the police lathi won't go easy on him even if he is a big boss winner!
Haarsh put Siddharth to work by first blindfolding him and then making him go round and round. Shukla was then asked to identify objects around him and he came up with all correct answers. His performance provoked Haarsh to joke that the lockdown has made Siddharth recognize the surroundings of his home so well.
Siddharth was named to ask three of his favorite women by Haarsh. The Big Boss winner said that Bharti along with his sister and mom were his favorites. Hearing this, Bharti took a dig at Siddharth saying that Shehnaaz Gill wasn't on the actors "favorite" list but she (Bharati) was!! For the record, Siddharth and Shehnaaz are allegedly in a relationship. You can watch Siddharth Shukla's blindfold game video here.
Siddharth Shukla
Harsh Limbachiyaa
Bharti Singh
Hum Tum aur Quarantine
Big Boss 13 champion
the police lathi
big boss winner
blindfold
lockdown
Shehnaaz Gill